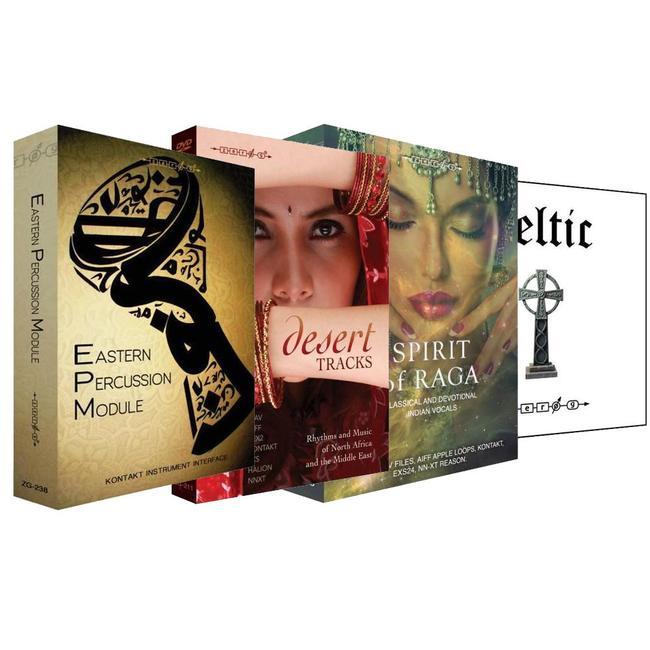 World Ethnic Music Bundle
Authentic world instrument and vocal bundle
Format
Acid,
Apple loops,
Aiff,
Exs24,
Halion,
Kontakt files,
Reason,
Wav,
Nnxt
This limited time bundle combines 4 of our hugely popular world sample libraries, saving you 60% compared to the combined original price! Branching to all corners of the globe, the World Ethnic Music Bundle takes you from the unique percussive rhythms of the Middle East and Egypt, to the traditional vocal styles of North Africa and India, and the authentic performances of Celtic musicians, this bundle features well over 6,000 samples of over 50 different world instruments and vocals.
Zero-G Eastern Percussion Module is a Kontakt sample library created to help musicians and composers to achieve realistic Middle Eastern percussion sounds, rhythms and styles.
EPM delivers over 5,000 high quality drum samples in an incredibly dynamic Kontakt GUI with full mixing control coupled with high quality effects and a huge selection of MIDI grooves covering Middle Eastern, Egyptian, North African, and Turkish Styles. Each individual percussion instrument can be manipulated in a multitude of ways to create totally unique percussion instruments and tracks.
SUMMARY
Over 5,000 44.1 KHz, 24bit compressed samples.
Ready to use programmed mixes with 30 user preset mix slots.
15 instrument channels.
Controllable EQ, transients, compressor, saturator, pan, volume, tune, RR, AHD, mute, solo, and reverb send for each channel.
Master reverb with 41 room impulses.
82 pre-programmed MIDI grooves and styles with 12 variations for each, totaling almost 1000 individual rhythms.
Drag and drop MIDI to DAW functionality.
Swing and quantize function with double and half speed all synced to host tempo.
12 controlled round robins for increased realism.
Automatic dynamic velocity.
The Zero-G Spirit Of Raga sample pack covers a huge collection of vocal samples in various Indian styles focusing mainly on Hindustani classical (Northern India) and Carnatic classical (Southern India). It also includes Folk, Traditional, Devotional and Semi-Classical styles. 
Emotive, spiritual, atmospheric and powerful, Spirit of Raga features both Northern and Southern classical Indian music styles and is delivered in two parts...
The Carnatic Edition consists of vocal samples in the South Indian classical style and includes Classical and Devotional songs, Swaramaalika and Thillanas in popular ragas. Additionally, it contains vocal hooks and Solkattu (normally practiced or performed by south Indian percussionists or classical dancers).
The Hindustani Edition consists of vocal samples in the North Indian classical style and includes popular Bhajans, Traditional songs, Classical songs and Swaramaalika. Additionally, it also includes Bols (mnemonic syllables, normally practiced or performed by north Indian percussionists or classical dancers).
SUMMARY
500 Acidized WAV files
500 AIFF Apple Loops
50 Kontakt Instruments
50 EXS24 Instruments
50 NN-XT Instruments
Desert Tracks - 1.75 GB of exotic, traditional and contemporary rhythm performance loops, instrument phrases and full music tracks from across Northern Africa and the Middle East, from countries such as Egypt, Morocco, Tunisia, Turkey and Iran.
The rhythms and music contained in this library are a living tradition that has its roots in the ancient civilisations of the Middle East and North Africa. It echoes the court and folk music of ancient Egypt, Arabia, the Ottoman Empire and Persia.
The resulting music traditions are deep and varied, but always evolving as each generation adds its innovations while honouring the forms and work of the past. This complex music often contains ornamentation and overlapping rhythms yet it is woven together into a seamless tapestry of sound.
SUMMARY
752 Acidized WAV files
752 AIFF Apple Loops
717 Rex2 Files
90 Kontakt Instruments
90 EXS24 Instruments
90 HALion Instruments
90 NN-XT Instruments
This library is over 900 MB with an enormous range of solo riffs and phrases performed in authentic styles by leading Celtic musicians, together with a set of multisamples for most instruments.
Features great performances and multisamples on a wide range of instruments including Fiddle, Uilleann Pipes, Mandolin, Accordian, Galician Bag, Bagpipes, Whistles, Flutes, Bodhran, Breton Bombarde, Overton, Banjo, 12 string, 6 string, Marching Snare, Pipe & Snare, Skittish Snare, Celidh Snare, and more.
This is an absolute must-have collection for film composers or anyone looking for a true Celtic flavour. These samples will inspire you and prove very effective in setting the mood of a track as their authenticity shines through. Add the captivating essence of the Celtic tradition to your music!
SUMMARY
900 MB content
Multisamples on a wide range of traditional instruments
Enormous range of solo riffs and phrases
Performed in authentic styles by leading Celtic musicians
Kontakt 5.7 or higher (only for use of Kontakt Files)

Requires 4.2 GB free space
EASTERN PERCUSSTION MODULE
SPIRIT OF RAGA
Part 1: 1 GB
Part 2: 267 MB
DESERT TRACKS
Part 1: 953 MB
Part 2: 953 MB
Part 3: 119 MB
CELTIC
Info & Quotes
"EPM is a welcome time-saver, as easy to use as dragging audio loops to a track, but with none of the disadvantages associated with audio loops. When making full use of the mixer, MIDI automation and groove parameters, it's possible to coax a great deal of variety from the Groove library patterns" - Sound On Sound
"If you're looking to add a Celtic lick or two to your tunes this will do you proud" - Computer Music Magazine, UK
"These are some of the best ethnic percussion sounds I've heard from start to end. But I think the library's strongest points are the Arabian and Egyptian samples." - soundbytes.net - Read the full review in Media Reviews