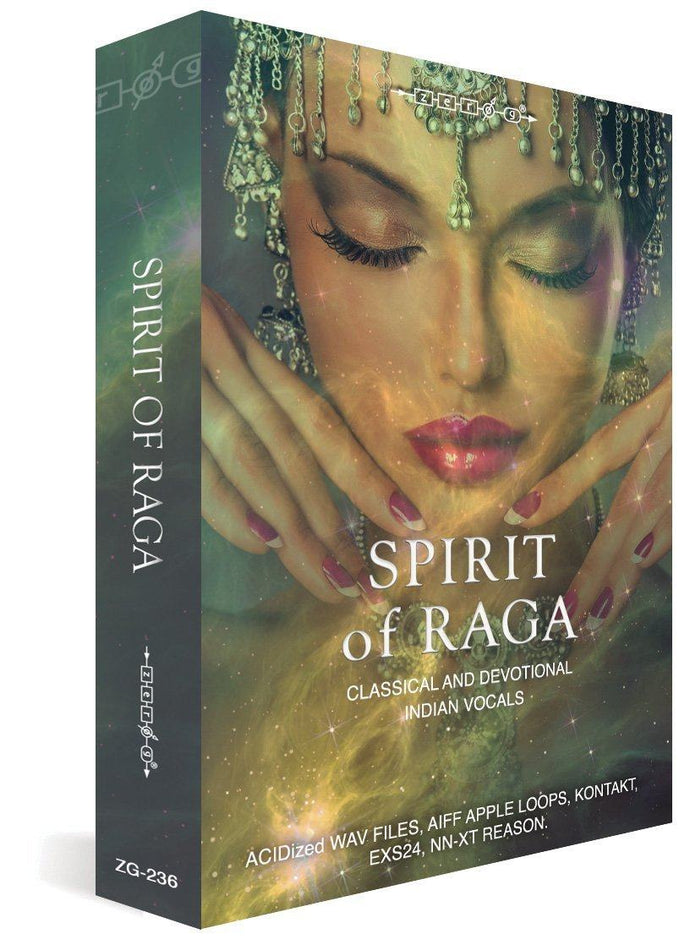 Spirit Of Raga
The finest female vocal samples in classical Indian music styles
The Zero-G Spirit Of Raga sample pack covers a huge collection of vocal samples in various Indian styles focusing mainly on Hindustani classical (Northern India) and Carnatic classical (Southern India). It also includes Folk, Traditional, Devotional and Semi-Classical styles.
Emotive, spiritual, atmospheric and powerful, Spirit of Raga features both Northern and Southern classical Indian music styles and is delivered in two parts...
The Carnatic Edition consists of vocal samples in the South Indian classical style and includes Classical and Devotional songs, Swaramaalika and Thillanas in popular ragas. Additionally, it contains vocal hooks and Solkattu (normally practiced or performed by south Indian percussionists or classical dancers).
The Hindustani Edition consists of vocal samples in the North Indian classical style and includes popular Bhajans, Traditional songs, Classical songs and Swaramaalika. Additionally, it also includes Bols (mnemonic syllables, normally practiced or performed by north Indian percussionists or classical dancers).
Spirit of Raga offers the true flavour and diversity of Indian vocal music and traditions in the different regional languages and styles of India. 
Artist Information
Ranjini Hemanth, is a performing artist, singer and classical dancer from Bangalore, India. Ranjini has been performing to huge audiences since she was 8 years old. She has a mature and clear singing voice. Her ability to sing in various languages and styles has made her an outstanding talent in her field.

What is Raga?
A remarkable and central feature of classical Indian music tradition and one of the world´s most complex melodic systems, raga is a musical theme created by choosing a specific set of notes from within an octave. These notes can be reordered and improvised by the musician, but a specific raga is either ascending or descending.
Each raga has an emotional significance and symbolic associations such as season, time and mood – around five hundred ragas are known of (including historical ragas) today and it is possible to make hundreds of songs from a single raga. The concept of raga is shared by both North and South Indian classical music traditions, as displayed in this stunning sample collection.
The library contains 500 samples in Acidized Wav and AIFF Apple Loop all recorded in 24bit audio. Kontakt, EXS24 and NN-XT instruments are also included. All the samples in this library are 100% original and royalty free.
Includes:
500 Acidized WAV files
500 AIFF Apple Loops
50 Kontakt Instruments
50 EXS24 Instruments
50 NN-XT Instruments
Download Size
Part 1: 1.024 GB
Part 2: 268 MB
Expanded Size
2.22 GB