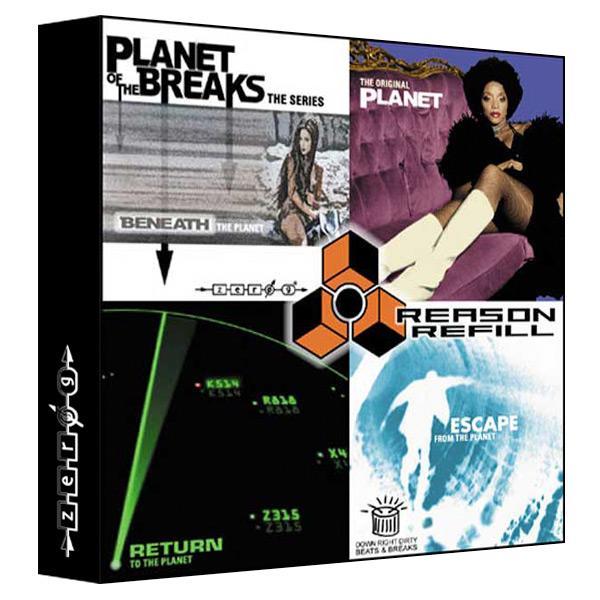 Planet Of The Breaks Series
All 4 titles from the, multiple award winning, Planet Of The Breaks series
The entire Planet of the Breaks series of 4 separate titles (almost 1GB of samples) have now been expertly converted and combined into one slammin' refill package including over 2,000 samples, with over 650 loops that cover old and new school styles, Psychedelia, Funk, R&B, Hip Hop, Jazz, Trance, Trip Hop etc.
This library is also available as 3 separate Audio/WAV products, each of which independently gained Sound On Sound 5 Star awards! 
Separate products:
Planet Of The Breaks
Return To The Planet Of The Breaks
Escape From The Planet Of The Breaks
Now you can get them all in one REFILL package for PREASON, for an amazing price!!
Please note: this product is a REASON REFILL and you need REASON to use this product. 
"Rated: 9 out of 10, and awarded the MUSIC TECH RECOMMENDED Award. Zero-G's Planet Of The Breaks series was originally released as a series of four CDs between 1998 and 2001 to considerable critical acclaim. Embracing all the major dance styles (new and old school) with a little psychedelia, trip hop and jazz thrown in, the series seemed to pick up where Zero-G's original Datafile series left off back in the 90s and proved to be another success for this most prolific of British sample production companies. And now it's back; repackaged in Reason Refill format, and at a bargain price. For just under £100 you get all four titles: Planet Of The Breaks, Beneath The Planet Of The Breaks, Return The Planet Of The Breaks and, yes, Escape From The Planet Of The Breaks, totalling over 2000 samples with over 650 loops. As for content, the Zero-G name is your best guarantee of quality. There at the start of the sampling revolution, the company always conveys the sense that its samples are produced by people who are themselves sample users. A timely reissue of a classic series for Reason users - at a bargain price" - Music Tech Magazine
Info & Quotes
"This one's genre specific, so anyone wanting a quick way to amass a huge collection of breaks, mostly with that 'vintage' played edge to it should look no further....The originals were great, and now all four can be yours for a smidge under a ton. Bargain! rated: 9/10" - FUTURE MUSIC Magazine
"This jam-packed loop ReFill could easily springboard song ideas for years to come... Tons of useful grooves.... Creative recording and processing techniques... Zero-G has consistently raised the bar with each new addition to the Planet series, and the latest addition to this fat and funky loop line-up brings everything together in one package... Stylistically, Planet is full of mostly live breakbeats oozing with vibe, thanks to the heavy handed processing and creative recording techniques used to capture drummers Shawn Lee, Shawn Pelton, and Emre Ramazanoglu... A fair number of loops have a programmed quality the likes of which you'd expect to hear from the Crystal Method, Paul Oakenfold, and other ace programmers" - KEYBOARD Magazine