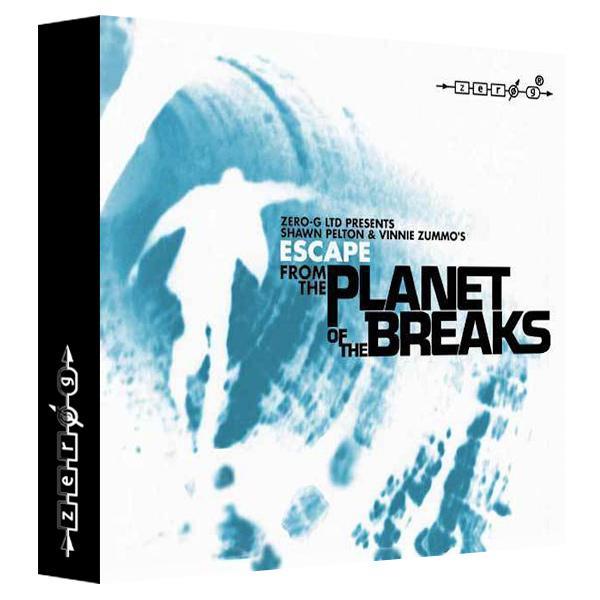 Escape From The Planet Of The Breaks
An enormous set of the maddest, phattest beats bringing you the mad, edgy taste of New York drumming
Shawn Pelton, long time Saturday Night Live drummer and one of the most in demand drummers in the world, teams up with NY guitarist/ programmer Vinnie Zummo, producer of the award winning NY Cutz and NY Cutz Volume 2 - Off Da Hook, and Zero-G to bring you an enormous set of the maddest, phattest "rawfunkindirtyassboogiebeats" in the universe, cut and ready to burn in your software and sampler.

High-fi, lo-fi, & mid-fi drums, wa drums, sound efx, long loops, short loops, composite tracks, Psychedelia, Funk, R&B, Hip Hop, Jazz, Trance, Trip Hop, Dance, Metal & general madness in one slammin' package to bring the madd edgy taste of New York drumming to your next project.

Whether playing with Shawn Colvin on her two time Grammy Award winning song "Sunny Came Home", David Byrne, Bruce Springsteen or Elton John, Shawn always brings his solid 'funk thang' to a song. Add his bodacious groove to your next track. Taste the flavah.
For more detailed info on the contents of Escape From The Planet of the Breaks, please take a look at the PDF of Contents.

For more info on how Escape From The Planet of the Breaks was produced, check out the Production Notes.
"Behind the sticks on this volume is session drummer Shawn Pelton, and the drum loops are all excellently played on a multitude of kits, covering a wide variety of styles....the overall production and accompanying instrumentation is handled by Vinnie Zummo. Already known for his excellent New York Cutz hip-hop libraries, Mr Zummo is never stingy with the sheer amount of material he creates, and puts in some more impressive work for this release.....the all important 'live' feel is maintained throughout, even on the processed loops....it all adds up to a collection with bags of character...So does this latest instalment of the series live up to its predecessors? Most certainly. The playing and 'vibe' of the drum loops is first class, while the experimentation in the production and accompaniment is a welcome addition and acts as inspiration to get the creative juices flowing...if you're after a slice of raw groove with real personality, you've come to the right place"
- SOUND ON SOUND magazine, UK
--
"The sonic and stylistic diversity demonstrated is refreshing - we'll bet the producers had a whale of a time putting this collection together"
- COMPUTER MUSIC magazine, UK
--

"Sizzling beats and scorched sounds sure to spark your creative fire....this library is one fat grab-bag with a little bit of something to satisfy nearly everyone. Reggae, rock, funk, disco, second line, slow grooves, frantic bashing....you name the feel, chances are Escape has it..... Overall, the time and feel is great...whether you're into big-beat, rock, funk, or even trip-hop, Escape's whacked out grooves, tones, and music riffs are just what you'll need to give your tracks over-the-top attitude"
- KEYBOARD magazine, USA
--

"This is a massive collection of second to none hip hop and breaks loops...This is another excellent part to the Planet of the Breaks series, strictly for the breakbeat purists and those who insist on quality"
- THE KNOWLEDGE magazine, UK
Info & Quotes
"Behind the sticks on this volume is session drummer Shawn Pelton, and the drum loops are all excellently played on a multitude of kits, covering a wide variety of styles....the overall production and accompanying instrumentation is handled by Vinnie Zummo. Already known for his excellent New York Cutz hip-hop libraries, Mr Zummo is never stingy with the sheer amount of material he creates, and puts in some more impressive work for this release.....the all important 'live' feel is maintained throughout, even on the processed loops....it all adds up to a collection with bags of character...So does this latest instalment of the series live up to its predecessors? Most certainly. The playing and 'vibe' of the drum loops is first class, while the experimentation in the production and accompaniment is a welcome addition and acts as inspiration to get the creative juices flowing...if you're after a slice of raw groove with real personality, you've come to the right place" - SOUND ON SOUND magazine, UK
"The sonic and stylistic diversity demonstrated is refreshing - we'll bet the producers had a whale of a time putting this collection together" - COMPUTER MUSIC magazine, UK
"Sizzling beats and scorched sounds sure to spark your creative fire....this library is one fat grab-bag with a little bit of something to satisfy nearly everyone. Reggae, rock, funk, disco, second line, slow grooves, frantic bashing....you name the feel, chances are Escape has it..... Overall, the time and feel is great...whether you're into big-beat, rock, funk, or even trip-hop, Escape's whacked out grooves, tones, and music riffs are just what you'll need to give your tracks over-the-top attitude" - KEYBOARD magazine, USA