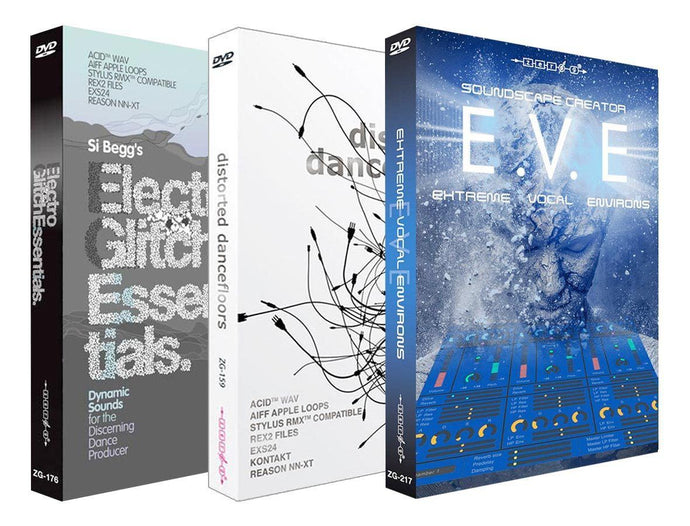 Electronic Music Bundle
The ultimate mix of Electro Kontakt instruments and samples
Format
Acid,
Kontakt files,
Rex,
Wav
The ultimate mix of Electro kontakt instruments and samples - this bundle delivers the most creative EDM samples at a fraction of the cost. 
E.V.E - 
Extreme Vocal Environments (EVE) is a highly creative sample-based sound design tool that uses the human voice as its start point to create soundscapes and ambiences to inspire musicians and sound designers alike.
Using vocal samples as EVE's sound-source means you are easily able to create textures rich in detail and emotion . As well as tonal samples there are also sound design-based samples which enable you to create a variety of ghostly, disjointed effects suitable for darker projects.
Distorted Dancefloors - 
Distorted Dancefloors covers as many aspects of the outer reaches of dance music as possible including germanic minimal techno, glitchy downtempo electronica, electrobreaks, grime, breakstep and much more. This library will help and inspire the seasoned or rookie producer to go beyond the norms of dance music and get twisted.
The techniques used to create some of these sounds range from the lowest of lo-fi, circuit bent kids toys, audio files spat out by crashing programs, all manner of overdrives, distortions, bitcrushers and downsampling, to the cutting edge of sound, spectral displacements, morphing, granular synthesis and extreme uses of the highest end reverbs, compressors and delays.
Electro Glitch Essentials - 
This library is a roller-coaster ride of bass, beats, beds, cuts, hits, noises, fx, loops, impulse responses, wipes and swells for those dance producers who want to be at the forefront of their art, challenging the boundaries of musical creativity.
Electro Glitch Essentials covers the more experimental end of all dance music genres including techno electro / breaks / fidget / glitch / trip hop / IDM / dubstep but could equally well be used in TV and film soundtracks.
EVE is made up of the following elements:
Extreme Vocal Environments Kontakt Instrument with custom GUI and over 150 presets (requires Kontakt full version 5.5.1 or later)
Audio loops. Available as AIFF Apple Loops or Acidized wav files.
Impulse responses for use with any convolution reverb.
The Kontakt instruments combine a state-of-the-art user interface with the loops and impulse responses to give you a highly flexible tool for creating a huge variety of beds, drones, pads and FX. It comes with over 150 presets.
Electro Glitch Essentials (RAR files):
Parts 1 -7: 500 MB each
Part 8: 247 MB

Distorted Dancefloors (RAR files):
Parts 1 - 3: 500 MB each
Part 4: 312 MB

E.V.E (RAR files):
Part 1: 953 MB
Part 2: 199 MB
Info & Quotes
E.V.E
"Fuelled by 100 human voice loops and 85 impulse responses, and including 150 presets. The samples are indeed extreme, from crackling glitches and granulars to alien burbles and creepy whispers, and the interface lets you mix three at a time, pitchshifting, timestretching, filtering and modulating them one-by-one before they meet at the convolution reverb and master filter... The results are beautiful"
- Computer Music Magazine, UK
Electro Glitch Essentials
"Another production masterclass full of twisted dance sounds and glitch-laden cinematic treats... If you want warped, experimental dance sounds that are both inspiring and original, look no further."
- Music Tech Magazine, UK
Distorted Dancefloors
Meticulously programmed and processed with hi-tech cutting-edge effects... has all the trademark styles found in Si Begg's production - intricate rhythm programming, impeccable EQing and compression, depth-defying basslines, three-dimensional processing effects and unusual sonic tones... this collection will definitely kick on the dancefloor, it is also highly usable for film and library music too. A top-notch package all round. Rating: 5/5"
- DJ Magazine, UK