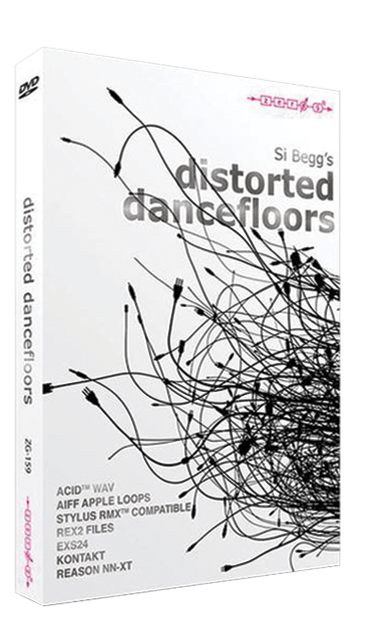 Distorted Dancefloors
Trailblazing library of over 1.9 GB of world-class dance music inspiration and innovation
Welcome to Distorted Dancefloors - a highly-acclaimed library bringing in rave reviews across the board and featuring over 1.9 GB of some of the most cutting edge and innovative dance music samples in the world.
Distorted Dancefloors covers as many aspects of the outer reaches of dance music as possible including germanic minimal techno, glitchy downtempo electronica, electrobreaks, grime, breakstep and much more, and all in pristine 24bit audio.
This library will help and inspire the seasoned or rookie producer to go beyond the norms of dance music and get twisted.
The techniques used to create some of these sounds range from the lowest of lo-fi, circuit bent kids toys, audio files spat out by crashing programs, all manner of overdrives, distortions, bitcrushers and downsampling, to the cutting edge of sound, spectral displacements, morphing, granular synthesis and extreme uses of the highest end reverbs, compressors and delays.

Veteran producer Si Begg has been releasing cutting edge electronic music for more than a decade. His body of work has included Peel Sessions, high profile remixes for bands from Lamb to Leftfield, as well his own catalogue for labels including Novamute, Tresor and Ninja Tune. He has also toured worldwide performing live and DJ-ing. More recently he has turned his hand to award winning music and sound design for television and radio. He's also behind these other highly-acclaimed libraries, Aftershock: Extreme Audio Cinematics, Electro Glitch Essentials, Extreme Vocal Environments (EVE) and Extreme Environments.
About producing Distorted Dancefloors, Si Begg says:
"I designed this library to encourage producers to get out of their comfort zones and push the limits of what is considered 'dance' music.
I also hoped, that as well as using the sounds and loops provided 'straight out of the box' and in the mix, they would also inspire you to get weird and mess around.
Noises can be chopped into percussive loops. Loops can be stretched and mangled into soundscapes. Try reversing them, speed them up, slow them down, filter them, distort them and generally warp them any which way you can.
There's no 'wrong' way to use these and no 'right' way either. Forget the rules and just play with the rudiments of sound itself."
Features:
Riffs
Beats
Basslines
FX Loops
Vocal
Sub Bass
Soundscapes
Pads
Notes
Hits
Fx
Basses

Includes:
600 Acidized WAV files
420 Stylus compatible REX2 files
27 EXS24 Instruments
27 Kontakt Instruments
27 Reason NN-XT Instruments
For more detailed info on the complete list and descriptions of the contents of Distorted Dancefloors, please take a look at the PDF of Contents.
Download Size (RAR files):
Parts 1 - 3: 500 MB each
Part 4: 312 MB
Info & Quotes
"The essential leftfield dance sample library...Si Begg is an accomplished dance music producer with a fantastic track record. It seems his hard work and experience have paid off, as the quality of this is consistently stunning. There's just under 2 GB of unique content, showing off all the latest quirky trends in modern dance music. You'll find full riffs, FX loops, beats and basslines, as well as a gorgeous selection of single hits in just about every category any dance producer could reasonably hope for. The sounds are flexible, imaginative and extremely lively. A top buy! Rating: 10/10" - Computer Music Magazine, UK
"The quality and variety is staggering... Every loop features some touch of creative genius, be it in the processing, choice of sounds or the rhythm... If you have even a passing interest in cutting-edge electronic music then this pack will provide endless inspiration... A masterclass in cutting-edge production and interesting ways to process and filter and sounds. Rating: 10/10 and the Music Tech Excellence award" - Music Tech Magazine, UK
"Si Begg is no stranger to DJ mag's pages thanks to a discography than spans countless cutting edge tracks... meticulously programmed and processed with hi-tech cutting-edge effects... has all the trademark styles found in Si Begg's production - intricate rhythm programming, impeccable EQing and compression, depth-defying basslines, three-dimensional processing effects and unusual sonic tones... this collection will definitely kick on the dancefloor, it is also highly usable for film and library music too. A top-notch package all round. Rating: 5/5" - DJ Magazine, UK