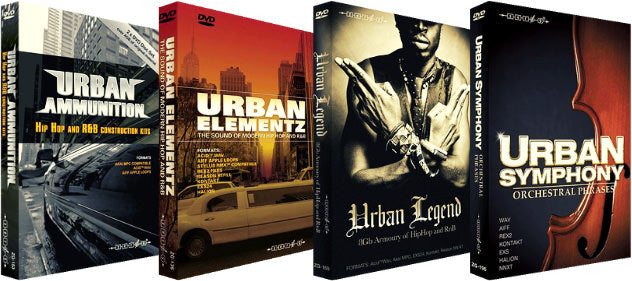 Urban Bundle
The ultimate mix of Urban and R&B samples
Format
Acid,
Apple loops,
Aiff,
Exs24,
Halion,
Kontakt files,
Rex,
Wav,
Nnxt
The ultimate mix of Urban and R&B samples - this bundle delivers the best Urban samples at a fraction of the cost. 
Urban Symphony - 
These orchestral sessions were all recorded in flawless 24bit audio and mastered using state of the art production techniques to provide a very contemporary sound which enables the samples to sit well in a modern musical setting.
The phrases contained in this library have been composed and mastered to work particularly well with Hip-Hop, RnB and rap but are equally usable in EDM or any form of modern music.

Urban Legend - 
From the makers of the best-selling Urban Ammunition comes one of the largest libraries of urban samples ever to hit the streets. With almost 8000 samples at your disposal, Urban Legend will never fail to deliver something new to inspire your hip-hop and RnB productions.
However, quality has not been sacrificed at the expense of quantity. All the samples are recorded in pristine 24bit and mastered to perfection using state of the art production tools. The programming is beyond compare but there is also plenty of live instrumentation as well to give you that all important groove. There's even a bank of live orchestral samples!
Urban Elementz -
Top New York remixer and producer Robert LaRow and his production crew have put together this amazing collection of urban construction kits for your mixing pleasure. There are 35 full construction kits, plus hundreds of scratches and a bonus section of drum hits making this the current definitive sound of RnB and Hip-Hop.
Fresh tracks, new sounds. Urban Elementz will take your mix to a higher plane. So mix it up and turn it out with world class construction kits from the professionals. Here is everything you need to make bullet-proof Hip-Hop and RnB. Don't be fooled by imitations, this is the real deal.
Urban Ammunition - 
Urban Ammunition is a huge, totally new collection of Hip-Hop and R&B loops and samples all engineered & mixed to perfection. The library was designed with urban producers in mind, with jaw-dropping beats, keys, basses, guitars, synths, strings, licks, fills, percussion, scratches and much, much more...
Don't be fooled by imitations, this is the real thing. This huge library will not only inspire & enhance your productions, it will bring your music to the next level. Raise the standard, demand the best: Urban Ammunition is a MUST have collection.
Urban Symphony (RAR files):
Parts 1 - 3: 953 MB each
Part 4: 571 MB
Urban Legend (RAR files):
Parts 1 - 10: 500 MB each
Part 11: 152 MB
Urban Elementz (zipped file):
Urban Ammunition (RAR files):
Parts 1 - 7: 500 MB each
Part 8 : 406 MB
Info & Quotes
Urban Legend
"Here we have an insane 100 hip-hop and RnB construction kits. The quality of sound ranges from extremely raw to beautifully pristine, but everything is as fat as can be and very much suited to the style of each kit. Authenticity levels are mostly sky-high. the musical parts are all well-written and there's a good variety of live instruments in there, as well as some slightly less expected instruments that fit right in. Then there are hundreds of drum loops and multisampled synths, followed by over 1500 single hits and 150 orchestral samples. Very good indeed! Rating 10/10"
- Computer Music Magazine, UK
Urban Ammunition
"In keeping with modern urban trends... Sound quality is high, and the beats thump, rumble and crack as they should, while the bass, string hits and synths sound chunky and powerful... everything is well put together and sounds authentic... plenty of power and punch... Urban Ammunition delivers its payload, providing a large resource of beats and loops that is easy to dip into when you're stuck for a slice of urban flavour."
- Sound on Sound Magazine, UK