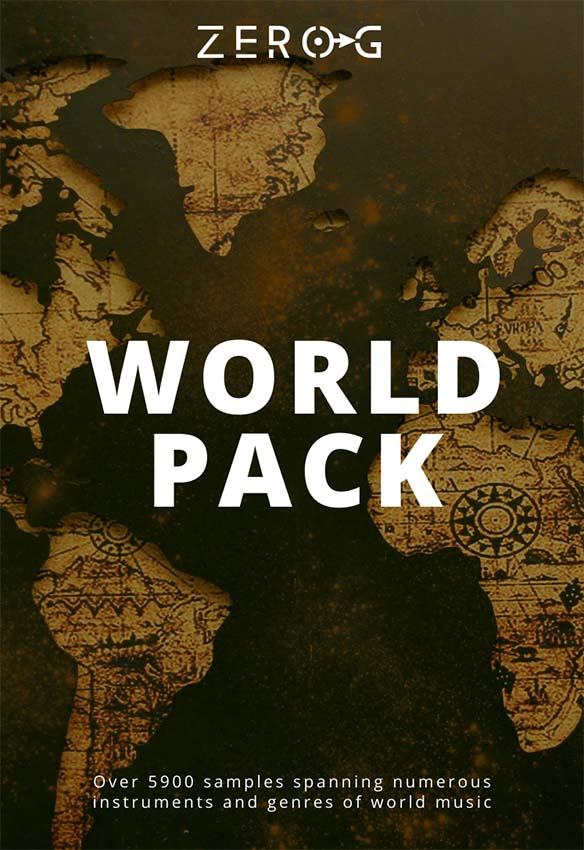 WORLD PACK
Over 5,900 samples spanning numerous instruments and genres of world music from Celtic to Indian, Latin to the Pacific and more!
Welcome to World Pack - bringing together a vast amount of content from several of our previous sample collections – this time focusing on the diversity of world music.
This has to be one of the first choice libraries of loops for users of Apple's GarageBand, Soundtrack, Logic Pro, and Final Cut Pro, plus is also available in ACIDized WAV format.

With overwhelming variety and diversity in style, this absolutely massive pack of over 5 GB of material is guaranteed to provide exciting new ideas for enhancing your next track.
Over 5,900 loops are lined up from such collections as Afrolatin Slam, Deepest India, Middle Eastern Sounds, Sounds Of Polynesia, and Tribal Elements.
Here are 4 great reasons to buy Zero-G World Pack.
It offers massive size (over 5,900 loops, and over 5 GB).


It offers truly professional levels of quality and usability as it's produced by Zero-G, one of the world's largest and most highly acclaimed suppliers to the pro audio industry for over 20 years.


It includes an amazingly diverse and varied range of loops from many musical styles and cultures.


It comes at a simply unbelievable price representing totally unbeatable value-for-money.

We have cherry-picked the loops and samples from a wide range of successful world/ethnic products from the Zero-G back-catalog. Approximately 3,000 BRAND NEW unique loops and instrument samples from Africa and the Middle East have also been added. 
All of these have then been programmed into Apple Loops format, making them all instantly usable and interchangeable in Apple's GarageBand and SoundTrack, as well as Logic and Final Cut Pro. So, all of the 5,900+ samples are compatible with any software which can use samples in AIFF format!

OVERVIEW OF CONTENTS:
Over 5,900 Apple Loops from a diverse range of world cultures including Indian, Polynesian, Australian, Spanish, Latin American, Celtic, Middle Eastern, and African.
A huge injection of new loops and sounds. A massive rush of inspiration. Open up whole new vistas on your musical creativity with this enormous collection.
Zero-G titles featured in this compilation:
Some of these titles are available to purchase separately as individual libraries. Click on the name to find out more about the individual title.
Afrolatin Slam (African, Latin, and Afro-Latin fusion loops).
Celtic (Loops of celtic instrument performances from Ireland, Scotland, etc).
Deepest India (Superb, evocative and inspiring instrument/ vocal/ ensemble loops from India).
Ethnic Volume 1 (A diverse selection of 'world' loops from many countries and cultures).
Ethnic Volume 2 (A diverse selection of 'world' loops from many countries and cultures).
Flamenco Sounds (The world's finest library of Spanish Flamenco loops).
Middle Eastern Sounds (A brand new varied collection of loops from North Africa and the Middle East).
Sounds Of Polynesia (A wonderful library of loops from the South Pacific islands and Australia).
Pure Brazilian Beats (An incredible collection of Latin rhythms with an infectious feel).
Pure Tabla (An unbelievable range of sonic beats created entirely with tabla drums!).
Tribal Elements (A brand new diverse library of samples from across the African continent).
Vindaloops (Wonderfully expressive and expertly played Bhangra loops)
WORLD PACK (Apple Loops Format Compilation):
Download Size (RAR files):
Parts 1 - 3: 2.0 GB each
Part 4: 110 MB
Info & Quotes
"Zero-G seem to be on a mission to provide users with every sample they'll ever need. World Pack represents superb value for money" - Computer Music Magazine, UK
"A vast amount of content... a darned fine collection of material that should be enough to keep even the most demanding sampler happy for months and add some worldly diversity to your collection" - Future Music Magazine, UK
"You won't find these sounds wanting, in variety or depth... everything from Africa to India to Ireland to Brazil... There's almost too much to choose from... you could fall in and never come up for air!... World Pack has many lovely foreign spices to choose from" - Recording Magazine, USA