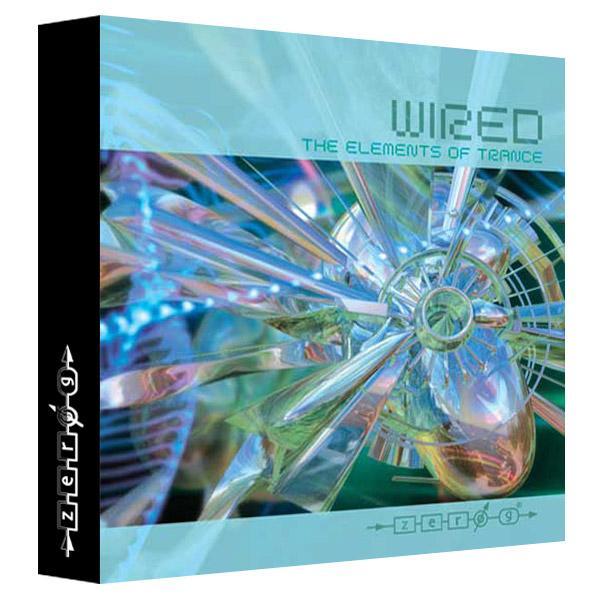 WIRED
Almost 2000 samples for a variety of classic dance genres
Welcome to Wired: a huge and exclusive trance sound archive that provides every constituent you need to make the perfect trance track, including just about every 4/4 percussion combination you can imagine.
Over 1 GB of diverse material including trance drumloops, epic trance sequences and arpeggios (all full of energy and vibe and easy to edit and make your own), plus trance-friendly pads, pad loops, euphoric synth lines and trance bass loops, effect stabs, trance snare rolls, and a huge selection of vital trance drumkit sounds.

Although subtitled "Elements of Trance", the sounds in this dance production factory will work in a variety of classic dance genres. Many loops are also usable for other genres like chemical, techno, house etc.
The bulk of the loops are aggressive drum and percussion loops. There are also plenty of kick-only patterns, and other isolated percussion loops. A selection of typical dance piano and guitar loops are provided as well. There's enough material in this category alone to keep you busy for ages.
As a bonus, there's also a very useful selection of drumkits. The "grooveloops" collection (leads, buzzers, basses, pads, ambiences etc) is a vast and powerful collection designed to work with the drumloops. You'll find it's a real party to mix, split and process these sounds just the way you like them.
A lot of great sounding synths have been used here, including some really fat analog bass loops and super cool acid loops. There's plenty for the Ibiza house producers too - the guitar and piano loops provide just the right inspiration and will help you muster your last ounce of euphoria.
This is a good all-around dance collection, and with almost 2000 samples, the variety of the content is enormous - if you can't find what you're looking for here, you probably won't find it anywhere else!
Includes:
2200 WAV files
928 REX loops
Categories of samples included:
Drum Kits:
808 Kits
909 Kits
House Kit
Tec-Trance Kits
Trance Kits


Single Hits:
Bongos
Claps
Cow Bells
Crash
Cymbals
CymbalsFx
Shots
Hats
Kick Drums
Rim Shots
Snares
Tambourine
Toms

Loops:
Drum Loops
Bongo Loops
Kick Loops
Mixed Percussion
Snare Rolls
Trance Loops
Groove Loops
Acid Loops
Ambient Intro Loops
Ambient Pad Loops
Bass Loops
Fx Loops
Guitar Loops
Live Fx Loops
Orchestral Pad Loops
Piano Loops
Sweet Pads
Synth Loops
Trancy Synth Loops
Tribal Trance Loops


Instruments:
Acid Shots
Atmos
Basses
FX
Piano
Sabs & Jabs
Sweeps
Download Size (zipped file):
Info & Quotes
"It's a killer... there's a huge mass of content... you're looking at one serious soundset... The production is very good... The construction kits are well thought out and work together coherently, and the individual instrument goups provide a wealth of well chosen, usable examples... It's trance-tastic, and we're very impressed. 9/10" - Computer Music Magazine, UK
"Wired has plenty to offer trance producers and all the essential elements are here to put together complete tracks... very good value for money... the 14 construction kit presets are hard to beat. These typically contain some drum loops, individual hits, perhaps a few instrument loops and a bass or melody sound." - Sound On Sound Magazine, UK