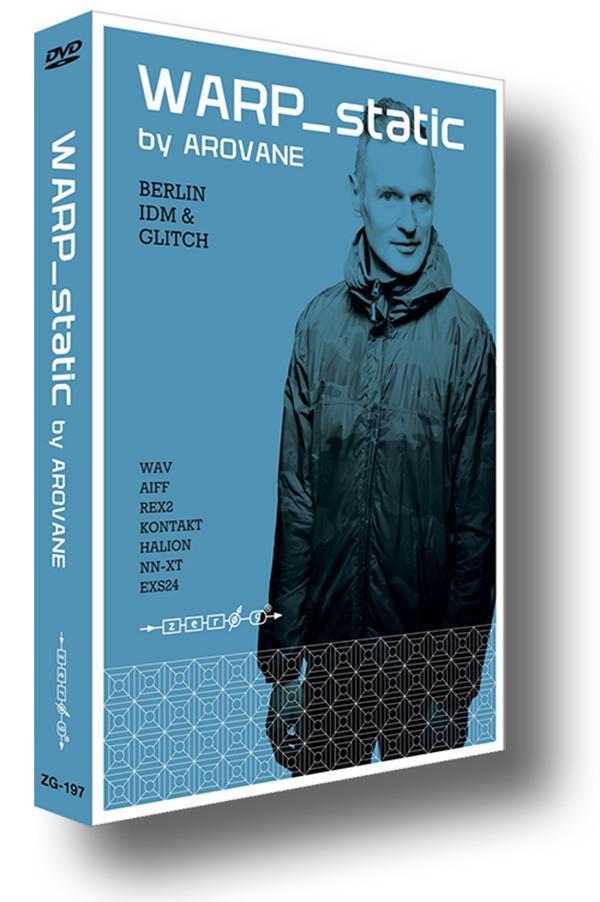 WARP_static
Over 1.7 GB library of experimental electronica and IDM from electro-wizard Arovane
Format
Acid,
Apple loops,
Aiff,
Exs24,
Halion,
Kontakt files,
Rex,
Reason,
Wav,
Nnxt
PDF files
WARP_static is the brainchild of Berlin electro-wizard Uwe Zahn who operates under the artist name Arovane.
His trademark angular, electronic palettes and timbres, complex, crunching and swarming soundscapes, glitchy, distorted and disjointed sounds are all featured in this fascinating sample library.

Our UK Distributors Time+Space has interviewed Uwe about the making of this library - read the interview here to get a strong idea of the flavour of the sounds and the thinking behind them.

The library contains pads, explorations, melodic and percussive rhythms, musical phrases, glitch beats and much more. The rhythms clash, mutate and evolve. Blasts of digital percussion and menacing glitch beats unsettle. Luscious digital washes contrast with buzzing, pixelated beats. Zahn creates a unique mesh of sound which is as abstract and experimental as it is cerebral and astute.
 
Zahn's sound has often been compared as a fusion between the explorations of Autechre and elastic soundscapes of Boards of Canada.
WARP_static is quite simply a work of outstanding electronic genius and is ideal for any dance music or film-score producer who yearns for something both extreme and unique to enhance their productions.
Includes:
308 ACID-ized WAV files
308 AIFF Apple Loops
131 EXS24 Instruments
131 HALion Instruments
131 Kontakt Instruments
131 Reason NN-XT Instruments
219 REX2 files (compatible with Styus RMX)


For more detailed info on the contents of Warp Static, please take a look at the PDF of Contents for a full list of contents and descriptions.
Download Size (RAR files):
Parts 1 - 3: 953 MB each
Part 4: 30 MB
Info & Quotes
"Berlin-based Arovane (aka Uwe Zahn) is one heck of an electronic artist and sound designer, and this library is a testament to his skill as a sample library producer, performer and programmer… His trademark electronic timbres and distinct sound are included in this library. IDM connoisseurs will be pleased to find glitchy drum loops in the 'Rhythms 120' and 'RhythmicPercussive' folders. All loops have that Autechre vibe and are well programmed. All other sounds are just icing on the cake of this sweet but fascinating library. We all want to have the right tools when we are composing in the studio, and if you need the right samples to elevate your glitch, IDM and experimental tracks to the next level, I would recommend getting Warp_static. Overall, a tremendous library with plenty of synth experiments and beautiful oddball beats." - SoundBytes Magazine