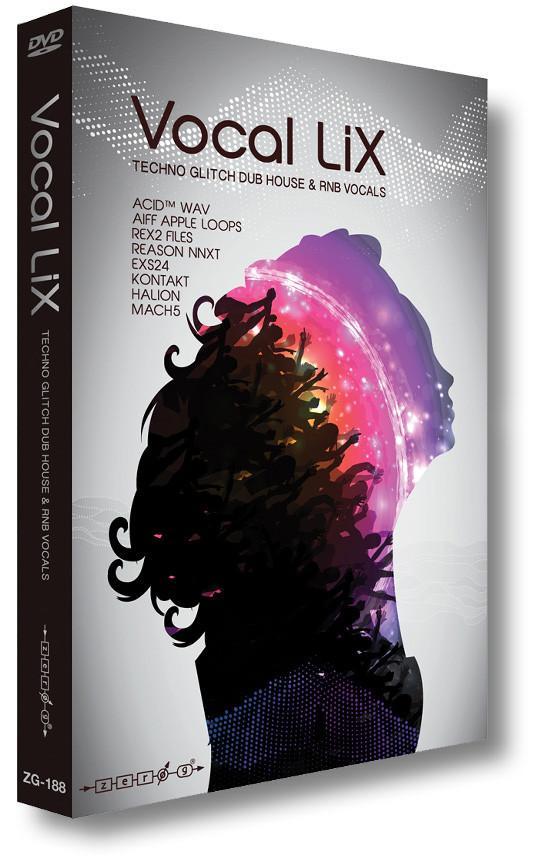 Vocal Lix
Over 1000 samples of techno, glitch, dub, house and RnB vocals
Format
Acid,
Apple loops,
Exs24,
Halion,
Kontakt files,
Rex,
Reason,
Wav,
Nnxt,
Mach5
PDF files
Zero-G and Xfonic present VOCAL LIX - over 1000 samples of techno, glitch, dub, house and RnB vocals all in pristine 24bit audio. 


Vocal Lix is a veritable cornucopia of dance oriented vocals.
First off, there is a killer collection of glitched, tweaked and processed vocal samples produced expressly for the discerning dance music producer. 


Next, are a pile of house & RnB inspired licks, lead hooks, harmonies, ad libs and loads of single hits.


Finally, there is the best in authentic dub and ragga vocals straight from three of Jamaica's top vocal artists.
There are over 750 MB of samples in total, all programmed to work in your favourite music software. So, if you're looking to add some human element to your dance track then look no further than Vocal Lix.
All the samples in this library have been pre-cleared and are 100% original and royalty-free for your musical use without any additional licensing fees.
Categories include:
Vocal Glitches
Vocal Loops
Vocal Song Kits
Dubplate Vocals
Vocal FX
Oneshots
Songs
Female Phrases
Male Phrases
Formats supported include:
Acid™WAV
AIFF Apple Loops
Stylus Compatible Rex2 files
EXS24 Instruments
HALion Instruments
Kontakt Instruments
Mach 5 Instruments
Reason NN-XT Instruments

For more detailed info on the contents of Vocal Lix, please take a look at the PDF of Contents for a complete list of contents and descriptions.
Download Size (RAR files):
Part 1: 953 MB
Part 2: 559 MB
Info & Quotes
"There's a lot of processing involved, but it's all very tastefull [...] genuinely useful." - Computer Music Magazine, UK (Rating 9/10)
"Not all of us have access to a quality singer yet it often helps to have a vocal hook present through the early writing stages so that tracks can be crafted with vocals in mind rather than accommodated later. Libraries like Zero-G's Vocal Lix are a boon, particularly when they provide the flexibility offered here with WAVs, Apple Loops, EXS24, HALion, Kontakt, MachFive, NN-XT and Rex2 file formats all bundled. The content is organised into phrases, whole songs, FX, glitches, Loops and construction kits. The flavour of these longer takes is primarily of an RnB and soul vibe, although other styles are catered for. The Vocal Loops section, in particular, is appropriate for a wide range of Dance music genres." - Future Music Magazine, UK
"This is not a library that caters to a specific audience or style. Of course it is appropriate for dance music, but in the broadest sense of the word. Everything sounds completely up to date and if you are handy with samples, you can quickly make a well produced contemporary track. A versatile library." - INTERFACE Magazine, Holland