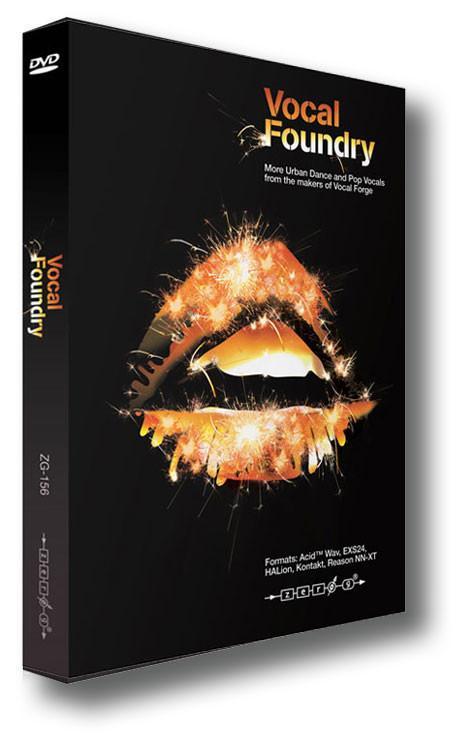 Vocal Foundry
Over 2.5 GB of wide-ranging vocal samples and patches scoping pop, dance and urban through to leftfield downtempo and folk
Vocal Foundry features 700 patches and over 850 samples in over 2.5 GB of original vocal material sourced entirely from specially recorded pro vocal performances in pristine 24bit audio.
From the producers of the best-selling sample library Vocal Forge, this sublime follow-up surpasses the original in both its quality and diversity.

As well as the usual array of pop, dance and urban singers the producers have enlisted some very talented folk and downtempo vocalists to produce a more leftfield approach giving this library more scope and usability, as well as making it a more diverse product.
The straight-up dance anthems haven't been neglected however and there are also pop, folk, downtempo, RnB, hiphop and grime vocals.
There is also a Vocal Toolbox loaded with helpful vocal tools such as gothic stacks, mashed vocals, retro human beatbox loops, vintage scratches, opera, Spanish quartets, simulated radio samples and much, much more.
There is something in this library for everyone while the craftsmanship and quality of the material presented is truly exceptional.
Best of all, the samples have all been pre-cleared and are 100% original and royalty-free for your musical use without any additional licensing fees.
About the VOCAL FOUNDRY sample library - an introduction by the creators, Mike Wilkie and Matthew Corbett:
Following on from Vocal Forge, with our second vocal project Vocal FOUNDRY we decided to focus on material reminiscent of some of the tracks that started the whole sampling and mash-up culture. Tracks like 'Toms Diner' and 'It's A Fine Day' (originally released on vinyl as an accapella). These vocals weren't produced with dance music in mind and stand apart because of a contrast that still sounds like fresh thinking. Rather than gear the whole production towards mainstream dance we worked with more diverse vocalists.
We enlisted some very talented Folk and downtempo vocalists from as far afield as Boston in the States to homegrown talent like iTunes best seller and Radio 2 favourite Kate Walsh to produce a more leftfield approach. We haven't neglected the straight up anthems either as we know from the usage of the first vocal forge that people do still like a straight up dance vocal, we just wanted to challenge people this time round and provoke some fresh thinking. We once again added in some Grime MC's to represent that side of dance culture which is becoming ever more popular with the emergence of Bassline. This aspect is a UK based tangent but as always we wanted to produce a product with distinct flavour rather than a generic item that could have come from anywhere.
With the toolkit we have once again aimed for more offbeat content - live Spanish quartets, Gothic stacks, mashed vocals and retro loops make up a few of the entries this time around. We've recorded scratching with old decks, scratching with an internationally renowned opera singer and simulated radio samples. We hope the content on Vocal Foundry will inspire the next wave of producers in bedrooms and studios the world over and we look forward to hearing our team of vocalists being woven into countless future productions.

Vocalists used:
Kate Walsh, Michaela Ryall, Monique Lawson, R.Dot.C, Auden Allen, LoudlyJaxx and Paul Mac.
At least one successful artist - DASH BERLIN - has already used Vocal Foundry to make a hit record. He used the Vocal Foundry song kit "When U Come Home" for the entire Vocal on his hit "Never Cry Again". Check it out on YouTube now - it's a superb production based entirely on our Vocal Foundry song kit. It also happens to illustrate very well the power of Vocal Foundry as a production resource!!

Another great example of Vocal Foundry samples being used effectively is the new single "Come Home" by Mind Strong which uses samples from the Vocal Foundry song kits "Broken Glass" and "You Said". Check it out on YouTube here (produced by MIND STRONG © 2013 // moodtown.music@gmail.com / moodtown.net)
Includes:
850 Acidized WAV files
633 Kontakt Instruments with Custom Interface
700 EXS24, HALion and NN-XT Instruments
Formats supported include:
AcidªWAV
Kontakt
EXS24
HALion
Reason NN-XT


For more detailed info on the contents of VOCAL FOUNDRY, please take a look at the PDF of Contents for a full list of samples/patches included.
Download Size (zipped files):
Part 1: 422 MB
Part 2: 501 MB
Part 3: 337 MB
Part 4: 334 MB
Part 5: 291 MB
Part 6: 311 MB
Info & Quotes
"Extremely well recorded and processed urban, dance and pop vocal samples... Despite what preconceptions you might have about a library like this, it's incredibly well crafted and superbly realised. Rating: 10/10" - Computer Music Magazine, UK