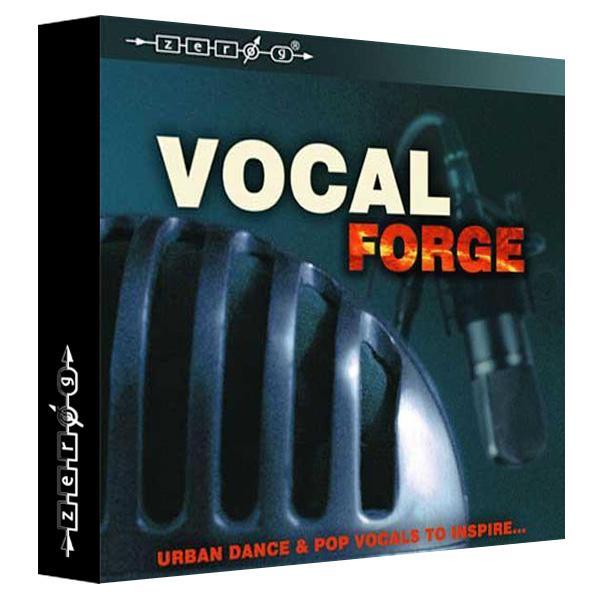 Vocal Forge
Male and female MCs, sweet R+B, gospel singers, dance & pop vocals
Welcome to Vocal Forge. This uniquely inspiring library features over 800 patches and over 2,600 samples in 1.2 GB of material sourced entirely from pro vocal performances.
Male and female MCs, sweet R+B singers, dance & pop vocals all recorded with accompanying harmonies. There are even a few wild cards such as Choral, Gothic and even Opera styles.
Plus, there is a vocal Toolbox loaded with single vocal lines, scratches, effected vocals, grunts breaths, human beatbox & percussion grooves, and fake TV and radio clips.
Please note: This is the same sample library that comes with the Native-Instruments-powered plugin version of Vocal Forge on DVD, except that with this download version you only get the WAV samples and Kontakt-compatible (.nki) patches, so you can use it with any software that reads WAV files, or use it with NI Kontakt!

This sample library is presented in NI's KONTAKT format.
(Please note: This download version is NOT a Rompler or Plugin and does not come with any 'Player' software - with this version you will simply be downloading the Vocal Forge sample library in WAV format which you can use with any music software, but everything has been set up in KONTAKT patches which you also get, so if you have NI KONTAKT then all the appropriate groups of samples are already programmed, mapped out and playable).
Kontakt makes no compromises in the playing and performing of sample-based instruments. Its powerful multi-mode filters, envelopes, LFOs and FX will give this library enormous flexibility and a wealth of creative possibilities. Load the provided .nki patches into your copy of Kontakt, or, just use the WAV files with your favourite sampling software.

For more detailed info on the contents of Vocal Forge, please take a look at the PDF of Contents for a complete list of samples/patches.
About the VOCAL FORGE sample library - an introduction by the creators, Mike Wilkie and Matthew Corbett:

"We approached the concept of the VOCAL FORGE as music producers. During our own productions there is always a need for vocal elements. Quite often these are little bites and phrases, sometimes spoken, sometimes scratched on vinyl but there are many, many occasions when we've wanted a bit more, something nearly fully structured or something with partial lyrical content. Normally for this we have to get a sessionist in, write the stuff, and incur the time and expense for that luxury.

As a logical step forward we thought it would be a great idea to have all of these elements in one place, all easily adaptable, and all poised to drop in to our productions, a bit MORE than has been accessible to this point!

Like many people we've got vocal sample CDs falling off our shelves but so often, in fact almost always they are comprised of divas screeching 'TAAAAAKKKKE MEEE HIGGGGGHHHHEEEEERR' at the top of their lungs in 12 different keys!

Another element largely ignored is the growth of urban vocals. Urban music has now surpassed Country as the biggest selling music form on the planet but this a fact that isn't mirrored in vocal sample content.

We thought the only way to get these samples is to go to source. We hooked up with Erroll Lawson from Birmingham's Higher Level Music, who looks after a collective of Urban artists based in the city. These artists were the perfect fit for the project. Male and female MCs, sweet R+B singers and a few wild cards to boot.

We also drafted in an old contact from New York for the authentic US Urban flavour.

We knew that many producers out there wouldn't have access to great vocalists or the equipment to record them effectively so we thought writing and recording entire song structures including BVs and adlibs would make an excellent backbone to the project. This way each element of the song could be included, excluded, mixed up, down, extended, reduced, pitched and time-stretched to adapt to any medium. Producers could then include substantial original vocals in their tracks without delving into to the legal quagmire of bootlegging.

There's little point to having a hit record if you have to surrender 99% of your royalties because you didn't get the proper clearance. With the vocal forge users will have a large, adaptable and legally water-tight tool to assist with achieving a more rounded production.

Where possible we tried to steer around the vocal sample cliches and opted for quirky material that would help producers finished tracks to stand out, lateral thinking works!

As well as dry vocals we wanted to include effected, vocoded, re-sampled and bizarre recorded sections. We bought megaphones, cheap nasty karaoke machines, 8 and 12 bit samplers as well as some very special mics and hardware vocoders. For the songs we kept effects to a minimum and the compression very standard so all of the production decisions would be left to the final user.

So ladies and gentlemen, after many months of hard vocalising with a rousing shout of 'no clichés!' each day before work, we are delighted to present to you 'Vocal Forge'! We wish you the very best with your projects and thanks for your interest."
Download Size (zipped file):
Info & Quotes
"What makes Vocal Forge different is that it provides not only vocal elements in various styles, but also elements that are guaranteed to work together sonically and contextually, from start to finish.. the point of this collection is to present mix-worthy, flexible, royalty-free samples. With this, Vocal Forge succeeds brilliantly" - REMIX magazine, USA
"Unlike the majority of vocal libraries that tend to be dominated by playable 'oohs' and 'aahs' or short sung phrases, Vocal Forge provides complete vocal performances, including lead vocals, doubles, backing vocals, and various ad libs... A further set of Toolkit programs are provided, and these include all sorts of weird and wonderful vocal snippets... The main vocal kits are dominated by R&B, dance, and pop singers.. The feel is definitely urban and performances generally good with plenty of character. The ability to arrange the lead vocals and to add appropriate backing vocals or ad libs to your arrangement makes each 'kit' flexible." - Sound on Sound Magazine, UK