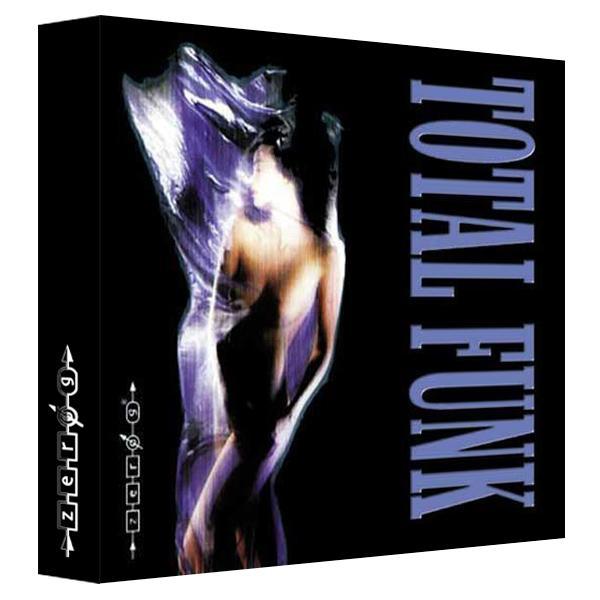 Total Funk
Over 1600 pure funk tools for the serious funkster
Welcome to Total Funk!
This enormous library provides over 1600 pure funk tools for the serious funkster.
Loops and multisamples of drumloops, basses, keyboards, guitars, horn stabs, brass lines, synths, vocals and more.
"Quality, range, ease of use, value for money and above all, musicality at almost every turn." (Sound On Sound Magazine, UK).
"If someone told me they were going to send me to a desert island to make a greazy funk record, I'd set about packing up my sampler, sequencer, Total Funk and a soul food cookbook.. Total Funk offers great value for money" (Keyboard Magazine, USA).
Tempo matched and edited to perfection, you may never need another Funk sample collection. Total Coverage!
Includes both ACIDized WAV and REX formats.
For more detailed info on the contents of Total Funk, please take a look at the PDF of Contents.
"Total Funk continues Zero-G's high-scoring Total series with a winning format.. Disc one kicks off with drum loops, which those lucky enough to own any of the other Total discs will know Zero-G don't scrimp on, either in terms of quantity or quality. Tempos start at 85bpm and rise incrementally to 125bpm, with anything between 30 and 60 loops in each tempo set. In total there are around 400 loops, ranging from crisp acoustic kits to grainy breakbeats, experimental sampled sounds and occasional analogue beatboxes... enough of the material is fresh, musical, and hugely usable. It's a real cross-section of both '70s retro and 21st-century dancefloor-filling beats, obviously assembled by funk pros... casting its net wide over a huge range of appropriate funk instrumental licks, riffs and multisamples, without ever getting bogged down in too much detail. The 20 tracks of guitars feature a jaw droppingly impressive assortment of short chugs and riffs, ranging from twang and strum to hard-core funk, and even including blues elements. The fun continues in the bass licks section, which, like the guitars, offers a useful set of handy track ideas listed with appropriate key signatures and organised into easy-to-use strict tempo sets. Also like the guitars, this section has a good spread of variation, including acoustic, electric and upright basses - all expertly performed and recorded. There follows a spade-load of stabs and brass riffs, followed by some groovy Rhodes chords and riffs which sizzle and twinkle with authenticity. The flute and sax sections are also well stocked with a series of fairly disparate and unconnected, but largely useful, samples. It's nice to see so many usable multisamples (Hammonds, Wurlitzers, clavinets, trumpets and vibraphones), too, on a release such as this.. Total Funk continues in the Total family tradition and offers quality, range, ease of use, value for money and, above all, musicality at almost every turn."
- Sound On Sound Magazine, UK
--

"If someone told me they were going to send me to a desert island to make a greazy funk record, I'd .... set about packing up my sampler, sequencer, Total Funk and a soul food cookbook... Total Funk offers great value for money"
- Keyboard Magazine, USA
--

"A collection of wicked funky breaks and loops and all manner of construction elements. Parts like guitar, basslines, stabs, brass lines, sax licks, Rhodes riffs, flute FX, synth FX, and various percussion allow you to mix and match elements. The breaks have a live breakbeat feel; from live kit drum breaks to processed loops; all these loops have a live and fresh vibe about them. There are plenty to choose from; 400 in total ranging from 85 to 125 bpm plus loads of percussive loops and jazz rhythms. Each loop has its own character and the whole CD oozes loopability. Anyone looking for lively, breakbeat drumming should look no further. Jammed with live instrumentation, the guitars are super funky with wah-wah FX, plus there's loads of classy live playing and jazz-funk style. There's also a large bassline section. Next up is a large section of all manner of disco and funk stabs to suit every flavour, well suited to house and funk styles of dance music. There are loads of brass lines and sax riffs, solo and duet. The Rhodes are smooth jazz with chords and riffs plus some nice Rhodes stabs and wah FX. The flute FX are weird and wonderful with nice reverb and echo effects and there's a short vocal section of JB-style and woo-yehs etc. The collection rounds off with individual instrument note hits and drum sounds."
- The Knowledge Magazine, UK
Download Size (zipped file):
Info & Quotes
"In total there are around 400 loops, ranging from crisp acoustic kits to grainy breakbeats, experimental sampled sounds and occasional analogue beatboxes... enough of the material is fresh, musical, and hugely usable. It's a real cross-section of both '70s retro and 21st-century dancefloor-filling beats, obviously assembled by funk pros... casting its net wide over a huge range of appropriate funk instrumental licks, riffs and multisamples, without ever getting bogged down in too much detail." - Sound On Sound Magazine, UK (read more in Media Reviews)
"If someone told me they were going to send me to a desert island to make a greazy funk record, I'd .... set about packing up my sampler, sequencer, Total Funk and a soul food cookbook... Total Funk offers great value for money." - Keyboard Magazine, USA
"A collection of wicked funky breaks and loops and all manner of construction elements. Parts like guitar, basslines, stabs, brass lines, sax licks, Rhodes riffs, flute FX, synth FX, and various percussion allow you to mix and match elements. The breaks have a live breakbeat feel; from live kit drum breaks to processed loops; all these loops have a live and fresh vibe about them." - The Knowledge Magazine, UK (read more in Media Reviews)