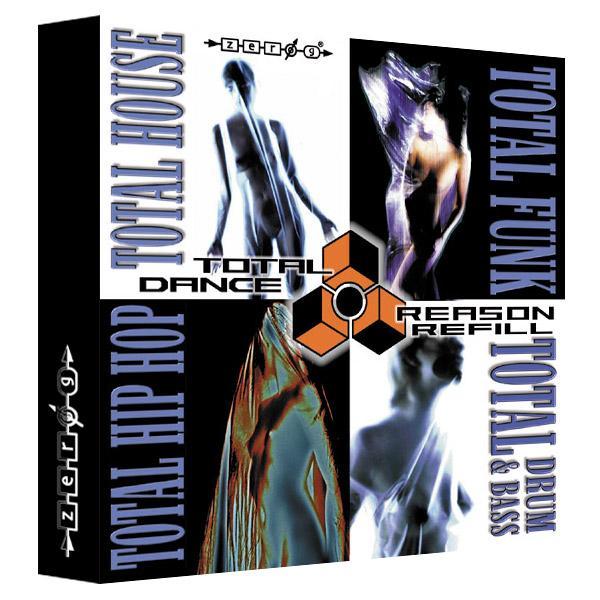 Total Dance Refill
Four award winning Zero-G libraries in one huge package
The Total Dance Refill combines 4 of Zero-G's original and award winning huge audio/wav 'Total' series libraries - Total House, Total Drum & Bass, Total Hip Hop and Total Funk, into one unbelievably huge and explosive Reason Refill package.
Total Dance Refill provides everything Reason software users need to produce serious trax, whatever your style of dance. Overflowing and totally flexible, with over 3000 loops including over 2800 REX2 loops and grooves, together with 40 ReDrum Drumkits and a huge collection of over 2000 instrument patches for NN-19 and NN-XT.
Over 1.3 Gigabytes of sounds (when unpacked). This package is Zero-G's second largest Reason Refill library - it's unbelievably extensive (Over 6,000 samples!) and it will take you a very long time to plumb its depths and exhaust its diverse range of possibilities.
The FOUR libraries included in this Refill package would cost over $200 to buy individually in audio/wav format. Now you can buy them combined into one package for use with Propellerheads REASON software for a super low price.
Note: Zero-G's "TOTAL TRANCE" library was not included in this package as it is already included in our "WIRED - THE ELEMENTS OF TRANCE" Refill. Please also note that all of the sounds in the TOTAL DANCE REFILL are contained WITHIN the Refills, which means you have to have Propellerheads Reason software to be able to use this product.
Info & Quotes
"It's certainly a good investment for those with a penchant for genre hopping... There are literally thousands of sounds in this massive collection... enough to keep Reason users happy dabbling in four completely disparate genres for years to come." - FUTURE MUSIC Magazine
"Again this is a collection which represents great value for the Reason user. The amount of samples included is very large and of a very good quality....much inspiration can be gained by digging into this set of refills... a wealth of sounds for everybody into dance music... The quality is just right, as with most of the Zero-G products it's hard to find flaws" - REASONFREAKS.COM
"Total Drum & Bass, like Total House before it, is a near-perfect example of what dance-oriented sample libraries could and should be, combining thought, attention to detail and consistent levels of quality and musicianship to give the end user tons of options" - Sound On Sound Magazine
"Total Hip Hop - a great value for money collection which is ideal for any producer, at almost any level." - FUTURE MUSIC Magazine
"Total Funk continues in the Total family tradition and offers quality, range, ease of use, value for money and above all, musicality at almost every turn" - Sound On Sound Magazine