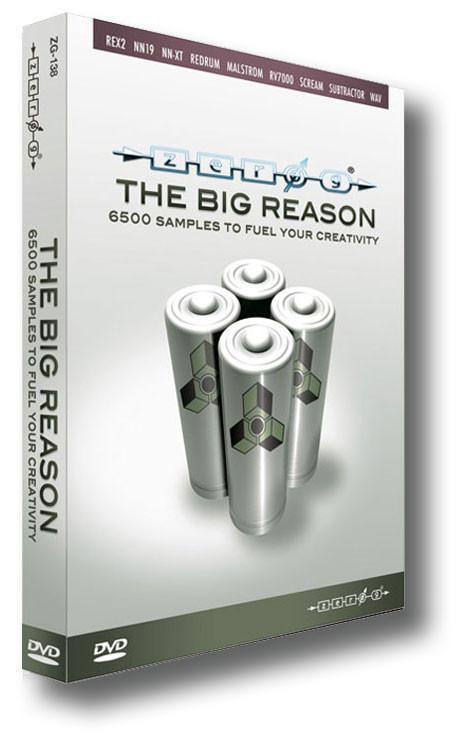 The Big Reason
Seven excellent new libraries rolled into one spanning contemporary music styles bursting with loops, instruments, pads, FX and more
Welcome to The Big Reason - SEVEN fantastic Sample Libraries rolled into one! Over 6500 samples and over 4 GB of material, all for the price of one library.

The Big Reason is a sample library packed full of loops, instruments, pads, effects and much, much more, all programmed for use with Propellerheads Reason (and other REX/WAV-compatible software) as REX2, NN-19, NN-XT, Re-Drum, Malstrom, Subtractor and WAV files.
Covering almost every contemporary music style including Dance, Funk, Urban, Ambient, Leftfield and Ethnic and with over 6500 samples to choose from you will always find something to stimulate your creativity.

The seven new, exciting libraries in this package are:


Binary Finary - a dance music library from the dance maestros themselves.
Chemical Comedown - pads, fx and soundscapes that create a journey into sound.
G-Funk Era - an awesome collection of dancefloor funk-ed up essentials.
Guitar Lab - electric & acoustic guitar licks, riffs, notes and chord patterns from a top sessionist.
Organic Chemistry - other-worldly, exotic, unexplained, alien & avant-garde sounds.
Percolated Beats - live drumloops from top urban music session drummer Richie Spaven.
Planet Bliss Loops - over 700 brand new beats suitable for all kinds of dance music.

..and because we don't want to upset any non-Reason users out there we have left all the files unpacked so anyone can access these wonderful samples and use them in their favourite software.
Contents include:
4.2 GB of samples
Over 3300 Rex2 Files
Over 3300 Wav Files
520 NN-XT Patches
490 NN-19 Patches
57 ReDrum Kits
50 Malstrom Patches
47 Subtractor Patches

For more detailed info on the full contents of THE BIG REASON, click the following links for a complete list of every sample included in each library:
THE LIBRARIES IN MORE DETAIL:


Binary Finary…
During the dark days of Binary Finary, strange noises could be heard emerging from the ashes of the band's former remains. A heap-load of kit, and too much time on the survivors' hands led to the creation of an epic refill from Binary Finary… Those dark years have now paid off and the samples from the refill were used extensively on Binary's new album 'The Lost Tracks'…

Samples from various pieces of classic hardware are used to great effect, from blissful acidic squeals to raw crunchy sounds… The synths were sampled with great flair to bring you classic synth sounds for your reason platform.

Also lots of raw waves have been sampled over a healthy key range and put into reason friendly instruments for you to filter and twist up! Masses of analogue percussion have been sampled to give your trance an 808 twist, layered up to create massive crashes and stereo hits to die for and bags of stock trance sounds tweaked for Binary's needs.

What you end up with is a soundset that has had all the rubbish removed and practical, useful, inventive content is left. There is no other refill that Binary used during the album 'The Lost Tracks', giving a distinctive new trance feel.


Chemical Comedown...
This library started off as a long time dream of its creator, sound designer Mike Bishop, a collection of interesting and trippy sounds in a constantly changing soundscape. Not like regular music, but more of a journey into sound itself.

Mike had been creating these sounds for quite a while, from programming old analogue keyboards to sampling the pigeons on his roof, every sound has been tailored and morphed into a completely new sound.

One by one, more sounds were created and very soon Mike had enough to create a library. Everything was layered, processed, effected and even more sounds created and tweaked. So he then had the idea of pooling all the samples together into two groups PADS and SFX and creating a construction sample library where the user can mix and match sounds.

The samples themselves were created using Soundforge, Cool Edit Pro, Wavelab and a handful of plug-ins (Timeworks, Ultafunk, PSP stuff and Waves etc.) Mike also has some outboard hooked up to his Akai S5000 to process sounds further including Moogerfooger Low Pass Filter and Ring Modulator, Korg MS-2000 and Nova. He programs sounds from scratch using Roland Juno 106, Oberheim OB12, Korg MS-2000, Kurzweil K2000 and some plug-in synths.

The sounds themselves, sound quite at home in any type of music from drum & bass to blissed-out psychedelic new age.


G-Funk Era..
This library has been produced by multi-talented Dmitriy Vasilyev. It features over 850 samples of the coolest funk that can be used in all types of modern dance music.

G-Funk Era features funky beats and breaks, processed beats, percussion, guitar and bass loops, synth loops and scratches and vinyl, bass and synth NNXT patches.


Guitar Lab...
This library has been produced by outstanding session guitarist Andy Power and features over 150 Guitar riffs ranging in tempo from 80bpm to 140bpm all Rexed and ready to use in your compositions.

Guitar Lab is mainly based on percussive funk with strong infectious grooves. This is the style of playing requested by many dance artists/producers Andy has worked with throughout the UK & Europe.

Andy has also included some other styles in this collection, showing the versatility of his guitar playing ranging from jazz, blues, pop & rock, all in various keys and tempos.

Andy Power is a professional guitarist, touring with many artists/bands throughout the world. Teaming up with an impressive array of people over the years, Andy has not limited himself to any one style. Present work includes composing for TV commercials and theme tunes plus radio jingles. Andy has also recently been working with various DJs on remixes and original material.


Organic Chemistry...
This library is for anyone working on gothic, horror, sci-fi, or mystery soundtracks, or anyone who wants to give an other-worldly, exotic, unexplained, alien or avant-garde feel to their music. This inter-related collection is varied and stimulating. You can dip into it for sound experiments of your own, or to find a special texture or background atmosphere.

About its creator Nigel Ayers…A revered innovator of the experimental music scene, Organic Chemistry creator Nigel Ayers has built and designed many weird and wonderful instruments, collected and sampled hundreds of strange and unusual musical instruments and hacked the hardware of many electronic and mechanical devices.

The raw material for this library comes from Nigel's acclaimed personal collection of which he has built up over 25 years of underground audio research. Hundreds more hours of processing have helped create a connoisseur collection of audio exploration for you to sample and enjoy.


Percolated Beatz...
Producer Jean-Marie Brichard writes… All of these fantastic drumloops were recorded live at The Establishment studio in London. The Establishment is interesting in that it has removable panel walls which allowed us, the producers, to record Richard's drumkit in various ambient settings using wood, stone and carpeted walls.

We also used a variety of mike techniques to get as many different sounds as possible, close mics, rooms mics, tunnels for kicks, etc.

This library contains many types of playing style but it is particularly useful for composers working in funk, broken beat, 2-step, drum & bass, jungle and hiphop. All the loops are ready to use and chopped into REX2 files.

This is the perfect live drum library for hiphop, RnB, nu soul, electronica, drum & bass, and any nu-jazz producers out there. However it is also a great tool for any songwriters who need to boost their tracks with professional live drums with an urban slant.

Percolated Beatz features the talents of Richard Spaven who is one of the most in-demand drummers on the broken beats, jazz and hip hop scenes in London at the present time. His credits include the Legendary Guru's Jazzmatazz (which he is currently on tour with), Mercury Prize nominee TY, Marc de Clive Lowe, 4Hero, Wadjeed's Platinum Pied Piper, Bembe Segue and Robert Mitchell's Panacea amongst others.


Planet Bliss Loops...
This library has been conceived, assembled and produced by accomplished game and independent movie composer, Jonathan Heslop.

Having already produced Zero-G's Ambient Textures Refill and Chemical Synths which received high praise from the industry's media on their release, Jonathan's hands-on appreciation of Propellerheads' Reason software capabilities in his own music projects results in refill libraries which are not only musically influential but which also fully utilize the Reason software.

For this library Jonathan has produced over 700 brand new and unique drumloops in Rex 2 format ready for use in all kinds of dance music. Just dip in and sample…
Download Size (RAR files):
Parts 1 - 3: 953 MB each
Part 4: 48 MB
Info & Quotes
"The Big Reason certainly lives up to its name: with well over 6000 individual samples, occupying 4 GB of hard disk space, it certainly is big... the libraries are all useful in their own right.. For those working in dance or electronica styles who want a shed-load of content without parting with a shed-load of money, The Big Reason is well worth considering... Five stars for value for money" - Sound on Sound Magazine, UK
"Big by name and big by nature... it's hard to fault this collection... you're likely to call on it time and time again. Rated 9 out of 10" - Computer Music Magazine, UK
"6,500 SAMPLES OF PURE PERSUASION... about as close as you'll get to the ultimate electronic-music production toolkit... What's extra cool is that all the files are left unpacked, so anyone can use the raw samples... a trance treasure trove... inventive urban-crossover and exotic electro breaks... deeply trippy... infectious grooves and funky live guitar riffs... dark and dissonant imagery... All in all, The Big Reason is a fantastically deep reservoir of electro-acoustic beats, phrases and instruments" - REMIX Magazine, USA