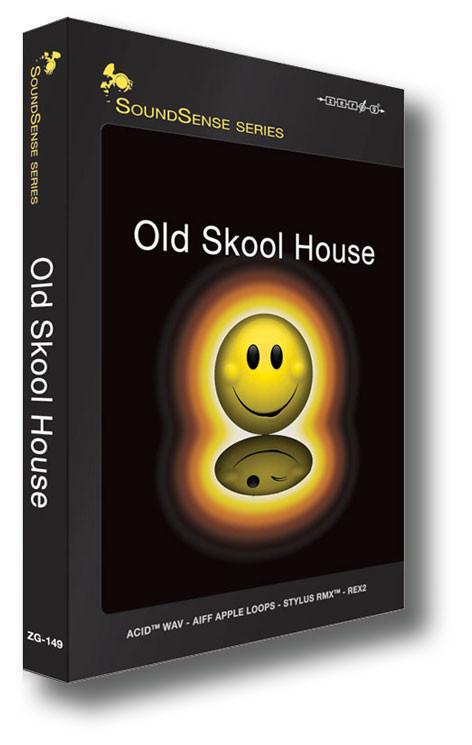 SoundSense - OLD SKOOL HOUSE
Cracking library crammed full of authentic classic house for tomorrow's dance tunes
Welcome to Old Skool House - a fantastically authentic and nostalgic collection of Old Skool sounds from Zero-G's SoundSense Series.
The SoundSense Series has been created to provide music producers with professional quality sounds at fantastic value for money, maintaining Zero-G's tradition of virtuosity, value and variety.
OLD SKOOL HOUSE
This title Old Skool House brings you classic house samples for use in tomorrow's dance tunes!

Zero G's Top House producers bring you this fantastic collection of old skool house samples from the era that spawned classic house and was the catalyst that sparked the massive movement that is electronic dance music.
Folders packed full of construction kits, beats, basses, pianos, organs, percussion loops, drum kits, stabs, riffs and more, all 100% original and royalty-free.
This great collection gives you the raw materials needed to get back to the good old days of Classic House!
This fantastic library comes in multiple formats that should suit every music producer.
Formats supported include:


Acid™WAV
AIFF Apple Loops
Stylus RMX™
Rex2
The SoundSense Series comprises of these titles - click on the names to find out more:
Features:
800 Acidized WAV files
800 AIFF Apple Loop files
350 REX2 files
650 MB of sounds
Drum & Percussion Loops
15 Construction Kits
Basses
Chords
Keyboard Riffs
Drum Kits
Organ & Piano
...and much more!

For more detailed info on the contents of Old Skool House, please take a look at the PDF of Contents for a full list of included samples.
Download Size (RAR file):
Info & Quotes
"This little collection will have you dancing around your studio like it was 1988 all over again... From skittering hi-hats to gorgeous basslines and huge, ethereal synth pads...any wannabe House producer should find inspiration from this... a highly useable collection... Highly recommended. Rating 8/10" - Future Music Magazine, UK
"It's funny how things seem to come full circle every few years. So there was never any doubt that retro rave music would put in an appearance in our musical lives once again. Enter 'Old Skool House' from Zero-G. The smiley face on the front would suggest this is aimed squarely at the late- '80s rave wave, and on firing up the collection we're neither surprised nor disappointed. Most of the usual suspects are here, including classic house organs, some rather useful period piano samples and plenty of the obligatory car-horn synths and other classic sounds. Format-wise, there's everything we've come to expect from this type of collection, including single hits, sampler patches, ReCycle loops and a variety of construction kits. It's all good stuff... If you want this kind of sound in your productions, this collection is a lot more convenient than digging out those old tracks and sampling them yourself. Tech Verdict: 4/5" - DJ Magazine, UK