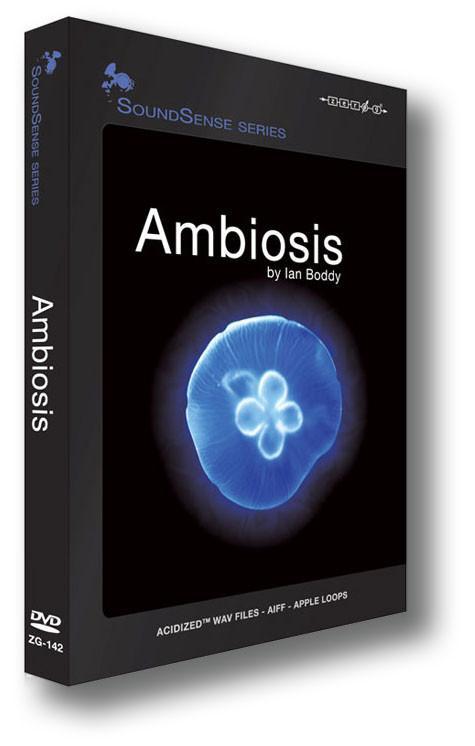 SoundSense - AMBIOSIS
A vast and inspiring array of atmospherics and soundscapes
Welcome to Ambiosis - an amazing library of atmospheres and soundscapes from The SoundSense Series.
The SoundSense Series from Zero-G has been created to provide music producers with professional quality sounds at fantastic value for money while maintaining Zero-G's tradition of virtuosity, value and variety.
AMBIOSIS
Highly acclaimed electronic musician and samplist Ian Boddy brings you a fantastic array of atmospherics and soundscapes at a bargain price. These sounds can be used in virtually any music style where a little dash of sonic spice is needed.
Ambiosis is particularly useful for ambient, dance, film soundtrack and trance composers where the sounds can often provide the creative impetus for a new track or to add the finishing touches to an existing composition.
Ambiosis serves as a fine electronic music resource for producers who need to apply texture, mood, and ambience across a wide variety of genres.
Categories include:
Analogue
Atmospheres
Dark
Light
Spacey
Vintage
and Weird
Ambiosis is also available as part of Odyssey: an amazing value compilation of eight Ian Boddy sound design libraries, including Outer Limits, Airwaves, Elektrolytic, ASL, Beatalogue, Drumalogue and Radiophonica. Click here to go to the Odyssey product page.
The SoundSense Series comprises of these titles - click on the names to find out more:
IAN BODDY is one of the UK's most celebrated synthesists, and a veteran of the European electronic music scene since the late 1970s and has been creating sample libraries for Zero-G since 1992.
Ian writes:
"In those early days it was sufficient to release a 650 MB CD full of audio only tracks and let the end user sample map & loop the material. Over the intervening years such libraries evolved through CD-ROMs in sampler-ready formats through to full blown virtual instruments with synthesiser-like front ends. The advantages of the latter are many but the instruments tend to be expensive, the samples are tied to their own interface and they seem to consume ever increasing amounts of hard disc real estate.
With this in mind it was refreshing for me when Zero-G asked me to create the material for Ambiosis. I was able to use some of the cutting edge techniques I had employed on my recent virtual instruments Morphology & Outer Limits but in a nice simple, inexpensive format that would hopefully bring the availability of these sounds to a much wider audience.
Once again, I was able to make extensive use of my lovely old analogue equipment, VCS-3, Minimoog, Roland & Moog modular systems but in conjunction with modern day digital manipulations from the likes of Metasynth, Reaktor, Pluggo, SFX Machine, Audioease, Camel Audio etc., to create a library with a unique sound palette."
Contents:
400 MB of new sounds
Analogue
Atmospheres
Dark
Light
Spacey
Vintage
Weird
and much more!

For more detailed info on the contents of AMBIOSIS, please take a look at the PDF of Contents for a full list of included samples.
Download Size (RAR file):
Info & Quotes
"Plenty to raise the hairs on the back of your neck... If you work in trance or ambient styles, this collection ought to have something to offer from a purely musical perspective... the quality of the sounds is excellent... the sounds could work so well for film and TV applications... Ambiosis is great value... would be worth adding to the collection of an budding media composer… Awarded FIVE STARS" - Sound on Sound Magazine, UK
"The creative talents of veteran sound designer Ian Boddy are well showcased in this stupendously surreal collection. If you seek to conjure cinematic, ambient soundscapes for adding a certain zest to your sound palette, it would be difficult to top this. Listening through, it's easy to get lost in the textures, seemingly locked in another realm where the conventional laws of physics no longer apply. Atmospheric trance, drum 'n' bass, IDM and soundtrack composers will likely find the most use for these sounds, although they could feasibly be applied to just about any musical style, if suitable creative inspiration strikes. Rating: 9/10" - Computer Music Magazine, UK