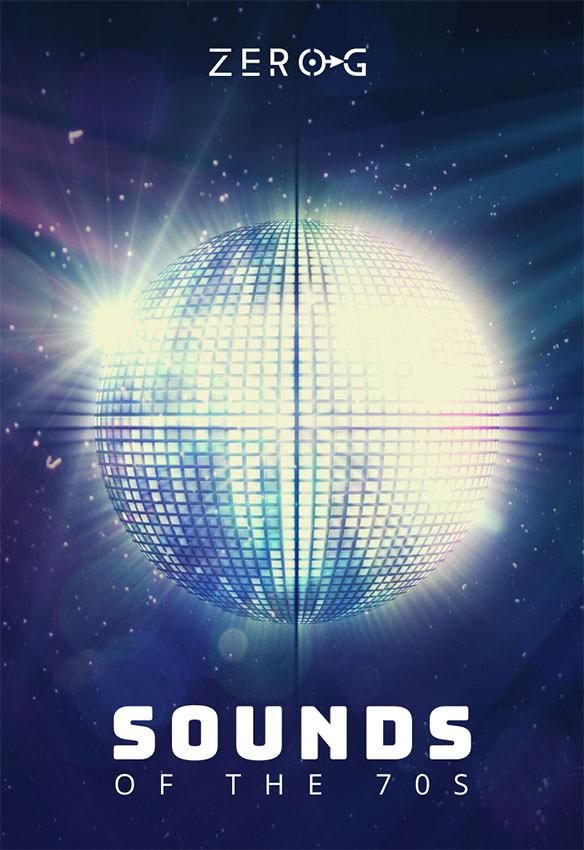 Sounds Of The 70s
Huge collection of authentic, irresistible and undiluted 70s-style instrument and percussion performances
Welcome to Sounds of the 70s - a huge library of world-class, totally original but totally authentic 70s-style instrument and percussion performances, arranged in 43 construction kits together with their broken-out grooves and tool kits.
Produced by Mike Wilkie & Matthew Corbett, it's the ultimate Seventies production tool for 21st century groovers.
It captures the true essence of the 1970s, delivering the undiluted heart of soul, disco, funk, and punk: recreated, sampled, and reborn. The great golden age of the dancefloor recreated.

What do the 70s mean to you? Glitterballs, strobe lights, dry ice, mirrors, roller discos, the World Disco Dancing Championships, the hustle, the bump, the freak, cocktails, platform boots, flares, bell bottoms, tank tops, velvet suits, spandex, hot pants, medallions on hairy chests, afros & perms, John Travolta & 'Saturday Night Fever', Little Michael & The Jacksons, James Brown, disco divas, boogie. This was the great era, when the 12 inch, the remix and the DJ were born, the genesis of beat mixing. The horns, the strings, the raw disco power!

Now, the musical essence and irresistible dancefloor vibes of this great era can live on even more strongly in the music of today with a new generation, thanks to Zero-G's Sounds of the 70s.
The Making of SOUNDS OF THE 70s - an introduction by the creators, Mike Wilkie and Matthew Corbett:

"What makes funky music sound as if it genuinely came from the spaced out 70's? We listened endlessly to crackly vinyl in the studio, listened to those who've tried to recreate the flavour since, picked up our instruments and threw the rule books away. First though, to faithfully recreate the sounds of the seventies we equipped ourselves with two pairs of loon pants (purple and mauve), brown glitter encrusted platform boots with 5 inch heels, cheese cloth shirts and genuine Afghans. We also had an Afro hairdo, and then, and only then, did we feel ready to proceed on our sonic journey!
Recording technology circa 1973 was of course rudimentary by today's standards and the attention to precision playing was much more 'relaxed'. The music flowed through an attitude rather than a set of criteria. The timing was most definitely out but the vibe was definitely in. Check out some really old vinyl, listen to the players, there are gaps big enough to park lorries in but somehow it's all part of a brilliant sound picture.
Vocals that would be auto tuned or corrected were left to dissonance, percussion that would be now be audio quantised retained its loose swing. Electric pianos that are now endlessly mimicked by Japanese developers were the genuine article with malfunctioning pick ups and noisy amps. Drop one on your foot whilst setting up on stage and you'd be out of action for weeks! Guitar processors that now convey pristine clarity through digital convertors then hissed and crackled adding yet more filth into the mix. Pedals had names like 'Electric Mistress' evoking the possibility of an exciting night if you impressed the girl in the front row!
Valve amps and compressors added warmth (and noise) through analogue desks which looked like something out of Jules Verne, to 2 inch tape machines the size of milk floats, the end result being bounced onto another tape thing before being mastered onto vinyl.
But that was then and this is now, and in the new century we can look back at an iconic period in sound production that will echo through the decades, maybe even through centuries to come. A sound picture where the producer's initiative and creativity would make a real difference, and could create a genuine new sound. Many of those artists never made it far into the eighties and when Solid State Logic and Digital arrived in about 1981, times had changed for ever.
In 2004, there isn't a 70's artist who hasn't been sampled, not just the Icons, but even Chas and Dave, playing as respected musos in '75 on a Labi Siffre song, have turned up on an Eminem track! Almost every modern producer has 'borrowed' from old records, some legally, and some have ended up in court with royalties being re-directed to the original copyright holder.
We already had original guitars and basses from the 70's and before, and soon managed to borrow a Fender Rhodes and a Wurlitzer EP as well as a Hammond with a massive Leslie cabinet with something like a propeller in it. We enlisted the help of a seventies keys man and a horn player to complete the picture and set to work creating the loops.
We decided to give every loop two distinct sections that could be used within the same production and then recorded all of the breakdowns so the user could add and remove parts at will.
We decided too, to adopt 'extreme panning' on many loops to add that 'stereo panned to both ends of our galaxy' feel and also from time to time mixed loops 'lumpy and bumpy' in an attempt to avoid any allegiance to modern technology.
Many synths like our ancient Crumar, which we used a lot, were amped instead of feeding direct and guitars were awash with spidery tones and liberal use of an old Cry Baby. We used a Gibson Les Paul standard (circa 1977) for almost all of the guitars and, surprisingly, most of the bass was undertaken on an old Aria Pro, after rejecting more sumptuous instruments, it just seemed to evoke the era more precisely, we played it through an old Selmer bass amp. Although most of the loops produced were in the funky vein we decided to tip our hat to a few other genres from the 70s: Glam, punk, prog and proto electronica.
In making these loops for you we went back to the drawing board, attempting to unlearn years of clean production skills and started to gather everything we'd need to take the sound back to the 70s. It was a bit like flying an old aircraft, a bit heavy, marginally uncontrollable, but at the end of the day a graceful and rewarding experience.
After all the initial work was finished we decided the only way to retain the funk was to have everything mastered onto vinyl through 70s valve compressors and EQs. We found a mastering suite deep in South London that ticked all the boxes and got everything transferred to a large stack of laquers, and then back into digital, it sounds....like the seventies!
So we're off now on a couple of Raleigh Choppers, munching on our Curly Wurlies to see and Earth Wind and Fire tribute band....we hope you enjoy our seventies experience, we were lovin' it!"
- Mike Wilkie and Matthew Corbett
The library features the following 43 Construction Kits:
Humble Cake (90 bpm, 14 samples);
East Street (100 bpm, 16 samples);
Beat Shave (110 bpm, 18 samples);
Blackbyrd (115 bpm, 20 samples);
Dingers (120 bpm, 17 samples);
Flying Disco Melons (130 bpm, 17 samples);
Smooth Ride (90 bpm, 25 samples);
Mean & Dirty (100 bpm, 19 samples);
Doctor Groovenstein (110 bpm, 18 samples);
Bold & Delicious (115 bpm, 19 samples);
Fusion Illusion (120 bpm, 14 samples);
Spit On The Floor (165 bpm, 13 samples);
Freeway Driftin (95 bpm, 12 samples);
Weasley Brothers (100 bpm, 22 samples);
Groover Funkington (110 bpm, 9 samples);
Children Of The Sun (115 bpm, 10 samples);
Diggin The Scene (115 bpm, 23 samples);
Le Flic (120 bpm, 19 samples);
Lets Be Friends (95 bpm, 22 samples);
Lite Up The Bite (110 bpm, 11 samples);
Power Of Tower (110 bpm, 16 samples);
Exceptional Green Band (115 bpm, 19 samples);
Fat Slapper (115 bpm, 13 samples);
Silver Connection (120 bpm, 19 samples);
On The Raydio (95 bpm, 8 samples);
Psalm Of The Star Voyager (110 bpm, 18 samples);
Sky Bird Flight (110 bpm, 15 samples);
Favourite Dancer (115 bpm, 23 samples);
Funky Strut (115 bpm, 20 samples);
Winter Dinner (120 bpm, 4 samples);
The Tranquil Heaven (95 bpm, 14 samples);
Steely Pan (110 bpm, 17 samples);
Getcha Jaxx On (115 bpm, 12 samples);
Herbs With Albert (115 bpm, 22 samples);
Jazz Cellar (115 bpm, 12 samples);
Calypso Carnival (116 bpm, 16 samples);
Dukes Of Starski (109 bpm, 15 samples);
Taste Of Marmalade (110 bpm, 10 samples);
Too Much Party (110 bpm, 20 samples);
Not Cricket (115 bpm, 21 samples);
Planet Groove (115 bpm, 16 samples);
Super Wasp (115 bpm, 18 samples);
The James Gang (115 bpm, 22 samples).


In addition, a 70s TOOLKIT gives you a superb selection of samples for creating your own 70s productions from scratch, or for customizing the Sounds Of The 70s construction kits.
The Toolkit includes the following (a total of 312 samples):
Drum & Percussion loops and single hits (55 samples);
Bass multisamples, Bass loops, and Bass FX (41 samples);
Hammond B3 phrases, stabs and FX (21 samples);
Fender Rhodes phrases & stabs (32 samples);
Synth multisamples (26 samples);
Whurlitzer phrases & flourishes (43 samples);
Guitar riffs & multisamples (36 samples);
and Trumpet riffs (58 samples).
For a list of keys used in the construction kits, please take a look at the PDF of Contents.
"The 70's were a rich time for pop music... Capturing the variety of this rich musical stew in a sample library is nearly impossible, but Zero-G does an admirable job... Zero-G provides 1.4 gigs of original samples that faithfully capture the grooves and feel of seventies tracks... The quality of the samples is excellent... They cover a lot of territory, and should be great for dance, soundtrack work, hip-hop, and any other place where a little retro sound is wanted... Because the samples are already looped and sliced as needed, it's very easy to get started... In addition to the construction kits, Zero-G ices the cake with B3 organ, bass, drum, Rhodes, synth, guitar, trumpet and Wurlitzer samples and riffs... Conclusion: Zero-G successfully recreates the Sounds of the 70's with this library. The library is massive, with 1.4 gigs of source material... Most importantly, the samples capture both the feel and sound of classic 70's tracks. The library should provide inspiration for many types of music... Gives you that authentic 70's sound, without the costs or legal hassles of sampling old vinyl... Perfect for musicians working in dance and hip-hop genres, but should also be useful for anyone that wants to inject a bit of 70's groove into their tracks... Great samples and construction kits capture the feel of classic tracks. "
- synthtopia.com
--
"This collection is extremely convincing, both musically and in terms of production... quick, easy access to a convincingly retro sound palette"
- Sound On Sound Magazine, UK
--
"Infectious 70s samples, lovingly mastered to vinyl before being digitised... not full of the clichés you might expect, featuring respectable and usable samples, all recorded in the most authentic way possible... All the material is original and after a while you find yourself gyrating like Travolta and pointing skywards, your eyes glazing over and a dancefloor-filling house remix thudding away in your head... A very usable collection of 70s sounds that benefits from meticulous attention to detail in production"
- Computer Music Magazine, UK
--
"Few and far between are contemporary sample libraries that capture the true essence of the disco sound - and none that I've come across do it quite as well as Sounds Of The 70s. This package is a dynamite production tool of super high quality seventies revival - ranging from soul, disco, funk to punk - accurately and honestly capturing an era where the 12-inch, the remix and the DJ were born. I can't stress enough that this library is the real deal. The playing and styling is top-drawer throughout, and the drum loops are some of the best and most original I've heard. Perfect for adding the organics of vintage dance into today's electronic tracks"
- Remix Magazine, USA
Download Size (RAR files):
Part 1: 953 MB
Part 2: 84 MB
Info & Quotes
"This collection is extremely convincing, both musically and in terms of production... quick, easy access to a convincingly retro sound palette" - Sound On Sound Magazine, UK
"Infectious 70s samples, lovingly mastered to vinyl before being digitised... not full of the clichés you might expect, featuring respectable and usable samples, all recorded in the most authentic way possible... All the material is original and after a while you find yourself gyrating like Travolta and pointing skywards, your eyes glazing over and a dancefloor-filling house remix thudding away in your head... A very usable collection of 70s sounds that benefits from meticulous attention to detail in production" - Computer Music Magazine, UK
"Few and far between are contemporary sample libraries that capture the true essence of the disco sound - and none that I've come across do it quite as well as Sounds Of The 70s. This package is a dynamite production tool of super high quality seventies revival - ranging from soul, disco, funk to punk - accurately and honestly capturing an era where the 12-inch, the remix and the DJ were born. I can't stress enough that this library is the real deal. The playing and styling is top-drawer throughout, and the drum loops are some of the best and most original I've heard. Perfect for adding the organics of vintage dance into today's electronic tracks" - Remix Magazine, USA