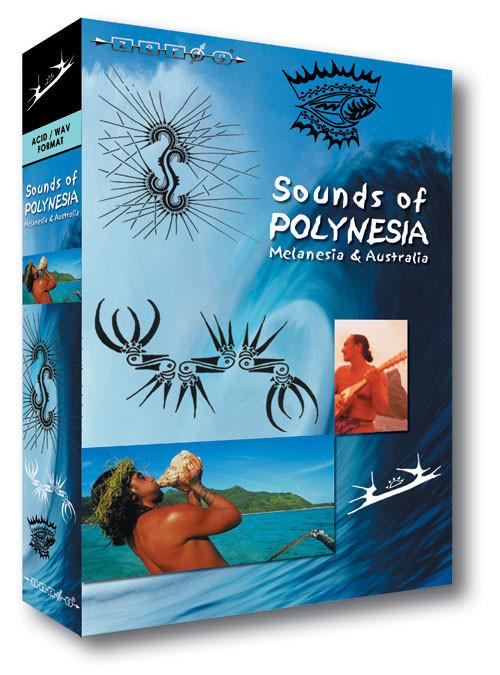 Sounds Of Polynesia
Rich and inspiring, authentic sounds from the South Pacific and Australia
Sounds of Polynesia, Melanesia & Australia is a wonderful and unique sample library for everyone who would like to discover the rich sounds of the South Pacific and use them in their music.
Features an enormous collection of instruments, rhythms, vocals and other indigenous and unique samples from the islands of the South Pacific and Australia.
Produced by Airileke ('Airi') Ingram, there are also village ambience tracks from Airi's village Gabagaba in Central Province of Papua New Guinea and Munum village in the Morobe Province, and spoken and chanted vocals.

Most of the instruments featured in this amazing product come from Papua New Guinea (PNG), a nation in the western region of the South Pacific Ocean, to the north of Australia. It is one of the most culturally diverse countries in the world with over 800 languages and over 3000 dialects!
For more detailed info on the contents of Sounds Of Polynesia and the instruments included, please take a look at the PDF of Contents.
"Theres a whole host of fascinating indigenous instruments featured here... So the big question. What does it sound like and how useful is it? First off it sounds very good... The usefulness of the package will entirely depend on your taste and area of musical operation: If you're in film of television scoring Im sure you'll have a ball with this. Its obviously perfect for any kind of wildlife documentary or travel program. Apart from this Id use it in a film score to inject some different colours - these sounds are very fresh sounding to my ears. The conch horns sound a bit like mutant tenor saxes blown softly and are great for atmospheric chord pads. Some of the construction kits are pretty much instant film cues, which is great if you're up against a deadline. If you want to inject some unusual sounds into your project this is a great place to look for inspiration. Im sure someone is going to come up with an Ibiza anthem with the vocal calls. They're really atmospheric. A lot of the sounds would be great in a chillout, ambient context too. Very good value"
- soundgenerator.com
--
"Some highly imaginative material with which to add a bit of authentic South Pacific flavour to any music"
- Future Music Magazine, UK
--
"Sounds of Polynesia is large, powerful and inspirational. Its amazing that Zero-G can provide a library of this depth and breadth at such a reasonable price. It could easily be used in music ranging from soundtrack work to hip-hop"
- synthtopia.com
--
"Exotic instruments, great human feel... a product that is capable of breathing new life into a mix and generating fresh inspiration... Getting grooves together is an absolute doddle... We opened up three construction kits and had a groove going in seconds, with great human feel... A sonic window on a musical world thats seldom visited... Could breathe new life into anything from rock to tribal house and, of course, the film/game score and production possibilities are obvious. A creative genie just waiting to be released from its bottle"
- Music Tech Magazine, UK
Download Size (zipped file):
Info & Quotes
"Some highly imaginative material with which to add a bit of authentic South Pacific flavour to any music" - Future Music Magazine, UK
"Sounds of Polynesia is large, powerful and inspirational. Its amazing that Zero-G can provide a library of this depth and breadth at such a reasonable price. It could easily be used in music ranging from soundtrack work to hip-hop" - synthtopia.com
"Exotic instruments, great human feel... a product that is capable of breathing new life into a mix and generating fresh inspiration... Getting grooves together is an absolute doddle... We opened up three construction kits and had a groove going in seconds, with great human feel... A sonic window on a musical world thats seldom visited... Could breathe new life into anything from rock to tribal house and, of course, the film/game score and production possibilities are obvious. A creative genie just waiting to be released from its bottle" - Music Tech Magazine, UK