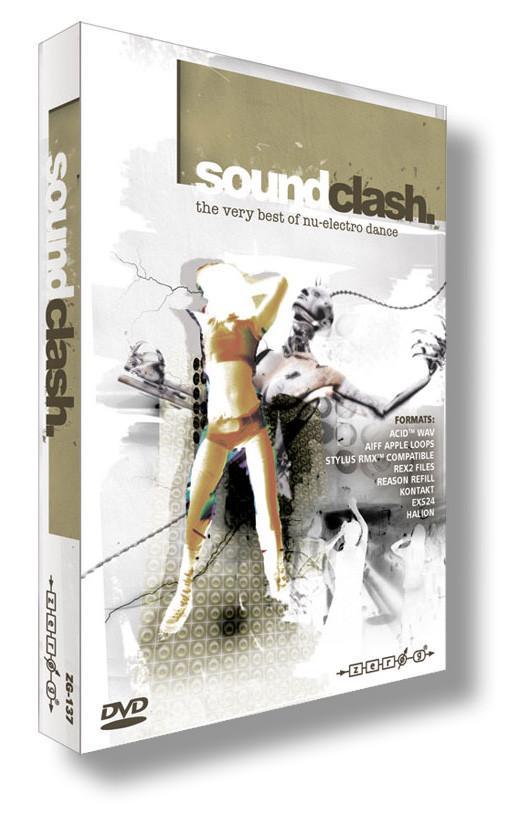 Soundclash
Trailblazing creative inspiration for House and Nu Electro with authentic sounds, loops, beats, live elements and more
Welcome to Soundclash: a new collection of Nu Electro Dance loops and samples crammed full of sounds that are filling present dancefloors.
Every sample has been painstakingly played, programmed and produced to give you one of the best electro house sample collection available.
Get ready to experience the blood-pulsing, heart-racing rhythms and melodies of the future of dance. From cool synths to driving beats, all the material you need to get your tracks into the biggest clubs is right here.
This is the sound of modern dance music.
Combining live guitar and bass and real percussion samples, along with some of the funkiest electro synth loops and tripped-out fx, brand new beats and superb single hit sounds... No matter what platform or music software you use, if you need the authentic sounds packing the world's best dance floors right now then check out this huge library!

Please note: This download includes both ACIDized WAV and REX2 formats.
Producer Sharooz Raoofi writes:

"The initial idea for 'Soundclash' came from my DJ sets in and around the UK - I was starting to realise that whilst the traditional house sound had shifted hugely towards a more synthesizer-based electronica feel, this music would cease to evolve unless there was a live element of sorts - be it a snatch of live guitar, bass, vocals or real drums.

To date, I was unaware of any sample library that captured the true essence of this sound, as most veered more towards 80s old-skool electro or the tech-house sound of the late 90s. 'Soundclash' is intended as a more open-minded approach to dance music, breakbeats sit comfortably with conventional house sounds, minimal beats and techno.

The basslines and musical elements are influenced as much by rock and punk as they are by dance music - in fact many of the basslines were played live on electric bass and transcribed as synth lines. From a technical viewpoint, 'Soundclash' comprises an equal balance of digital sound sources and genuine analogue machines from the 80s and early 90s.

One sound which will be immediately familiar across the library is that of the Roland SH-101, in my opinion one of the warmest and phattest 80s monosynths! Most of the beats were composed through the 12-bit classic Akai MPC 60 - still an absolute favourite of mine and a must for that authentic 80s drum grit! Most of the sounds were treated with digital plug-ins, as I find this to be the perfect combination for dance music; analogue sound sources with digital processing - the best of both worlds!

I suppose 'Soundclash' is a fitting title for the project, as throughout it the latest digital impulse reverbs and modelling plug-ins clash and blend with old-skool samplers, fx units and drum machines - I only hope you enjoy using 'Soundclash' as much as I enjoyed making it!"
About Sharooz:
"Relentless, vibed up and potentially massive" - Kris Needs, DMC Update, May 2006
Starting his musical career at the tender age of 12, Sharooz began playing guitar in punk bands in his native Northern Ireland during the mid-90s, before beginning to produce dance music and start DJing around 1998. His first gigs took the form of live PAs using just a drum machine and sampler, playing alongside the likes of King Unique, Peace Division and Inland Knights at the legendary Smokescreen free parties.

After a short spell working at the legendary FFRR and Strictly Rhythm labels, Sharooz began remixing, playing and writing dance music professionally. His first release was a remix of Afro Medusa's 'Dreams' on Beautiful Noise, subsequently licensed to Warner Music Italy in 2002.

Following this came a number of major label remixes including US soul sensations Calvin Richardson and Angie Irons. The latter was picked up by New York based Robbins Music and licensed across the world, appearing on various labels and compilations. During this time Sharooz's DJing profile began to rise, leading to gigs at Space and Cafe Mambo in Ibiza, Turnmills in London and Passion in Coalville to name but a few.

Over the past 7 years Sharooz has DJ'ed alongside such luminaries as Pete Tong, Marshall Jefferson, Terry Francis and even Shaun Ryder! Under his Monofonic guise, Sharooz has worked with Mercury Music Prize nominee Martina Topley-Bird and most recently remixed Howard Jones's comeback single on UMM. As S.MS, with veteran house DJ Matt Shepherd, Sharooz recently reworked the Masterbuilders' 'It's Alright', debuting in the Hype Chart top 10.

In addition to this, Sharooz also composes production music for BMG Zomba and EMI Music Publishing. After 3 years of primarily remixing and producing others, Sharooz releases his debut single 'Hell Yeah' via Mofohifi records (www.mofohifi.com). Played six times in a row by Judge Jules on Radio 1, 'Hell Yeah' has also won major support from Robbie Rivera, Roger Sanchez on his Release Yourself radio shows, James Hyman on XFM, Galaxy FM, Vibe FM and debuted at number 2 in the DMC Buzz Chart.
This download includes:
ACIDized WAV and REX2 formats
1650 Acidized WAV files
934 loops provided in REX2 format
Over 1 GB of sounds
Drum Loops
Combi Loops
Synth loops
Live Bass & Guitar Loops
Percussion Loops
Vocals
FX and Atmospheres
Synth Hits
Download Size (RAR files):
Part 1: 953 MB
Part 2: 36 MB
Info & Quotes
"Excellent material... a plentiful supply of straight-ahead electro-dance that would go down well in any club context... plenty of material to get your teeth into if you are a dance producer... quality is uniformly good throughout. I'd certainly have no reservations about using these samples in a commercial context.... an abundance of musically interesting material that ought to get the creative process off to a good start. Zero-G generally seem to have the 'value for money' box well ticked and this release is no exception. For budding clubland producers, Soundclash is well worth auditioning. Awarded 5 STARS out of 5" - Sound On Sound Magazine, UK
"...this hard-edged collection of synthetic riffs and beats maintains their high standards, with synth and percussion loops full of that electroclash vibe, groove and flavour. The library of one-shot percussion samples is very useful, with a nice mix of lo- and hi-fi kicks, hats, snares and other drums. Electroclash fans might find this section to be worth the price alone. RATING: 9 out of 10." - Computer Music Magazine, UK