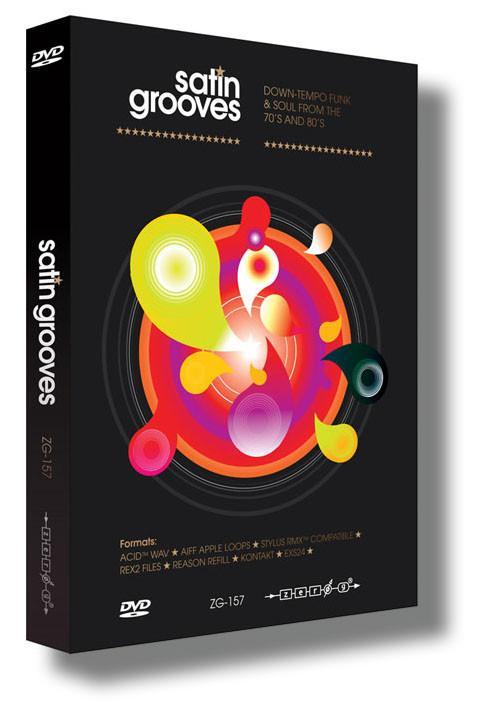 Satin Grooves
1.9 GB of silky, sexy construction kits and loops of authentic 70s and 80s down- and mid-tempo funk 'n' soul
Format
Acid,
Apple loops,
Aiff,
Exs24,
Kontakt files,
Rex,
Reason,
Rmx,
Wav,
Nnxt
PDF files
Satin Grooves brings you over 650 samples and 1.9 GB of some of the most authentic mid-tempo funk 'n' soul from the 70s and 80s dancefloor that you are ever going to hear - all in pristine 24bit audio.
The follow-up and perfect companion to our best-selling Classic Disco, Satin Grooves recreates the great dance sound of the 1970s and 1980s from ballads to mid-tempo funk 'n' soul and disco. It contains some of the sexiest grooves ever written.

Contained in this library are 34 construction kits ranging in tempo from 60bpm to 100bpm that evoke the creamy soul of Marvin Gaye, Barry White, Anita Baker, Quincy Jones, the Isley Brothers and Michael McDonald plus the electro-soul sound of Jimmy Jam & Terry Lewis and Mtume from that classic dance era of the late 1970s and 1980s.

This library is a goldmine for every hiphop, R'n'B, dance or media producer. In addition to the 34 construction kits. there are dozens of bass, guitar, drum and piano loops, plus wah-wah chords, all recorded in pristine 24bit audio.
All of the samples have been pre-cleared and are 100% original & royalty-free for your musical use without any additional licensing fees.
So, get down and experience the funkiest, smoothest, silkiest and sexiest sample library ever made! If you don't believe us just listen to the demo songs!
The producer and multi-instrumentalist Davor Devcic aka D3 writes:
"I started to listen funk'n'soul records when I was 15 years old back in 1981. I was seduced by the rich harmonies and arrangements of Quincy Jones, Kashif (producer of Melba Moore and Evelyn King), Jay Graydon (Al Jarreau), Tommy LiPuma (George Benson), Earth, Wind and Fire and many others.
My musical taste grew not only from mainstream funk'n'soul, but, more importantly for my house music foundations, from what is called the "Disco Underground". Those rare grooves founded on funk, soul and jazz left a big mark on my musical knowledge. Alphons Mouson, Shakatak, Light of the World, George Duke, early S.O.S. band, Eumir Deodato, to name but a few. My whole musical biography is in fact a constant search for that fantastically creative sound.
Right in the middle of creating Classic Disco I made one or two slower construction kits and thus the idea for the next sample library naturally evolved in my mind: to make similar project with a down-tempo feel, with bpms from 60 to 100bpm, in the smooth style that is so familiar to me - the funk 'n' soul from that great 1977 – 1987 period. I have listened to these harmonies and grooves for decades and I think that I have given you that spirit and sound."
FEATURED SOUNDS:
34 Full Construction Kits
Bass & Guitar Loops Matched Pairs
70s & 80s Style Drumloops
Piano Loops
Electric Piano Loops
Synth Bass & Synth Matched Pairs
Wah Guitar Chords

Includes:
660 Acidized WAV files
662 Apple Loop (AIFF) files
610 Stylus compatible REX2 files
44 Kontakt Instruments
44 EXS24 Instruments
44 NN-XT Instruments

For more detailed info on the complete list and descriptions of the contents of Satin Grooves, please take a look at the PDF of Contents.
"Satin Grooves is one of Zero-G's best ever titles. All of its 34 construction kits are an absolute pleasure just to listen to, let alone pull apart for creative application. The main style focuses on the flair of 70s and 80s funk and soul music, and it really doesn't get any more authentic than this. All of the live instruments have been captured with the finest care to really nail that retro sound, but with all the benefits of today's high-fidelity standards. As well as the kits, there are extra loops in five more categories, and all sounds have been recorded at mouthwatering 24bit quality. Rated: 10 out of 10"
- Computer Music Magazine, UK
--
"Zero-G's Satin Grooves is the follow up to the successful Classic Disco reviewed previously here at iDJ towers. Recreating the classic soul sounds of the 1970s and 1980s (from ballads to mid-tempo via funk, soul and disco), Satin Grooves has all the ingredients for the budding Quincy Jones or Jam & Lewis in you.
Whether you're an aspiring hip-hop, R&B or soul producer, this sample library is a goldmine; the Satin beats are conveniently broken down into individual folders for individual instruments such as drum loops, guitars, bass, piano, synth and wah wah chords. The drum loops are broken down further into 70s or 80s style loops. You will also find 34 construction kits to get the ball rolling, and they range in tempo from 60bpm to 100bpm.
Whatever your poison, be it the smooth soul of Barry White and Marvin Gaye, the sweetness of the songstress Anita Baker, the harmonies of the Isley Brothers and Quincy Jones, or the electro-soul of Jimmy Jam & Terry Lewis, there are more than enough samples to get your creative juices flowing. Whether you're looking to recreate a piece of classic fance of the late 1970s and 1980s or a fresh loop for your latest hip-hop or R&B joint, this has it all. And if you need further inspiration check out the included demo songs.
Compatible with most of the major DAWs and suitable for either Mac or PC, all the 24bit audio samples are pre-cleared, 100 per cent original & royalty free for your musical use without any additional licensing fees.
Easy to use and well thought out, these royalty free samples could be just what you're looking for. Seduce yourself with the harmonies and arrangements of the 70s and 80s and add a touch of class to your next production. With the current flavour of soul and disco inspired house, this is even worth a listen for the budding house producer.
Verdict: A well put together samples set for those looking for the touch of Quincy Jones and Earth Wind & Fire."
- iDJ Magazine
--
"Think '80s Motown, think Rick James, think mid-tempo Funk-Soul and Disco. 34 construction kits plus a load of drum loops, guitar, bass, pianos and synths should offer something for most producers of Hip Hop, R&B or Disco-influenced Dance. Like all Zero G sample packs, you get everything in all the major formats. It's expensive for a single DVD, but it still gets full marks! Rated: 10 out of 10"
- Future Music Magazine, UK
Download Size (RAR files):
Parts 1 - 5: 500 MB each
Part 6: 381 MB
Info & Quotes
"Satin Grooves is one of Zero-G's best ever titles. All of its 34 construction kits are an absolute pleasure just to listen to, let alone pull apart for creative application." - Computer Music Magazine, UK (Rating: 10/10)
"Think '80s Motown, think Rick James, think mid-tempo Funk-Soul and Disco. 34 construction kits plus a load of drum loops, guitar, bass, pianos and synths should offer something for most producers...gets full marks!" - Future Music Magazine, UK (Rating: 10/10)
"Whether you're an aspiring hip-hop, R&B or soul producer, this sample library is a goldmine..." - iDJ Magazine