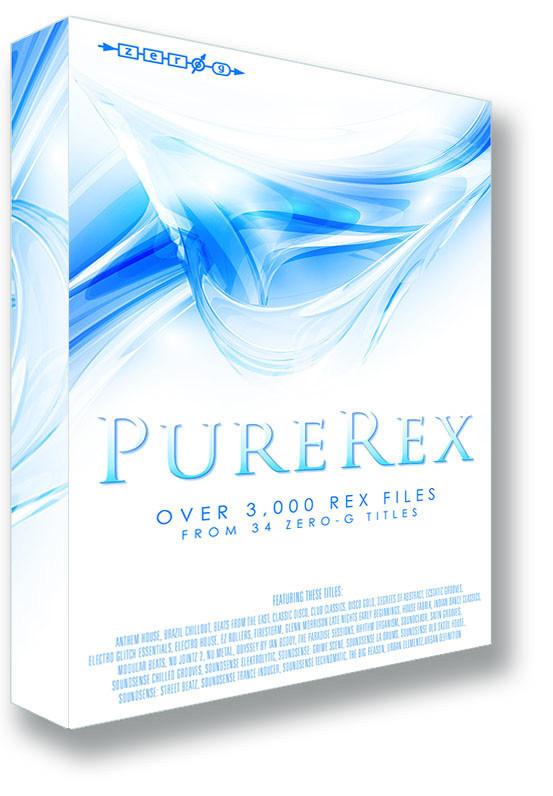 PURE REX
Over 3,000 Rex files encompassing multiple genres and styles of music from EDM to Urban, Disco to World and Metal to Chillout!
Zero-G Pure Rex is a definitive collection of more than 3,000 professionally-produced REX files spanning a huge range of genres and styles of music. From Electro, Disco, Urban and Metal to Chillout, Trance, World and plenty of weird and wonderful experimental sounds, Pure Rex is crammed with inspiration to give you a massive creative boost.

These high quality samples will work with numerous music production software such as Logic, Pro Tools, Cubase, Sonar, Live and Propellerheads' Reason as well as software instruments including Native Instruments Kontakt, Spectrasonics Stylus RMX or UVI's Engine.


Why use Rex files?
 
The Rex format is a compressed audio format that allows timing and "slice" info to be saved within it. This info is then interpreted by the sequencer, sampler or Rex file player, enabling the Rex audio file to adapt to the tempo of the track.
 
Beyond that, the Rex format has other useful features, for example, it is extremely easy to modify the loop to create something that sounds completely different from the original audio. If you need to change the pitch of three specific slices, reverse two, delete eight others, rearrange the order of all the slices and then add your own swing settings, you can do this in short order with a well sliced Rex file.
What can I find in Pure Rex?

The high quality sounds in Pure Rex have all been carefully handpicked from the following 34 popular Zero-G/Xfonic libraries…click on the titles to find out more about each individual product.
Total Library Size: 2432 MB
Download Size (RAR files):
Parts 1 & 2: 1 GB each
Part 3: 361 MB