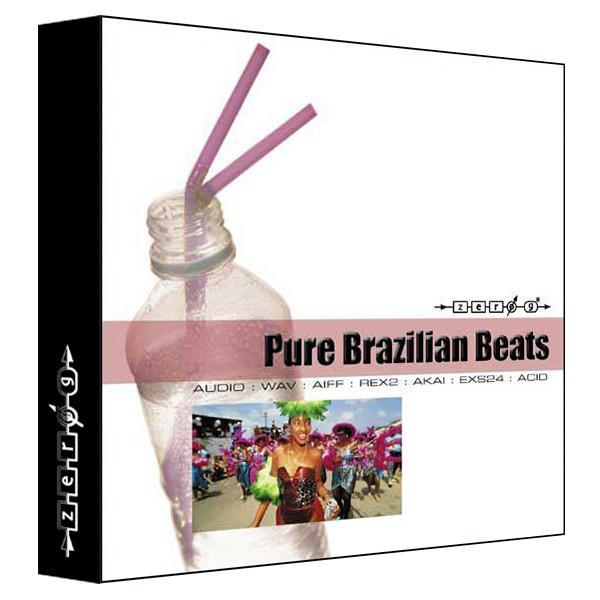 Pure Brazilian Beats
Addictively brilliant and authentic Brazillian drum rhythms performed & recorded in Brazil by a maestro of the genre
Zero-G brings you the unmistakable flavour of Latin American drums in the 21st Century - the feel, the groove, the life.
Performed & recorded in Brazil by in-demand session musician Duda Moura, Pure Brazilian Beats is an incredible collection of completely authentic Brazilian drum rhythms with an infectious feel, suitable for anyone with a desire to add rhythmic life to their productions.

Features acoustic drum groove/loops including:
samba,
baião,
axé,
bossa nova,
ijexá,
samba reggae,
samba rock,
batucada,
samba do Ilê,
pagode,
samba enrêdo,
samba funk
and other Brazilian fusion experiences.
Overview of sounds included:
Axé Session 105-154bpm - Grooves, cowbells, samba, hi-hats and sidestick;
Baiao Session 115bpm - basses, hermetico, sidestick and snares;
Bossa Nova Session 58bpm - ride, brushes and sidesticks;
Frevo Session 154bpm;
Ijexa Session 107bpm - dirty, fusion and ghost rhythms, hat & ride and roots;
Samba Session 105bpm - Batucada, cowbell, samba jazz, samba rock, sidesticks, snare & hat;
Samba Funk Session - rhythms 93-103bpm;
Speed Samba Session 120bpm - Carnival;
Xote Session 68bpm - sidesticks, snares and snare fills.
Download Size (zipped file):
Info & Quotes
"This shows off the talents of session musician Duda Moura as he drums his way through sambas, bossas, batucadas and the like to give a slice of 21st Century Latin American rhythms that work well...it's money well spent!" - Future Music Magazine, UK
"Never has a sample library been so aptly titled...the playing - by Duda Moura - is accomplished...There are plenty of variations in each style, too. Fans of Brazilian rhythms will lap this one up, but at this price.... worth a punt if you fancy trying something a bit different." - Computer Music Magazine, UK