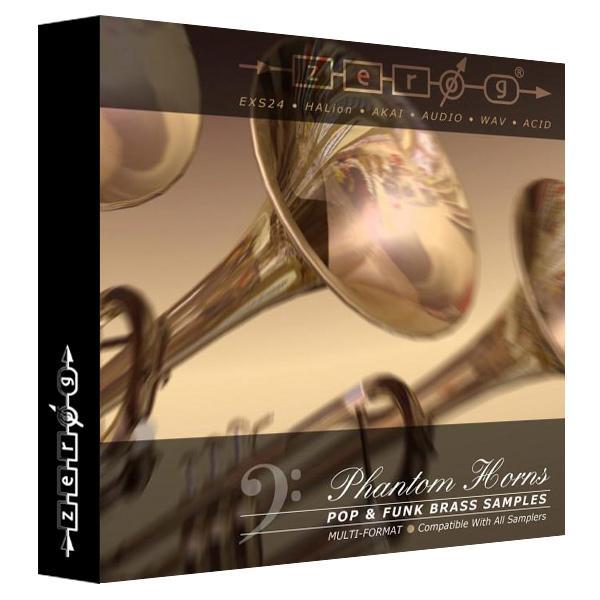 Phantom Horns
Versatile world-class library of the UK's most respected horn section - The Phantom Horns
This world-class library features the dynamic and much admired sounds of the UK's most respected horn section - The Phantom Horns (including John Thirkell and Gary Barnacle). The line-up consists of Trumpet, flute, flugelhorn and trombone, as well as Alto, Tenor and Baritone saxes.
Both riffs and playable multisampled instruments are provided. The riffs are all performed by various combinations of these instruments and this comprehensive sample library provides an in-depth study of the range and versatility of the contemporary brass section.
Awarded FIVE STARS by Sound On Sound Magazine, this is an absolute all-time classic collection.

Phantom Horns is jam-packed with brass riffs, hits, tails, swells and multi samples, with five main stylistic sections, namely: Tower of Power, James Brown style, Earth Wind and Fire, Rock 'n' Roll, and Reggae.

Each section comprises a vast number of short brass riffs and phrases, played at two different tempos and in four different key signatures. Each phrase is recorded four times, once in each key, and always at intervals a fourth apart. This gives you maximum flexibility when putting a track together, and also encourages you to explore some of the more unusual ranges for the instruments within the brass section.

A fair amount of the library is given over to multisamples of the solo brass instruments themselves; tenor sax, baritone sax, trumpet and, finally, the full horn section. Each one gives you loads of options for creating an accurate representation of the instrument, by sampling a wide variety of single notes over nearly three octaves.
There are easily-loopable long notes, swells slides, short and long falls, as well as crotchets, quavers, and semi-quaver short notes. As a bonus, a few minutes of excellent solo improvisation on flute, trumpet and sax are provided.
For more detailed info on the contents of Phantom Horns, please take a look at the PDF of Contents (Original CD booklet).
Please note: the CD booklet does not mention the Apple Loops and Kontakt formats, because they are only included in this download version.
Download Size (zipped file):
Info & Quotes
"Phantom Horns is great value for money - the sheer number and variety of usable riffs and phrases must be applauded. Awarded FIVE STARS" - Sound On Sound Magazine, UK
"A great collection of squeaky honks, subtle trills and mellow drones" - Future Music Magazine, UK
"There have been a few attempts at producing the ultimate brass sample library, but none with the unique appeal of Phantom Horns.. a clever and well executed package that should cure a lot of headaches in a lot of studios" - The Mix Magazine, UK