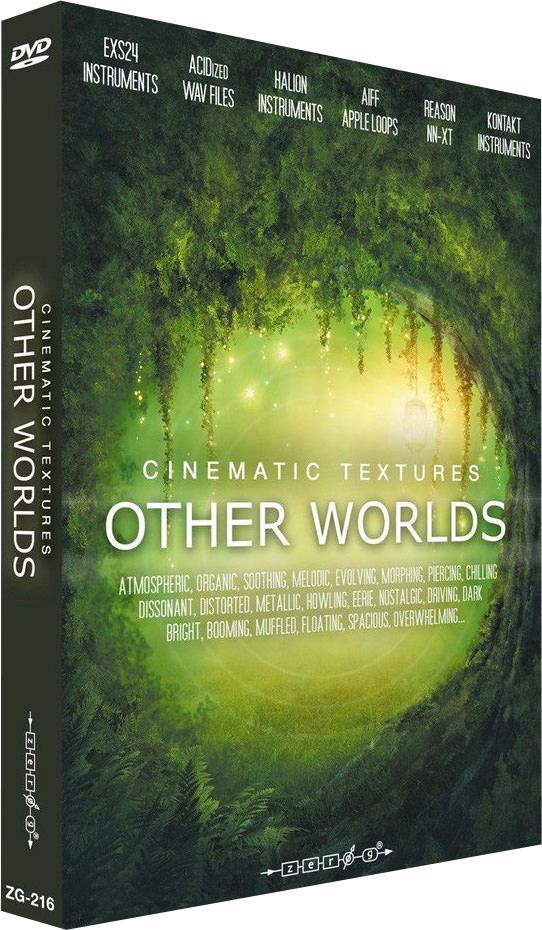 Other Worlds - Cinematic Textures
Cinematic textures and atmospheres created by sound designer Adam Pietruszko
Created by the producer of our highly acclaimed Haunted Ground sample library, Other Worlds is a huge 4.6 GB library delving into the exploration and creation of cinematic textures.
 
Atmospheric, organic, soothing, melodic, evolving, morphing, dissonant, distorted, piercing, chilling, eerie, driving, dark, noisy, bright, floating, spacious, overwhelming...
 
Whatever the flavour, Other Worlds brings you a vast collection of cinematic textures and atmospheres created by sound designer Adam Pietruszko. Utilising a combination of different synthesis techniques from analog subtractive, through digital FM, to physical modelling and more, all combined with intricate effects and reverb programming, the results are a library full of evolving and spacious sounds that will literally fill your productions.
 
The timbres range from modern sci-fi, out-of-this-world, electronica layers and effects, through eerie stingers, sweeps and howls, all the way to horror-filled, suspenseful atmospheres and melodic sequences for action/drama.
Also included are 'musique-concrete' and avant-garde experimental textures together with analog modular synthesis sounds reminiscent of the great 70s movie soundtracks.
 
This library is aimed at providing instant inspiration to the contemporary cinematic soundtrack and sound effects producer as well as raw material for experimentation in any genre of music. Use the sounds out-of-the-box as background layers for motion picture scoring applications or load them into your favourite sampler to chop up, transform, reverse, filter and make them a musical base for your compositions. Anything is possible and encouraged...
 
The library contains 500 samples in both Acidized Wav and AIFF (Apple loops) file format all recorded in stunning 48KHz and 24bit resolution using high fidelity source materials.
EXS24, Kontakt, HALion and NN-XT instruments are also included for ease of use in adding the sounds to your favourite sampler.
All the samples in this library are 100% original and royalty-free for your musical use without any additional licensing fees.
Includes:
500 Acidized WAV files
500 AIFF Apple Loops
516 Kontakt Instruments (full version of Kontakt required)
516 EXS24 Instruments
516 HALion Instruments
516 NN-XT Instruments
USER NOTES ABOUT THE LIBRARY:

SAMPLES
The library contains 500 samples - most sounds are 30-40+ seconds long to avoid the need for looping in most applications, although looping samples are also present.

TEMPO AND CHORD MARKINGS
Most of the samples have been tagged with tempo and musical/chord/interval markings.
Tempo has been provided in the non-looping sounds where rhythmic effects such as delay or LFO filtering is used for reference or to make it easier if you decide to loop them yourself.

Many of the textures come in various keys and use detuned/dissonant intervals or a sort of polytonality (e.g. A CMaj7 chord is made of notes where the synth voices are tuned to root, minor second and a tritone forming a cascade of intervals falling outside of traditional musical interpretation), so the given key/chord/interval markings should be treated as guidelines only.

The samples are arranged into four sections:
SUSPENSE
Both melodic and dissonant sounds in this category are perfect for adding tension or invoking eerie atmosphere in all sorts of horror/action/drama scenes.
FUTURISTIC
Electronic, cybernetic and outer-space timbres for use in science-fiction soundtracks, both retro-styled and contemporary.
INDUSTRIAL
Inspired by heavy machinery and vast factory spaces, perfect for setting the mood for action and sci-fi.
MELLOW
Various synth pads, atmospheres and sequences for all sorts of applications.
For more detailed info on the contents of Other Worlds, please take a look at the PDF of Contents for the complete list of included sounds/instruments.
"When it comes to cinematic sample libraries, Adam Pietruszko is a top notch sound designer that has a great imagination of translating vision into sound. For example, his acclaimed 'Haunted Ground' is a phenomenal sample pack chock full of jaw-dropping sound design and content. 'Other Worlds' is a sample pack that is focussed tightly on bringing atmospheric, organic, soothing, melodic, evolving, morphing, dissonant, distorted, piercing, chilling, eerie, driving, dark, noisy, bright, floating, spacious and overwhelming [is that enough adjectives for you?] tones to producers of ambient, atmospheric, sci-fi, electronica, soundtracks, TV and game music.
What I like about the samples is their duration, as most sounds are 30-40 seconds long. They are really great when using as a bed or background for ambient compositions. And just like his other library, 'Other Wolds' is nothing short of impressive. The modern electronica style is well represented with lots of weird drones, odd pads and dissonant sounds that were applied with over-the-top processing. If you're into cinematic soundtrack, ambient, drones and experimental music, this pack is highly recommended."
- Sound Bytes Mag
Download Size (RAR files):
Parts 1 - 6: 953 MB each
Part 7: 164 MB
Info & Quotes
"The modern electronica style is well represented with lots of weird drones, odd pads and dissonant sounds that were applied with over-the-top processing. If you're into cinematic soundtrack, ambient, drones and experimental music, this pack is highly recommended." - SoundBytes Mag. Read more in Media Reviews