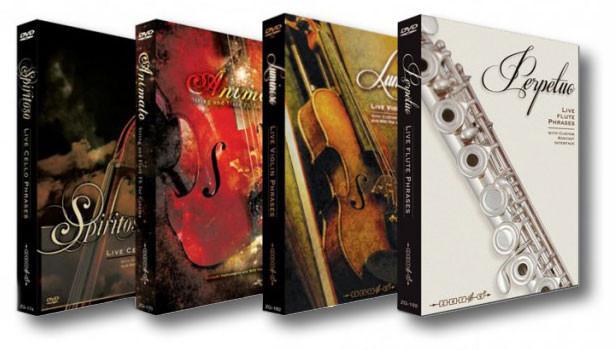 Orchestral Cinematic Bundle
4 versatile, live recorded orchestral instrument libraries in one cinematic slam-dunk bundle
If you are looking for orchestral cinematic sample libraries, you have just found four of the very best!
This, our powerful combination bundle of four highly acclaimed orchestral sample libraries for film composers, will give you what you need.
Universally praised by the reviewers and users alike, this quartet will inspire you! You'll make a huge saving compared to buying these four titles individually.
For full information and demos on each of the four included titles, click the name or product image of each title to go to their individual product pages:
ANIMATO - String & Flute FX for Cinema
SPIRITOSO - Live Cello Phrases


LUMINOSO - Live Violin Phrases
PERPETUO - Live Flute Phrases


To buy all four titles together at the low bundle price, click the ADD TO CART button on this page.

Please note: You must have a full version of Kontakt (version 4.2.4 or above) to use the Kontakt files within these four sample libraries.

See also our other highly acclaimed cinematic bundles, including: Ultimate Cinematic Bundle (Dark Skies + Alien Skies + Deep Impact)
Download Sizes:
ANIMATO (RAR files):
Parts 1 - 6: 500 MB each
Part 7: 398 MB

SPIRITOSO (RAR files):
Parts 1 - 7: 995 MB each
Part 8: 405 MB

LUMINOSO (RAR files):
Parts 1 - 6: 953 MB each
Part 7: 752 MB

PERPETUO (RAR files):
Parts 1 - 4: 953 MB each
Part 5: 773 MB