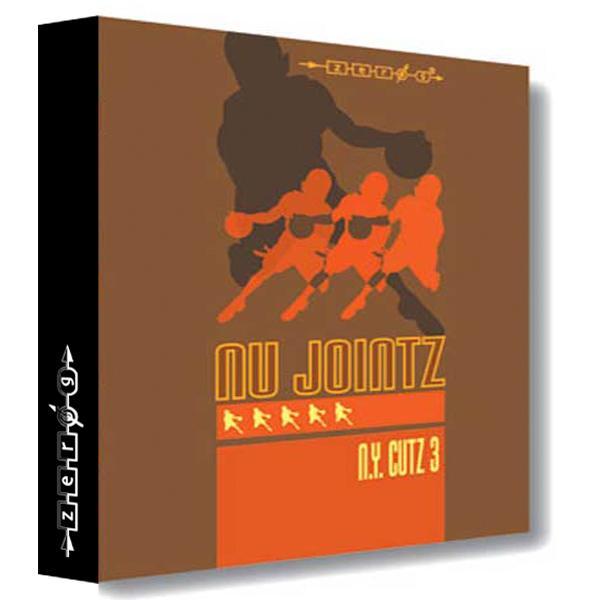 Nu Jointz
Filled with thumpin' new Hip Hop material
NU JOINTZ is the long awaited sample library by New York producer/musician Vinnie Zummo who created the multi award-winning Zero-G NY Cutz series. Over 1 GB of world-class construction kits, loops & samples. Filled with thumpin' new Hip Hop material in every tip including tiny-fi, mid-fi, lo- fi & hi-fi akoustic drums, strait ahead hip hop MPC groovez, slammin' R&B, funk, straight and wak drum machine loops, and a wide range of hits, stabs and FX.
Includes a wide selection of construction kits and hundreds of new "fonky buttah loopz" including fuzz bass, akoustic bass, stank piano, "frequency" loops, "old recordz", "lounge recordz", intros & breaks, individual drum samples, skank guitar licks, funky trombone licks, muted trumpet licks, and a brand new tip, the totally madd "Bass In Da' Room Next Door" (just what it sounds like) plus lots more insanity in that bitin' NY Cutz flavah than we have room to mention here.
Over 1GB of new flavah! If you're tired of those "lame ass kokonut loopz" that are out there, check out Nu Jointz, and bring some NYC stylin' to your next track.
Info & Quotes
"With about a Gigabyte of sample data, there is a good range of downtempo loops featuring drums, electric and acoustic bass, guitars, piano, turntable scratches and even the occasional trombone loop for good measure. The preset instruments are clearly organised... very easy to get at what you might want to audition... The material itself is quite gritty, so this is definitely hip-hop territory rather than R&B. In particular, the drum loops, many of which have had some lo-fi processing applied, would sit quite happily within some of the less cheery contemporary hip-hop and rap-based tracks around the charts at present. The majority of the drum loop presets include two or more loops mapped in various ways across the keyboard and this does make it easy to mix and match between each small collection of loops... The fun is in triggering the loops from a keyboard, and just experimenting to see what can be created... it is easy to see how a complete bed could be created from the loops provided.. Whatever your views might be on music by construction kit, the way the Nu Jointz library has been implemented with Intakt (compatible with Kontakt) certainly makes it easy and adds a certain creative element" - Sound On Sound Magazine
"With its flexible possibilities, ease of handling and expressive Loops, Nu Jointz can be recommended particularly for producers keen on experimenting" - KEYS Magazine