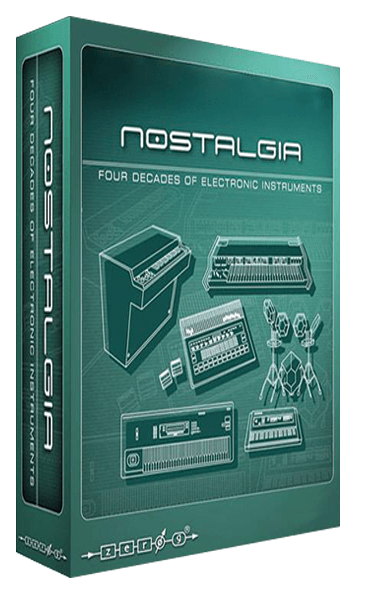 Nostalgia
Four decades of synths, keyboards and beat boxes at your fingertips
Welcome to Nostalgia - one of our most popular and successful sample libraries.
This acclaimed library is ready to load into your full copy of Kontakt, EXS24 or Reason NN-XT, and features around 1.3 GB of WAV sounds (over 4500 samples) from four decades of electronic instruments, and more than 1,100 accompanying instrument patches.
Whatever your chosen musical genre there's a place for any of these sounds in your music.
Whether it's old-skool lo-fi beatboxes, huge Gothic Tron sounds, smooth Prophet pads and strings, beefy Moog basses or leads, classic electric pianos, swirly string synths, cheezy toys, classic samplers, brittle digital synths, evolving S+S textures ... you name it - with over 4,500 samples and more than 1,100 patches, it's probably there in this huge Kontakt collection that has effectively been 40 years in the making.
The man behind it; programming wizard and all-round synth enthusiast Steve Howell, has used his 30+ years of experience and knowledge of these various instruments to create arguably the best and most accurate representations of some of the world's greatest synths, keyboards and beat boxes that he has either owned or used in a professional capacity as either a sound designer, sound engineer, player or composer.
Steve has also used his 16+ years of developing professional sample sound libraries to provide highly optimised and memory-efficient, seamlessly looped samples of a heritage of instruments that have paved the way for where we are today - over 40 years of innovation and (often naive) pioneering spirit encapsulated in one definitive collection of abject 'Nostalgia'!
So, love remeniscing and start putting a new perspective on the retrospective - this library truly provides enormous flexibility and a wealth of creative possibilities!
Kontakt makes no compromises in the playing and performing of sample-based instruments. Its powerful multi-mode filters, envelopes, LFOs and FX gives this library huge scope. Load the provided .nki patches into your copy of Kontakt, or, just use the WAV files with your favourite sampling software.
If you want to read about this inspiring library in more depth, please click HERE to download a guide to the full Nostalgia library. (.zip file, 332 KB, expands to give mini-website viewable in your web browser). Includes indexes of all Kontakt instrument files, and programming notes etc.
PLEASE NOTE: This download provides WAV and .nki files only. These .nki files will load into all full versions of NI Kontakt or NI Kompakt, but are not usable with any Kontakt 'Player'. The free NI 'Kontakt Player' (the one that is available from the NI website as a free download) is designed to load libraries from products that are 'powered' by NI software as a plug-in. This download is not a plug-in. The NI 'Kontakt Player' will load .nki files but only in a 'demo' mode (limited time), so you need the full versions of Kontakt or Kompakt to use these .nki files. The WAV files can however be used with any software.
The library is presented in NI's Kontakt format, and EXS24 and Reason NN-XT formats, with this version you will simply be downloading the Nostalgia sample library in WAV format which you can use with any music software.
Everything has been set up in Kontakt, EXS24 and NN-XT patches which you also get, so if you have NI Kontakt, EXS24 or Reason NN-XT then all the instruments are already programmed, mapped out and playable.
Instruments are organised into the following categories:
US Classics,
Euro Classics,
Japanese Classics,
Playback Keyboards,
Organs,
Electro-Mechanicals,
Digital ROMpler Synths,
Vintage Samplers,
Cheap n Cheezy,
Obscure Synths,
Drum Synths,
Classic Beatboxes,
Obscure Beatboxes,
Sci-Fi,
Atmosferics,
String Synths,
and Basses.

For more detailed info on the complete list of the contents and instruments included in Nostalgia, please take a look at the PDF of Contents.
Scroll down for a list of equipment used from Instruments & Synths to Beatboxes/Drum Synths.
INSTRUMENTS & SYNTHS:
ARP 2600,
ARP String Ensemble,
ARP Pro-Soloist,
ARP Odyssey,
Casio VL-Tone,
Casio CZ101,
Casio PT-30,
Crumar Performer,
Chamberlin,
Chapman Stick,
Clavinet D6,
Delicia Medlodica,
Dubreq Stylophone,
Ensoniq SQ80,
Ensoniq SQ-R,
Elektronika EM-25,
Elka Synthex,
Eminent 310,
Emulator 2,
Fairlight CMI IIx,
Farfisa organ,
Farfisa Soundmaker,
Fender Rhodes,
Gem DEX20,
Gem S2,
Hammond B/C3,
Hammond M102,
Hohner Pianet,
Jen bass Pedals,
Kawai K5000,
Korg Prophecy,
Korg Trident,
Korg Wavestation,
Korg M1,
Korg MS20,
Korg Polysix,
Korg X5DR,
Mellotron,
MemoryMoog,
MiniMoog,
Moog Taurus Mk1,
Moog Opus,
Moog Voyager,
MultiVox MX202,
NanoBass,
Novation SuperNova II,
Modulus Monowave,
Novation K-Station,
Oberheim Matrix 12,
Oberheim Matrix 1000,
PolyMoog,
Prophet 5,
PPG Wave 2.2,
RMIElectrapiano,
S+S synths,
System 100,
TB303,
VP300 Vocoder Plus,
Alpha Juno 2,
D50, Jupiter 6,
MKS50,
RS202,
SH101,
Sci-Fi,
Suzuki SX-500,
TI Speak & Spell,
Wurlitzer EP200,
Wurlitzer EP203,
Vako Orchestron,
Vox Continental,
Yamaha CP70,
Yamaha DX7,
Yamaha CS1x,
Yamaha CS5,
Yamaha CS80,
Yamaha CVS10,
Yamaha SY2,
Yamaha SY85,
Yamaha TX81Z.

BEATBOXES/DRUM SYNTHS:
Ace Tone 'Rhythm Ace',
Akai XE8,
Akai XR10,
Alesis HR16,
Alesis HR16b,
Alesis SR16,
Boss DR55,
Boss DR220,
Fricke MFB512,
Kawai R5/R50E,
Korg DDD1,
Korg DDM110/DDM220,
Linn LM-1,
Linn 9000,
Mattel Synsonics,
MXR 185,
Sequential Drum Traks,
Sequential Tom,
CR78,
TR606,
TR707,
TR727,
TR808,
TR909,
Simmons SDSV,
Yamaha RX11,
Casio RZ1,
Emu Drumulator,
Keytek MDP40,
Korg 'Mini Pops',
Linn Drum Mk2,
Oberheim DX,
TD7 V-drums,
TR505,
Sakata DPM48,
Sound master SR88,
Sound Master Stix,
Soundtech Rhythm 12,
Pearl DRX-1,
Pearl Syncussion,
Yamaha DD10.
"Truly wonderful sounds!... Nostalgia is excellent. Zero-G and Steve Howell should be congratulated for putting together such a large number of 'classic' sounds in a single, very affordable library. I had no problems creating complete instrumental pieces using just the sounds within Nostalgia. What's more, [the Kontakt patches] make very good use of processing options to add further colour and movement to many of the sounds.. What is here sounds consistently good, the samples are well programmed.. If you like the sounds of classic synths and drum machines, but could never afford to buy even a modest selection of the electronic instruments represented here, this library is an excellent way to get a flavour of the sounds without breaking the bank. For sheer fun and 'bang for buck', Nostalgia is certainly worth FIVE STARS, and I'd probably give it more if I could! Rated: 5 STARS"
- Sound on Sound Magazine, UK
--
"If you've got a taste for the decidedly retro then you'll absolutely love this.. the list of sounds provided reads like a classic synthesizer museum guide, but also offers a wealth of sounds from practically every chintzy sound source you could possibly imagine... There's a phenomenal amount of obscure drum hits slotted in amongst the usual 808/909 business, which are bound to bring back a few memories to the majority of you – we swear we've heard them in many a pop classic over the years. The pads are of an exceptional quality as well, especially the glassy, organic collection of FM soundscapes – the likes of which make Eno proud.. This is a truly wide-ranging collection for 'through the ages' synth fans"
- Future Music Magazine, UK
--
"As you would expect from such key players in the field, the sounds available on Nostalgia are of very high quality.. and there's a variety on offer that will keep you hooked on this title for some time.. it will appeal to all kinds of dance music producers.. suitable for styles as far apart as soulful house and dark drum & bass.. you could create full tracks with this.. with the sheer usability of the sounds I can see Nostalgia getting a lot of love both in the studio and on stage... Verdict: Great fun and high quality, this is one of the best retro [sample libraries] currently available"
- IDJ (International DJ magazine)
--
"This is a commendable package... The perfect sample library for the synth enthusiast on a budget. Nostalgia gives musicians, sound designers and producers access to a wealth of instruments, many of which haven't yet been emulated effectively as virtual instruments... All of the synth sounds breathe character and it truly is a delight to play each of the classic synths, many of which you will recognise only by sound and not necessarily by name.. Scrolling through the patch list gives an idea of the depth that Nostalgia provides: there are sounds for nearly every commonly used synth, as well as a number of obscure synths and beatboxes... We were impressed with the sound quality of Nostalgia's sample library"
- Music Tech Magazine, UK
Download Size (RAR files):
Part 1: 476 MB
Part 2: 285 MB
Info & Quotes
"Truly wonderful sounds!... Nostalgia is excellent...For sheer fun and 'bang for buck', Nostalgia is certainly worth FIVE STARS, and I'd probably give it more if I could! Rated: 5 STARS" - Sound on Sound Magazine, UK (read more in Media Reviews)
"If you've got a taste for the decidedly retro then you'll absolutely love this.. the list of sounds provided reads like a classic synthesizer museum guide, but also offers a wealth of sounds from practically every chintzy sound source you could possibly imagine... This is a truly wide-ranging collection for 'through the ages' synth fans" - Future Music Magazine, UK (read more in Media Reviews)
"With the sheer usability of the sounds I can see Nostalgia getting a lot of love both in the studio and on stage... Verdict: Great fun and high quality, this is one of the best retro [sample libraries] currently available" - International DJ Magazine (read more in Media Reviews)