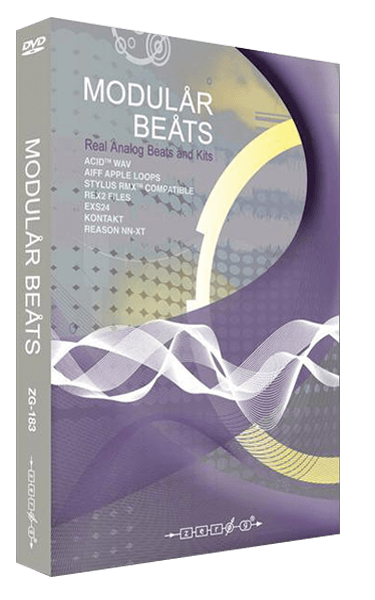 Modular Beats
100% pure analogue drumloops and grooves backed up with over 300 modular drumkits.
Modular Beats is a labour of love of Roger Grønberg, a sound designer from Norway who specialises in physical modelling and sound invention at frodebeats HQ in Norway.
In today's world of routine beats you need something to stick out from the crowd.
Modular Beats is full of stand-out beats and kits made from pure analog sources. You will be amazed by the diversity and invention that can be squeezed out of these huge, wonderful machines.
The idea behind the project was to make a usable, unique and fresh sounding drum and percussion library.
To do that, no samples or drum machines have been used. The sounds and loops are 100% original and created using only modular synthesizers and analog monosynths. The basis of each sound is oscillators and noise generators. Over 25 GB of raw material and 4000 work hours have gone into this library.
With over 1.5 GB of original material and 400 loops, 400 single hits and 300 modular drum kit instruments (containing over 2000 drum hits) designed for use in Kontakt, EXS24 and Reason, Modular Beats contains everything from dance grooves to scary cinematic beats and with all those analog drum kits you'll be able to make your very own fully analog loops in no time.
Our UK Distributors Time+Space caught up with the man behind Modular Beats, Roger Grønberg, to talk about his passion for analogue, how he made the library and the inspiration behind it and what makes it a fantastic tool for any music producer looking for unique sounds to add something special to their sonic arsenal. Read the full interview here!
Includes:
3000 Acidized WAV files
850 AIFF Apple Loops
480 Stylus compatible REX2 files
328 EXS24 Instruments
328 Kontakt Instruments
328 Reason NN-XT Instruments
For more detailed info on the complete list and descriptions of the contents of Modular Beats, please take a look at the PDF of Contents.
Download Size (RAR files):
Parts 1 & 2: 953 MB each
Part 3: 850 MB
Info & Quotes
"A true labour of love, Roger Groenberg's extensive library of drum and percussion samples (including kit patches in various sampler formats) has been made using nothing but analogue synths. The single hits are useful, but the loops stand out as lively, electronic, gritty and rhythmically diverse. They say 4000 hours of work went into this, and it shows – it's a near bottomless rhythmic resource. A warm and phat collection of great drum sounds, all with a lovely analogue tone. Rating: 9/10" - Computer Music Magazine, UK
"The loops are just as varied, with classic 70s electro and deep hip hop beats being a few examples of the folders they are organised into. They sound just as phat as the single-shots, but we especially like the rich stereo work and the great percussive hooks. Rating: 9/10" - Music Tech Magazine, UK
"These loops can adapt to any style and they are highly usable" - WUSIK Magazine.