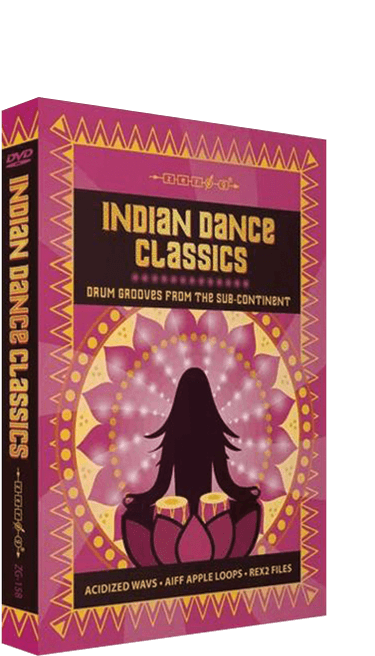 Indian Dance Classics
Over 750 samples and 1.7 GB of Indian percussion loops and grooves covering all major styles
Awarded FIVE STARS in review by Sound On Sound magazine (UK), Indian Dance Classics is the definitive collection of Indian rhythm styles.
It features over 750 loops in 1.7 GB of samples with tempos ranging from 86bpm to 200bpm recorded on location in India. The samples were recorded in pristine 24 bit using state of the art recording equipment with performances by top professional players from the Indian music industry, using the same rhythm instruments and styles typically featured in Bollywood films.

Inspired by the unique sound of Indian dance music and using the same rhythm instruments and styles typically featured in Bollywood films Indian Dance Classics is a definitive collection of Indian rhythm styles.

All the major Indian Dance styles are included: Andhranatyam, Bharathanatyam, Dhandiyan, Garba, Kuchipudi, Kathakali, Kathak, Odissi, Bhangra, Manipuri, Folk, Goa Dance, Bombay Fusion and Rhythm Vocals.
Each Style is separated into Intros, Rhythms, Fills, Variations, Endings and Freestyles in order to give you the freedom and versatility needed to build your own grooves and songs.

The loops were created using the unique percussion instruments of India, namely Tablas, Pakhawaj, Mridangam, Ghatam, Khanjeera, Manjira, Tavil, Tamte, Khol, Dafli, Duffs, Dhol, Dholak, Udukai, Chende, Gungroo, Tambourine, Naal, Chimta, Dhollu, Tribal Big Drums, Dimdi, Duggis, Morsing, Nagara and Rhythm Vocals.
Loops for all Indian instruments (except for folk, goa dance, bombay fusion, miscellaneous and vocal styles) were produced using Swar Systems virtual instruments together ith other VST's. The musicians are Sujay Govindaraj and Dinesh.
Includes 750 Acidized WAV files and 750 Stylus compatible REX2 files.

For more detailed info on the contents of Indian Dance Classics, please take a look at the PDF of Contents for a full list of samples.
FIVE STAR REVIEW: "A quick browse reveals a tremendous range of feels and sonic textures. So although 'Classics' in the title might suggest that these loops are only likely to suit traditional Indian music or a Bollywood film song, there's also plenty that could appeal to more experimental contemporary dance producers. For example, I could imagine some of the Andhranatyam loops working in modern hip-hop or R&B, whereas loops from the Goa Dance and Bombay Fusion categories could certainly add a bit of spice to modern dance-pop track.
The loops are all ensemble performances, and within each style the loops are organised into intros, main rhythms, fills, variations and endings. This makes it very easy to piece together a complete rhythm track, with all the necessary variation to keep things interesting. The recording seems to be of a very high standard: the sounds are crisp and full, and most of the loops seem to have a very nice element of ambience.
All in all, everything is presented in a fashion that means you able simply to chain together the loops you need, and have authentic Indian-flavoured rhythms in an instant. So, in summary, there's really very little for you not to like about Indian Dance Classics. The loops sound great and, at this price, it also represents very good value for money. Top-notch!. RATED: FIVE STARS out of 5"
- Sound On Sound Magazine, UK
Download Size (RAR files):
Parts 1 - 7: 500 MB each
Part 8: 104 MB
Info & Quotes
"...there's very little for you not to like about Indian Dance Classics. The loops sound great and, while this musical style might not be on everyone's sample shopping list, at this price, it also represents very good value for money. Top notch!" – Sound on Sound Magazine, UK