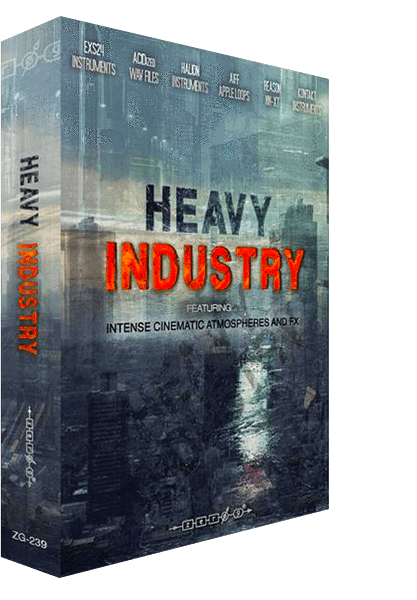 Heavy Industry
Take a trip to the dark side with eerie ambient, powerful, industrial soundscapes
Heavy Industry is a carefully crafted 1Gb collection of powerful atmospheres, transitions, ambiences, drones and effects that lean towards the darker side of the cinematic soundscape genre.
These powerful, extreme sounds create intense emotions in the listener and are ideal for fashioning suspense and tension in whichever form of music you are creating whether that be cinematic soundtracks, TV composition, gaming or electronic dance music with an industrial feel.
Eerie ambient, industrial soundscapes, powerful often harrowing, extreme, severe, passionate sounds. Welcome to Heavy Industry!
All of the samples are recorded in pristine 24bit audio and have been pre-cleared and are 100% original & royalty-free for your musical use without any additional licensing fees!
* 320 Acidized WAV files
* 320 AIFF Apple Loops
* 248 Kontakt Instruments
* 248 EXS24 Instruments
* 248 HALion Instruments
* 248 NN-XT Instruments
Compresser RAR - 1.45 GB
Uncompressed - 2.23 GB
Info & Quotes
"In both groups, the moods are exactly what you would expect, and if you wanted to create some cues to drop straight into a dystopian, Blade Runner 2049 world, these would do the trick... I've absolutely no complaints about the nature of the main sample set included here. They are very characterful and of high quality. And given the fairly modest price, there is a respectable amount of content. Rated FOUR STARS out of 5" - Sound On Sound Magazine, UK
"It has all the ingredients to inspire you to create new and beautiful masterpieces. Whether it's media, TV and film music, game soundtracks, dark ambient or experimental electronica the materials contained in Heavy Industry are useful and also flexible. The sound design, recording and editing are all fantastic. Certainly, Heavy Industry's selling point are the drone and atmospheric sounds, but I do love the 50 FX samples as they can be used if you're scoring movies similar to Prometheus or The Martian." - Soundbytes Magazine