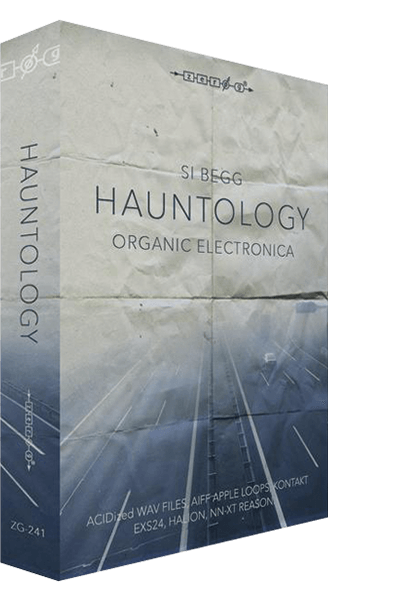 Hauntology
Organic Electronica from Si Begg
Format
Acid,
Apple loops,
Aiff,
Exs24,
Halion,
Kontakt files,
Reason,
Wav,
Nnxt
PDF files
Hauntology - a massive 3.2Gb of organic electronic music samples from acclaimed composer and producer Si Begg. The library is full of amazing abstract, melodic and percussive loops as well as weird effects, sweeps and tonal textures.
Here is what Si Begg says about the library:
The aim of this library was to make a range of usable tools that could create the electronic sounds I heard and loved as a kid. Whether it be the quirky off-beat bleeps and bloops of Delia Derbyshire at the BBC Radiophonic Workshop, the dystopian soundscapes of John Carpenter or the early film scores by the likes of Tangerine Dream, these are the sounds that soundtracked many of my favourite films and TV shows, scaring and delighting me in equal measure. Often these kinds of recordings were made on a shoestring budget with idiosyncratic equipment that would drift in tuning or distort unexpectedly, but these are the very faults and errors that gave them such character and I've tried not to make things too "perfect" or clean to retain that feel. The sounds have been culled from a variety of sources, old reel to reel tapes of my own early experiments, more recent sessions using half broken, dusty old synths with crackling pots and experiments with circuit bent effects units. They are raw, untamed electronics, curated into a fully usable format to add some organic textures to what can, sometimes be a sterile experience with modern computer based recordings.
'It's great when you discover sounds and textures at your finger tips that can be layered and blended to create an instant vibe. It's easy to create something fresh and interesting that gets your creative ideas flowing which is crucial with the many deadlines of tv scoring.'
- Carly Paradis (Composer / Clint Mansell / Line of Duty) - http://www.imdb.com/name/nm4134988/
"This is lots of fun. I particularly enjoyed the loops in Kontakt. Some instant Tangerine Dream there!"
- Matt Bowdler (Sound Designer / The Unfinished)
"This sounds great!!!! Some great arpeggios in there!"
- Damon Baxter (Composer / Deadly Avenger / Trailer Composer)
"A great collection of sounds from twisted drum loops and lo-fi hits to dirty abstract rhythms. For me though, it was the arpeggiated synths and sequences that blew me away, immediately usable, inspirational, and sounding great. 8/10"
- Deadly Avenger, Composer, Music Supervisor
* 553 Acidized WAV files
* 553 AIFF Apple Loops
* 43 Kontakt Instruments
* 43 EXS24 Instruments
* 43 HALion Instruments
* 43 NN-XT Instruments
Total Size: 3.76 GB
Part 1: 1024 MB
Part 2: 1024 MB
Part 3: 1024 MB
Part 4: 686 MB
Unpacked Size: 6.69 GB
Info & Quotes
"The idea behind Hauntology is to give electronic musicians and producers a strong set of samples that will add an organic vibe, dirt, imperfectness and raw character to any electronica projects they are working on.... The result is a library that is both playable and useable. The tonal textures are interesting with plenty of sonic diversity. The FX sound great and can be used as fills in between sections of a track. The 47 melodic synth loops are also impressive as an EDM resource. This pack is highly recommended as it has a very consistent sound throughout." - SoundBytes Magazine
I love when I get into a library where I immediately get ideas from the samples themselves, and this library is a wealth of quirky, interesting and inspiring sounds... I find the sounds aren't limited to old-sounding sci-fi, but are useful in numerous genres for ear candy or underlying textures and it's wonderful to get the classic sounds without having access to the vintage hardware. The library includes so many elements it is entirely capable of producing an entire soundtrack on its own, and it also works very nicely alongside other sound palettes. - SampleLibraryReview.com