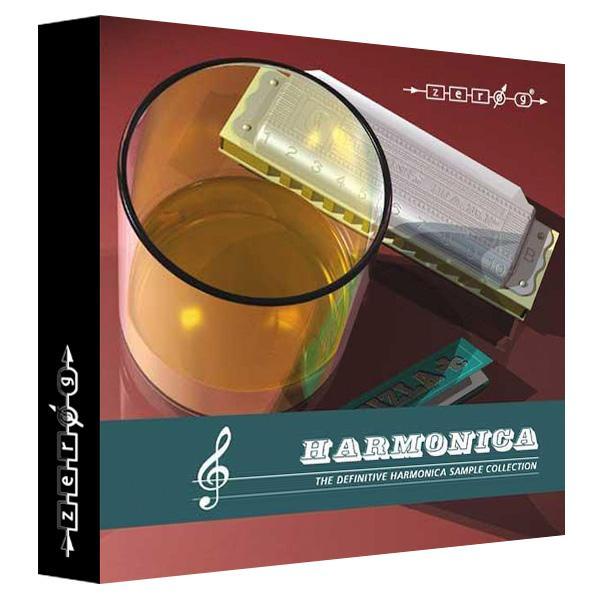 Harmonica
Huge and flexible array of harmonica moods and rhythms
Welcome to Zero-G's definitive collection of HARMONICA samples, performed by Ben Hewlett and recorded by Paul Lennon.
The harmonica is an instrument that can provide haunting sounds - remember the Charles Bronson theme in the cult film "Once Upon A Time In The West"!
It can also be incredibly funky and provide irresistible rhythm. This superb new sample library contains a huge array of moods and timbres (multisampled, and loops) for use in as wide a variety of applications as possible.

The sounds have been provided in multiple popular formats: WAV(ACIDized), EXS24, and HALion. This library is ideal for composers and dance producers alike.

Featuring over 300 Harmonica Riffs including a wide range of playing techniques, for Blues, Funk. Pop, Rock, Country, and much more you could for example, try dropping these riffs & loops into ACID or SONAR to instantly add a fantastic funky live feel to dance tracks.

In addition to providing the riffs in ACIDized WAV format, you will find 12 Playable Harmonica Instruments for EXS24 and HALion, chromatically multisampled in the most useful playing techniques. Great for creating everything from complex melodic parts to those reverbed-out haunting film themes..!
For more info on the contents of Harmonica, please take a look at the PDF of Contents.

For more detailed info on this sample library, click here to check out the story behind the library and bios of the performers.
Download Size (zipped file):
Info & Quotes
"A massive collection of more than 300, very well played riffs. These riffs are played within different styles, but the influence of blues is very strong. The booklet keeps you on track with what tempo or key the riffs are played.. The recordings themselves are very clear and have plenty of dynamics.. you might surprise yourself with this CD. Rated 9/10" - Interface Magazine, Holland