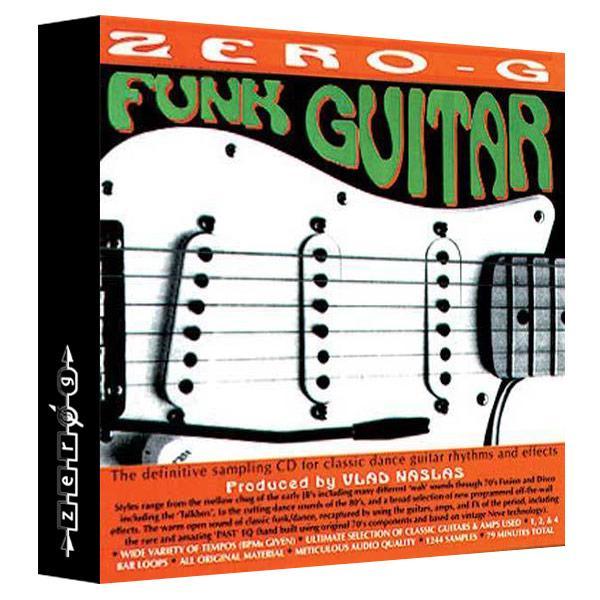 Funk Guitar
Unbeatable guitar resource capturing the warm open sound of classic funk/dance using the guitars, amps & FX of the period.
CLASSIC GUITAR RHYTHMS & EFFECTS, produced by VLAD NASLAS - a best-selling sample collection. This is the warm open sound of classic funk/dance, recaptured by using the guitars, amps and FX of the period.
This title is an unbeatable guitar resource for discerning studio professionals (even Eric Persing of Spectrasonics described it as one of his favourite sample CDs!). The sample library includes a wide variety of tempos (BPMs included), with an ultimate selection of classic guitars & amps, using 1/2/4 bar loops.
Funk Guitar is an original collection of irresistibly catchy, toe-tappin' loops, ranging from early James Brown to styles that haven't even been invented yet. It begins with a massive rare groove section, opening with some familiar "wakka-wakka" rhythms, mostly two and four bar loops at around 100 bpm to begin with.
Sticking with the 60's funk style the tempos range from 81 - 128 bpm and include re-played versions of a few classics, along with heaps of original stuff. Into the Funk 'N' Fusion section, and memories of Starsky and Hutch come flooding back. This is 70s disco in a nutshell. It's hard to believe this lot hasn't come straight from the days of afros and flares - only the crackle-free recording gives it away.
The car-chase music continues through the selection of Crisp and Dry riffs, which give way to some screeching, distorted heavy rock guitar loops, ranging from 91 - 128 bpm. After a bout of grungy metal noise, come the SFX, Talk Box and Vocoder sections.
With the help of some meaty distortion, phase and rhythm gating effects, he's served up a double portion of pulsating riffs that are just begging to be put over a thumping dance beat. He's even got the guitar to sound like a TB303 acid bassline synth! Riffs from this CD are going to crop up on countless chart and club hits.
For more detailed info on the contents of Funk Guitar, please take a look at the PDF of Contents.
Info & Quotes
"Meticulously prepared & presented... virtually noiseless... engineering & playing first class... cool, fresh & funky... a definitive collection... the best I've heard... light years ahead of the previous competition... The playing is very, very good... This is a class act... Vlad Naslas is the man who produced this, the first and best of a short series of bass and guitar CDs and CD-ROMs. The content is predominantly old-fashioned soul guitar licks, hits and tones, and the surprising thing is how authentically the sound captures the mood of '70s funk records. The guitars and amps used are classics, and therefore the extra vintage quality must come from the man himself (playing) and the engineering. Licks tend to be short, simple and pretty adaptable. So many of these 'player' sample CDs tend to be full of either overblown virtuoso mini-performances or clichés repeated over every imaginable key and/or tempo. In sharp contrast, Funk Guitar is eminently and immediately useable. And just when you thought it was safe to get out the Johnny Guitar Watson albums, Vlad throws in more than a few futuristic funk surprises. Awarded FIVE STARS out of 5" - SOUND ON SOUND magazine, UK
"There's a bucket load of material well-suited for a variety of styles" - KEYBOARD magazine, USA
"Every imaginable wah sound is here, from warm and mellow to hard and heavy.. The sounds themselves are lively and authentic and mostly recorded without reverb, giving you the freedom to add your own ambience to suit" - MELODY MAKER, UK