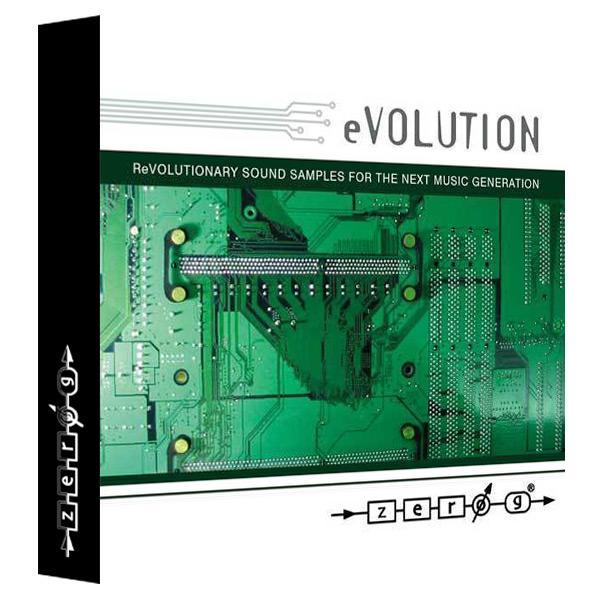 eVolution
Unique creative loops, sequences and FX to add a futuristic electro or Club Techno edge to your music
eVOLUTION features unique creative loops, sequences and FX generated by primitive raw sound generation machines, organic synthesis techniques, and sound manipulation software.
These sounds are designed to add a futuristic electro or Club Techno edge to your music - mix them in with your existing loops or create mind-blowing electro and club techno tracks!
Includes:
Metaphysical Loops,
Percussive Electronic Loops (90 - 150 bpm),
Esoteric Sequences,
and Single Sounds/FX.
For more detailed info on the contents of eVOLUTION, please take a look at the PDF of Contents.
Sound generators used include:
Roland Jupiter 6,
Juno 106,
JD 800,
MKS-50,
MKS-70,
MC-202,
TB-303,
RE-201,
Vocoder SVC-350,
TR-808 and 909 Drums,
Siel Opera 6,
SC Pro One,
Clavia Nordlead II,
Korg Wavestation A/D,
Korg MS-10,
Oberheim Matrix 1000,
Waldorf Microwave I,
Pulse,
MAM VF-11,
MAM Filter RS 3,
Electroharmonix Pedals,
Hyperprism,
Opcode Filter
Vocoder.
"Weird sonic manglings aimed at the connoisseur of experimental dance music... Ostensibly aimed at techno, ambient and industrial, these sounds would be usable wherever way-out futuristic sound design was required... I found the synth programming particularly good, as real effort had been put into creating the kind of movement and expression usually lacking in such libraries. Many of the sounds also had great bite, really tearing their way out of my speakers!.. I liked this collection a lot, especially for adding aggression to more 'vanilla' productions"
- SOUND ON SOUND magazine, UK
--
"There is no shortage of usable material on this CD...On the whole this collection grew on me the more I listened and used the samples.... I recommend delving in deep as there are some real gems to be found"
- FUTURE MUSIC magazine, UK
--

"A host of vintage synths and creative effects have been put to good use in this collection - there are some really useful and atmospheric sounds...The samples are full and would sit well in a mix... An inspiring set"
- COMPUTER MUSIC magazine, UK
--

"The production is crisp and the sounds and breaks have a wicked twisted edge... There are basically four sections to this CD... and trust me, each section has something for you! The loops are wicked with a healthy dose of techno and breakbeat"
- THE KNOWLEDGE magazine, UK
Info & Quotes
"Weird sonic manglings aimed at the connoisseur of experimental dance music... Ostensibly aimed at techno, ambient and industrial, these sounds would be usable wherever way-out futuristic sound design was required... I found the synth programming particularly good, as real effort had been put into creating the kind of movement and expression usually lacking in such libraries. Many of the sounds also had great bite, really tearing their way out of my speakers!.. I liked this collection a lot, especially for adding aggression to more 'vanilla' productions" - SOUND ON SOUND magazine, UK
"There is no shortage of usable material on this CD...On the whole this collection grew on me the more I listened and used the samples.... I recommend delving in deep as there are some real gems to be found" - FUTURE MUSIC magazine, UK
"The production is crisp and the sounds and breaks have a wicked twisted edge... There are basically four sections to this CD... and trust me, each section has something for you! The loops are wicked with a healthy dose of techno and breakbeat" - THE KNOWLEDGE magazine, UK