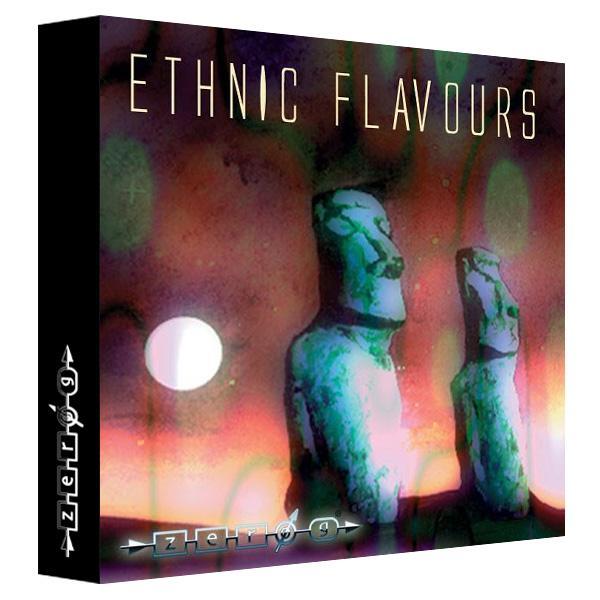 Ethnic Flavours
Exotic wide-ranging collection of world rhythms, instruments and vocals, hits, atmospheres and phrases
Ethnic Flavours includes rhythms, instruments & vocals, plus hits & phrases and is heartily recommended to the ambitious world musician!
Spiritual chants & Asian atmospheres to give your music an exotic charm. Create mystic moods and amazing ambiences & impact the subconscious of your listeners!
This collection has been painstakingly recorded using superb exponents of the rhythmic art from many corners of the globe.
It features a mixture of field and studio recordings and programming for maximum flavour and variation.
Features:
Tabla,
Indian Flute,
Talking Drums,
Bells,
Choirs,
Pan Pipes,
Oriental Percussion,
Vocals,
and more!
Perfect for your next film score, album, or remix project!

You get every sample of the library in WAV format, plus a selection of 92 of the loops in REX2 format (.rx2)
WAV format categories included:
African Choir Notes
African Vocal Phrases
African Guitar Rhythms
Darbuka Hits
Bell Hits
Jangle Hits
Talk Drum Grooves & Hits
Cabasa Grooves & Hits
Cowbell Grooves & Hits
Djembe Grooves & Hits
Mixed African Grooves
Clave Hits
West Africa Flute Riff & Notes
Penny Whistle Riff & Notes
Chinese Flute Riffs & Notes
Chinese Pipe Riff
Japanese Percussion
British Table Pipe Riff
Nut (Lake Orinoco) Riff
Gaita Riff
Gaita (Chile) Notes
Quena (S. America) Notes
Panpipe Notes (Hard & Soft Attack)
Tabla Grooves
Clam Pot Grooves
Duff Grooves & Hits
Mixed Indian Grooves
High Tabla Hits
Low Tabla Hits
Clam Pots Hits
Dohlak Hits
Indian Flute Riff & Notes
Sitar Notes

REX loops provided:
African Grooves 100bpm - 5 loops
African Guitar 120 bpm - 5 loops
Bombay Mix 100 bpm - 7 loops
Bombay Mix 120 bpm - 8 loops
Bombay Mix 140 bpm - 7 loops
Cabasa Grooves - 7 loops
Clam Pot Grooves 100-140bpm - 8 loops
Cowbell Groove
Djembe Grooves 100-120bpm - 8 loops
Duff Grooves 100-140bpm - 12 loops
Tabla Grooves 100-140bpm - 15 loops
Talking Drum Grooves 100-140bpm - 9 loops
(Total: 92 REX files).
For more details on the contents of Ethnic Flavours, please take a look at the PDF of Contents.
Download Size (RAR file):
Info & Quotes
"The playing is superb, with some wickedly speedy rolls and fills, and all the inflections and nuances are captured in the recordings" - Future Music Magazine, UK
"Ethnic Flavours is a cocktail of hits, grooves and wind instruments from around the world" - Sound on Sound Magazine, UK