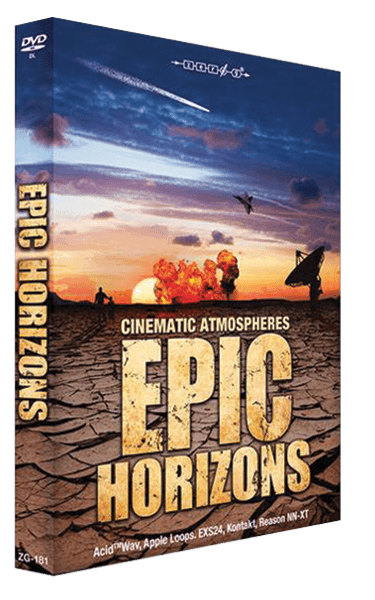 Epic Horizons
A behemoth of epic cinematic soundscapes, textures, drones, fx and ambiences
Welcome to Epic Horizons - Cinematic Atmospheres - 5.3 GB of 24bit cinematic audio excellence from the producer of the award-winning Dark Skies!
Epic Horizons is even bigger and better than Dark Skies. This magnificent download set from Zero-G delivers epic soundscapes, sonic narratives and audio vistas on a breathtaking scale.
Crammed full of textures, ambiences, soundscapes, drones and FX this library is the ideal companion for any professional film, TV or video game producer and sound designer looking to add some scale and intensity of emotion to their musical score.
This colossal library contains over 850 instruments in EXS24, Kontakt and NN-XT format as well as standard Acidized Wav files and Apple Loops all recorded in stunning 24bit using state of the art sound design by one of the world's leading soundtrack and fx producers.
There are also 30 construction kits that present a full musical/sound design piece which is then broken up into its constituent parts so that you can use them anyway you like.
Adventure, sci-fi, thriller, horror, mystery, fantasy and action genres are all included in this vast library. In short, there is something for every big screen moment in this stupendous stockpile of sonic sensation!
All of the samples have been pre-cleared and are 100% original & royalty-free for your musical use without any additional licensing fees.
Includes:
770 Acidized WAV files
770 AIFF Apple Loops
850 Kontakt Instruments
850 EXS24 Instruments
850 NN-XT Instruments
For more detailed info on the contents of Epic Horizons, please take a look at the PDF of Contents for the full list of included instruments and samples.
Download Size (RAR files):
Parts 1 - 8: 953 MB each
Part 9: 13 MB
Info & Quotes
"The library as a whole is inventive, creative, and full of inspirational sounds... a veritable smorgasbord of usable and enjoyable sounds which will no doubt be of great interest to film, TV and gaming sound designers who have to come up with the goods fast and often, and therefore need a substantial library that provides instant solutions while also serving as a source of inspiration." - Sound On Sound Magazine, UK
"Over 5 GB of 24bit sounds from the producer of the excellent Dark Skies, this is another high-end library aimed at score composers and sound designers. Ambiences, textures and FX are all present, and the 850 sampler patches and 30 construction kits exude high production values and modern cinematic style. A broad spectrum of moods is covered.. There's no filler. Rated: 9/10" - Computer Music Magazine, UK
"Having released award-winning collections like Dark Skies and Deep Impact you can be sure that the British sample specialist Zero-G already has a nose for cinematic textures and effects sounds. Epic Horizons provides a wide range of Acid/WAV- and Apple Loops in a 5.3 GB collection designed to work well in horror, action, thriller or sci-fi scenes. In addition, there are over 850 patches for the EXS24 sampler, Kontakt and NN-XT. In addition, more than 30 brilliantly crafted construction kits allow the flexible creation of more complex cues. Through mysterious soundscapes, drones, hits, impacts or sweeps, Epic Horizons impresses with Oscar-mature sound design for cinema- and theatre-heads." - BEAT Magazine, Germany.