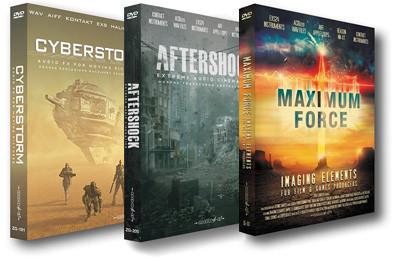 Epic FX Bundle
3 monumental cinematic sound and FX libraries in one epic bundle
Format
Acid,
Apple loops,
Exs24,
Halion,
Kontakt files,
Reason,
Wav,
Nnxt
If you are looking for the best quality and best value cinematic sounds and FX, look no further than our EPIC FX Bundle. This powerful bundle of three highly acclaimed sample libraries for film composers and EDM producers will give you what you need. Universally praised by the reviewers and users alike, this trio will inspire you! 
YOU'LL MAKE A HUGE SAVING compared to buying these three titles individually. 
For full information and demos on each of the three included titles, take a look at their individual product pages by clicking each title or the product image:
 
Cyberstorm - Audio FX for Moving Pictures
 

Aftershock - Extreme Audio Cinematics
 

Maximum Force - Imaging Elements
To buy all three titles together for only $149.00, click the ADD TO CART button on this page.
Download Sizes:
Cyberstorm - Audio FX for Moving Pictures (RAR files):
Parts 1 - 3: 953 MB each
Part 4: 330 MB

Aftershock - Extreme Audio Cinematics (RAR files):
Parts 1 - 3: 953 MB each
Part 4: 78 MB

Maximum Force - Imaging Elements (RAR files):
Part 1: 953 MB
Part 2: 869 MB