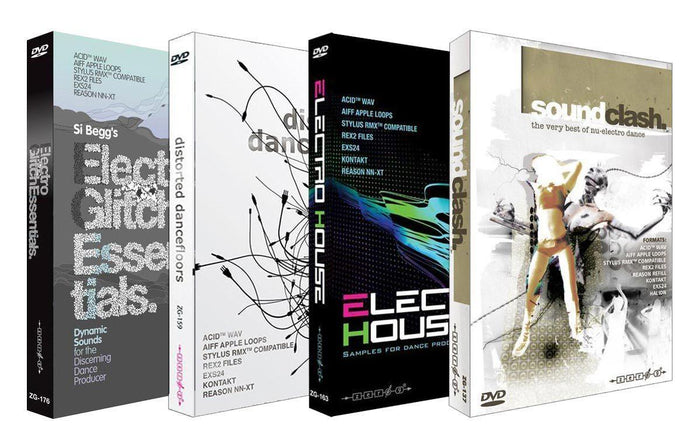 Electro and Glitch Bundle
4 boundary-busting Electro and Glitch libraries in one super-saver bundle
Format
Acid,
Apple loops,
Exs24,
Kontakt files,
Rex,
Reason,
Rmx,
Wav,
Nnxt
This fantastic bundle of four highly acclaimed electro and glitch oriented libraries will give you what you need to create ground-breaking electro dance tracks - it's for those dance producers who want to be at the forefront of their art, challenging the boundaries of musical creativity.. Universally praised by the reviewers and users alike, these four titles will deliver! A huge saving compared to buying these four titles individually.  For full information and demos on each of the four included titles, click on the names or product image to see their individual product pages.
Electro Glitch Essentials (normally $69.99)
Distorted Dancefloors  (normally $69.99)
Electro House  (normally $51.99)
Soundclash  (normally $51.99)
Total price when purchased separately would be $243.96.
To buy all four titles together for only $149.00 click the ADD TO CART button on this page.
Download Sizes:
Electro Glitch Essentials (RAR files):
Parts 1 -7: 500 MB each
Part 8: 247 MB

Distorted Dancefloors (RAR files):
Parts 1 - 3: 500 MB each
Part 4: 312 MB

Electro House (RAR files):
Parts 1 - 3: 500 MB each
Part 4: 332 MB

Soundclash (RAR files):
Part 1: 953 MB
Part 2: 36 MB