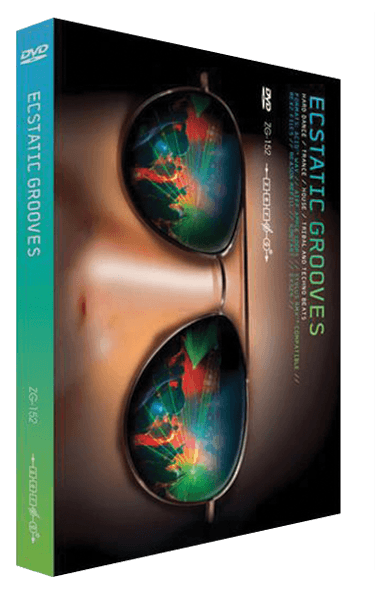 Ecstatic Grooves
Drum and percussion loops ready to drop into everything from Techno to House
ECSTATIC GROOVES features over 2,200 24bit samples including over 1,650 loops and 550 single hit sounds.
Ecstatic Grooves is a dream for dance producers looking to inject some groove inspiration into their tracks. This mind blowing collection of sample accurate drum and percussion loops, hand crafted drums and fx, was sculpted from the ground up to satisfy the needs of the most demanding DJs and dance producers and ready to drop into your tracks with the minimum of trouble and the maximum of impact.
Styles include Hard Dance, Trance, Techno, Progressive, House, Tribal and Dance. Each beat has been broken down into its constituent parts so you can mix and match to your heart's content giving you endless possibilities for new grooves. If you're on a mission to find the right beat to add to your next dance hit or club pounding track Ecstatic Grooves is for you.

While many of the loops and sounds are geared towards trance music, the intention was always for Ecstatic Grooves to cater for dance musicians across the board. Therefore, we've included a diverse variety of material, from mid 90's dance and house grooves, to hard European trance, to tribal progressive and tech house, and much more.

However, we also wanted to provide the user with the facilities to easily break free of genre bonds and mix up sounds to form their own unique styles. After all, is this not where the true art of dance music lies - in the constant metamorphosis or styles and genres? We certainly think so!
The samples were produced by Steve Tunnicliffe, who writes:
"For as long as I can remember, I have always had a fascination with dance music. There is something about the steady four to the floor beats and hypnotic grooves that appeals to me, on an almost primal level. I can remember as a young kid, hearing some of the early techno and house tracks, and I knew even then that this music was going to be a special part of my life! Years later, I found myself staying up late on Friday nights, listening to broadcasts from various raves around the country. Finally, during the mid 90's I was able to begin experiencing dance music for real in clubs across Britain and Europe.

But along with my strong emotional connection to this music, there has always been a technical curiosity. Even back in the late 80's (as a young kid), I'd wonder what kind of instruments could make such amazing (and often, alien) timbres. And more importantly, how was it that this music could infect my consciousness so, having the power to force my foot to tap repeatedly without my permission, my head to nod, my entire being to pulse. Yes, in many respects, this library has been 20 years in the making!

Though it wasn't until I began producing dance music myself (in the late 90's) that I really began thinking seriously about this project. I used to buy sample CD's from all over, trying to find sounds that I could drop into a mix that would sound great immediately. I wanted the ability to make music and not have to worry about time correcting loops, editing drum hit attacks, programming synths, messing with cables, etc. Don't get me wrong, I love programming and editing! But it seems to be very much a separate part of the process... for me at least. When it comes to making music, I want the process to be as streamlined as possible.

Out of this necessity, I worked tirelessly to produce the product that I proudly present to you - 'Ecstatic Grooves'. Basically, this is a massive chunk of my library, in a box! It's all the sounds that I use to produce and remix tracks on a daily basis. When making tracks these days, I literally just grab some drums from the library and a couple of loops... my drum tracks now take minutes rather than hours! It really has become that simple. But best of all, now get to focus my creative energy on actually writing music as opposed to the tedium of editing and studio ergonomics.

With this in mind, I sincerely hope that you find 'Ecstatic Grooves' to be as indispensable as I do! This is a product born out of love for dance music, and I hope that shines through to all that use it."
CONTENTS:
1650 Rex2 Files (Stylus Compatible)
2200 Acidized Wav Files
EXS24
Kontakt2
For more detailed info on the contents of ECSTATIC GROOVES, please take a look at the PDF of Contents for a complete list of samples & patches.
LOOPS
The beats of 'Ecstatic Grooves' each comprise five, one bar loops:
Kick loop (A)
Mix 1 (B)
Mix 2 (C)
Mix 3 (D)
Top Loops (E)
This was to allow users the ability to construct their drum tracks with maximum flexibility using the minimum number of samples. In addition, we felt it was important to allow the user to remix the loops. For instance, if the kick drum is too high / low for your particular track, no problem, simply remix the kick and top loops to your preferred levels. Perhaps the top loop isn't working for your track? Again, no problem, experiment with some others of the same tempo.

TIP: Try layering in several top loops. If you pick one with a lot of high-pitched hats and another with more mid range percussion, they should provide a nice full arrangement. Sometimes it can sound cool to filter the top out of the lower percussion loop so that it sits back in the mix slightly.

The loops are categorized by style, with tempo markings range from 130bpm to 145bpm:
Hard Dance - faster than the trance beats with more aggressive mix processing and rhythm programming.
Trance - featuring cleaner beats with generally straight rhythms.
Progressive, Tribal, House - these beats range in style from tribal house and progressive to minimal and tech house. Generally they are slower and less aggressive than the above, featuring less generic programming and processing.
Techy - beats ranging from tough German and Italian style techno to electro tek and retro. Perfect for users who prefer a more percussive foundation to their tracks.
Dance - slightly dirtier than the trance beats. Many of these loops are reminiscent of mid 90's dance music. Rhythms typically featuring heavy swing with a 'vivace' feel.
But remember, these categories are very broad generalizations! We urge you to experiment as much as possible, mixing and matching loops from the different categories to form your own unique rhythm arrangements.


DRUMS & FX
Drum sounds are categorized by type. While the sounds in this collection were designed with 'four to the floor' dance music in mind, we've found them perfect for other styles such a new school break beat and D&B. As well as staple drums (such as kick drums, snares, hats, claps, etc), we've included some 'fx' type sounds, including reverb kicks, explosive hits, fx percussion, crash hits and reversed cymbal fx. These can be used as sparingly or excessively as the user feels appropriate.

TIP: Why not program a break beat for your trance tune? Having access to hundreds of quality drum samples gives the user the opportunity to program drum parts from scratch, and this means that there are no limits to what can be achieved! Free from the constraints of pre-programmed patterns and tempo, the user is free to a far greater extent. Try pitching the sounds extremely, doubling / halving the tempo, mixing with some of the pre-programmed loops, using exaggerated mix processing (reverb for instance, leaving on part dry with another overly wet), or all of the above!
Download Size (zipped files):
Part 1: 750 MB
Part 2: 470 MB
Info & Quotes
"Ecstatic Grooves is a collection of drum loops and single hits for mid-tempo 4x4 dance music. Although to us the word 'groove' conjures up thoughts of funky bass licks and keyboard parts, you won't find any melodic samples here – it's all drum beats. Thankfully the quality level is generally high, and the 1650 loops certainly have plenty of punch to them. The emphasis is on strident euro-style beats, but if you're after something a little more subtle, the inclusion of 550 single-hit drum samples is a definite bonus. This package is worth investigating if you're into the harder mid-tempo styles of dance." - Computer Music Magazine, UK