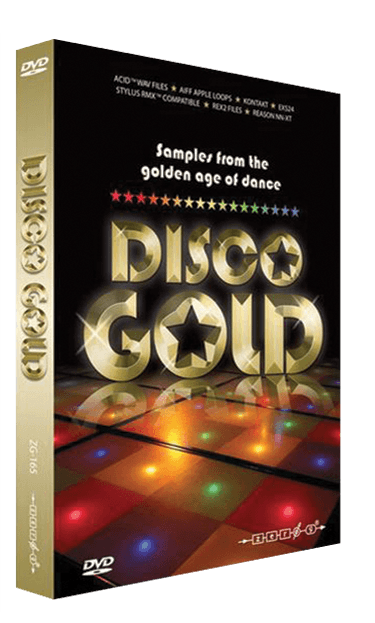 Disco Gold
Authentic 70s and 80s classic disco inspiration for the 21st century producer
After the huge success of Classic Disco comes the incredible follow-up, Classic Disco 2 - DISCO GOLD! Over 800 samples and 1.7 GB of 24bit dancefloor inspiration!
Disco Gold contains 34 construction kits that evoke the greatest period of dance music from funky disco and smooth soul to britfunk, disco underground, proto-house, hi-nrg and much more. In addition to the totally authentic sounding construction kits there are dozens of extra guitar, bass, piano and synth loops.

Disco Gold has all the classic sounds of the seventies and eighties but this time the bpm is a bit faster and the tempo is a little more upbeat to match the modern dance producer's needs.
The great sounds of Chic, Quincy Jones, George Benson and D-Train to name but a few are packed into long construction kits that have been immaculately researched, written and recorded to give you the most authoritative collection of disco sounds ever compiled in a sample library.
From the Producer and multi-instrumentalist Davor Devcic aka D3:
"This time I've been focused on sound and diversity. I have attempted to bring you a whole spectrum of dance music history from circa 1977 to 1989. I analysed original recordings from that great era and tried to emulate the analog warmth, the space and the dynamics of those vinyl records. Of course, without any trace of today's loudness-madness!
And finally, the diversity. On this library you'll find creamy Shakatak and George Benson jazzy funk, early Bobby Brown or Freddie Jackson 80's swing, Jimmy Jam-Terry Lewis electro-soul, "around-1981" disco rare grooves, Italo-Jaques Petrus lightness and, of course, classic Philly Disco, Salsoul and the famous Chic sound. There are lots of individual loops which are great to start your own funky disco journey.
I hope that you enjoy it as much as I did making it!"
Includes:
815 Acidized WAV files
815 AIFF Apple Loop files
832 Stylus compatible REX2 files
43 EXS24 Instruments
43 Kontakt Instruments
43 NN-XT Instruments
FEATURED SOUNDS:
34 Full Construction Kits
Bass & Guitar Loops Matched Pairs
Guitar phrases
Piano Loops
Electric Piano Loops
Synth Bass & Synth Matched Pairs
For more detailed info on the complete list and descriptions of the contents of Disco Gold, please take a look at the PDF of Contents.
"The musical styles are exactly what you might expect: classic Shakatak, Chic and Bootsie Collins. Media composers wanting a '70s Starsky and Hutch soundtrack could get stuck in here. The more obviously '80s-influencecd sounds go from Paula Abdul to a couple of kits that are almost in Human League territory... the playing and the sounds are authentic throughout and there are some great grooves. As disco sounds and sensibilities can be easily heard in lots of modern music styles, there ought to be plenty here to interest contemporary dance music producers"
- Sound on Sound Magazine, UK
--
"The key word here is authentic: a great deal of thought and effort has gone into mimicking the production techniques of the time and all of the tracks sound fantastic. You'll find various styles from funky Quincy Jones and the Jacksons to Donna Summer and more 80s-sounding grooves... This pack would be perfect for media composers wishing to evoke a 70s vibe or for producers of house or electro pop... Verdict: Superb, authentically produced funk and soul grooves with the occasional 80s electro twist. Rating: 9/10"
- Music Tech Magazine, UK
--
"Used in conjunction with other samples and dance elements, things can really get quite creative."
- DJ Mag, UK
--
"The material is as good as it gets. The vibe is genuine, encouraging and uplifting. I cannot think of any better library for Disco, and if you're into giving your tracks a bit of white leisure-suit sweat and a big dose of the 80s - this is it. Very cool stuff indeed"
- from a detailed review of Disco Gold at plughugger.com
--
"Great effort has gone into mimicking the sound of famous tracks of the time, with acts such as Chic, Salsoul and Jam & Lewis being influences. [...] Brilliant stuff."
- Computer Music Magazine, UK (Rating 9/10)
--
"Superb, authentically produced funk and soul grooves with the occassional 80s electro twist."
- Music Tech Magazine, UK (Rating 9/10)
--
"Disco Gold contains everything you need to add a pinch of Studio 54 magic to your tracks."
- Future Music Magazine, UK (Rating 9/10)
Download Size (RAR files):
Parts 1 - 6: 500 MB each
Part 7: 178 MB
Info & Quotes
"Great effort has gone into mimicking the sound of famous tracks of the time, with acts such as Chic, Salsoul and Jam & Lewis being influences. [...] Brilliant stuff." - Computer Music Magazine, UK (Rating 9/10)
"Superb, authentically produced funk and soul grooves with the occassional 80s electro twist." - Music Tech Magazine, UK (Rating 9/10)
"Disco Gold contains everything you need to add a pinch of Studio 54 magic to your tracks." - Future Music Magazine, UK (Rating 9/10)