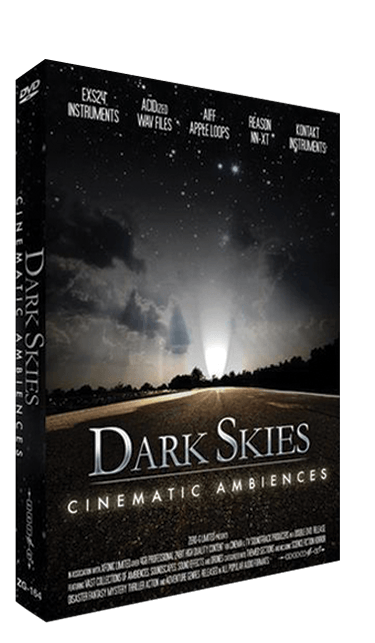 Dark Skies
Over 4.3 GB of state-of-the-art cinematic sound design and audio
Packed full of ambiences, soundscapes, drones and FX, Dark Skies Cinematic Ambiences is the perfect accompaniment for any professional film, TV or video game producer and sound editor looking for something extra.
Including everything from huge, luscious, panoramic soundscapes to the mysterious, eerie and downright scary and everything in between, this enormous library is made for people who are serious about their sound design.
It contains over 1000 instruments in EXS24, Kontakt and NN-XT format as well as standard Acidized Wav files and Apple Loops all recorded in stunning 24bit using top of the range equipment by one of the world's leading sound fx producers.
In addition to hundreds of ambiences, soundscapes, drones and fx which are themed into sections, there are over 50 construction kits which present sounds within the context of a short musical/sound design piece under the general headings:
Ambient Score
Dark Score
Science Core
Textural
There is also a themed collection of individual samples, ranging from beautiful washes of ambient bliss, to harsh digital blasts and granular FX.
All of the samples have been pre-cleared and are 100% original & royalty-free for your musical use without any additional licensing fees.
Includes:
940 Acidized WAV files
940 AIFF Apple Loops
1027 Kontakt Instruments
1027 EXS24 Instruments
1027 NN-XT Instruments

For more detailed info on the complete list and descriptions of the contents of Dark Skies, please take a look at the PDF of Contents.
"An excellent pack for soundtrack producers. Rated 9 out of 10"
- Computer Music Magazine, UK
--
"An extremely sizeable library... For any producer inspired by the likes of Cinematic Orchestra and Squarepusher, there is a wealth of material... Zero-G have gone out of their way to create a varied collection of professional sounding samples that could easily find themselves in film and TV soundtracks, as much as they could electronic dance music productions. VERDICT: A versatile sample pack that can be used in any production that needs a little extra detailing"
- DJ Magazine, UK
--
"These sounds are exceptionally high in quality... This is a professional collection for film, TV and media composers that would more than pay for itself due to the sheer size and usability of the material... This is an essential purchase for anyone working on a sci-fi or horror project"
- Music Tech Magazine, UK
--
"This is state of the art sound design. A first class collection suitable for top-end professional use.. Very good value for money.. FIVE STARS out of five"
- Sound On Sound Magazine, UK
--
"Thanks to the excellent sound quality and diversity, and the Hollywood-ready sound design, this library is highly recommended for film and game music producers"
- BEAT Magazine, GERMANY
Downwload Size (RAR files):
Parts 1 - 10: 500 MB each
Part 11: 210 MB
Info & Quotes
"This is state of the art sound design. A first class collection suitable for top-end professional use.. Very good value for money.. FIVE STARS out of five" - Sound on Sound Magazine, UK
"These sounds are exceptionally high in quality... This is a professional collection for film, TV and media composers that would more than pay for itself due to the sheer size and usability of the material... This is an essential purchase for anyone working on a sci-fi or horror project" - Music Tech Magazine, UK
"Thanks to the excellent sound quality and diversity, and the Hollywood-ready sound design, this library is highly recommended for film and game music producers" - BEAT Magazine, Germany