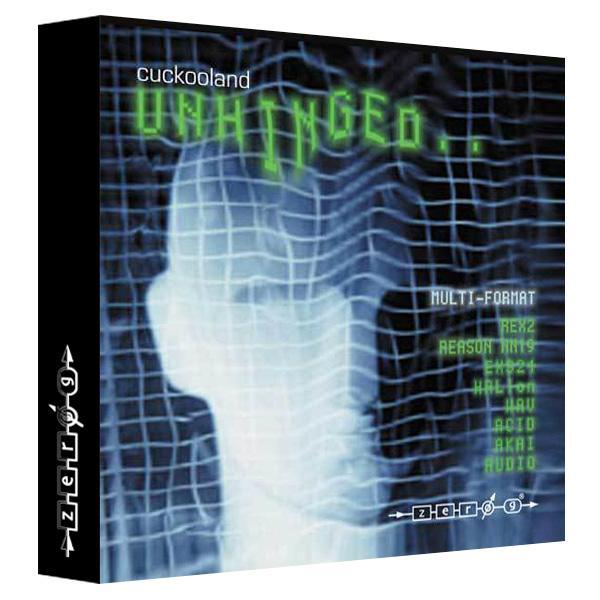 Cuckooland UNHINGED
Collection of assorted madness of textures, FX, instruments and sounds
Are Cuckooland insane? Reality is strange... and this incredible selection of rhythms, textures and FX will have you making music in very new ways.
Grooves from 67 to 170 BPM provide rhythmical backing unlike anything you have heard before and the textures and FX are out of this world.
This collection is ideal for all - from Trip Hop to Film - New styles of music will definitely evolve from this great collection!
For more detailed info on the contents of Unhinged, please take a look at the PDF of Contents.
"A truly wondrous product that simply defies explanation.. it will take you on a rare and sometimes terrifying trip.. the strangest, most sinister and downright bizarre collection of loops and textures you'll ever have heard, sounding like a dangerously insane man left alone to play with a ton of hot studio gear, a couple of big buckets of illegal substances and half a dozen top-flight Lexicons... Imagine the most eclectic and harsh whooshes, swoops, whizzes, pops and bangs, shove them through the latest state-of-the-art outboard gear, and you're getting close to the kind of feel that this release has throughout"
- SOUND ON SOUND magazine, UK
--

"A fine collection of textures, effects and instrument sounds that admirably illustrate the quality of sound design that's in abundance here... a solid bunch of hits, loops and percussion... where it wins over similar sets is that despite the diverse range of bizarre sounds and loops it's the inherent warmth that always shines through, and I reckon anyone from any side of the tracks would find this CD useful in lots of ways. Rated: 9/10"
- FUTURE MUSIC magazine, UK
--

"A very inspiring and interesting collection of non-standard and other worldly sounds, instruments, effects, loops and pure sample madness... most of the sounds are so cool that, over time, you may well make use of nearly all of the content... a Godsend"
- COMPUTER MUSIC magazine, UK
--

"The loops especially are wonderfully diverse in style, lending themselves well to many styles... Yet another worthy addition to Zero-G's armoury"
- THE MIX magazine, UK
Info & Quotes
"A truly wondrous product that simply defies explanation.. it will take you on a rare and sometimes terrifying trip.. the strangest, most sinister and downright bizarre collection of loops and textures you'll ever have heard, sounding like a dangerously insane man left alone to play with a ton of hot studio gear, a couple of big buckets of illegal substances and half a dozen top-flight Lexicons... Imagine the most eclectic and harsh whooshes, swoops, whizzes, pops and bangs, shove them through the latest state-of-the-art outboard gear, and you're getting close to the kind of feel that this release has throughout" - SOUND ON SOUND magazine, UK
"A very inspiring and interesting collection of non-standard and other worldly sounds, instruments, effects, loops and pure sample madness... most of the sounds are so cool that, over time, you may well make use of nearly all of the content... a Godsend" - COMPUTER MUSIC magazine, UK
"A fine collection of textures, effects and instrument sounds that admirably illustrate the quality of sound design that's in abundance here... a solid bunch of hits, loops and percussion... where it wins over similar sets is that despite the diverse range of bizarre sounds and loops it's the inherent warmth that always shines through, and I reckon anyone from any side of the tracks would find this CD useful in lots of ways. Rated: 9/10" - FUTURE MUSIC magazine, UK