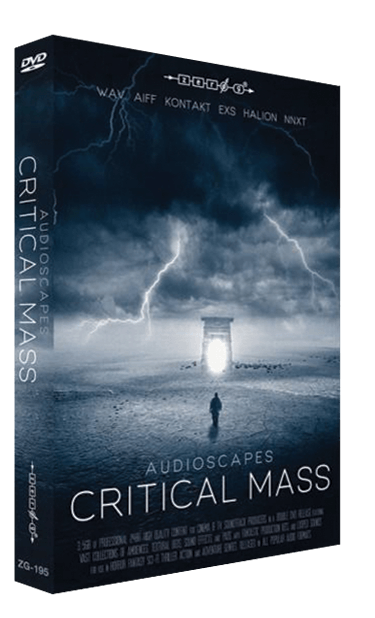 Critical Mass
Cinematic soundscapes from chilling deep space horror to sumptuous heavenly atmospheres
Critical Mass - Audioscapes; the latest addition to their impressive line of award-winning cinematic sample libraries created by the same producer of Dark Skies and Alien Skies.
Critical Mass - Audioscapes features 3.6 GB of 24bit cinematic audio alchemy. Influenced by the latest in cutting-edge Hollywood sound design and film scoring, this library contains a wealth of sonic material ideally suited to cinematic and video game projects.
 
Critical Mass provides you with a vast expanse of new and experimental sound materials generated using the most bleeding-edge digital signal processing techniques.
This colossal collection of sounds has themes ranging from chilling deep space horror all the way through to sumptuous heavenly atmospheres. It has been designed to suit all the needs of professional audio-video producers such as TV, cinema & game score composers and also EDM music producers who want to add something unique to their tracks.
 
This incredible library contains over 750 instruments in EXS24, Kontakt, HALion and NN-XT formats as well as over 700 Acidized Wav Files and Apple Loops all recorded in dazzling 24bit.
 
In addition to hundreds of atmospheres, soundscapes, textures, hits, stingers, pads and FX there are 30 production kits which present the sounds within short, musical/sound design 'cues' to inspire the user's imagination and aid them in quickly and effectively achieving their creative goals.
 
So, reach for Critical Mass and make a quantum leap with your sound creation.
Includes:
Over 700 Acidized WAV files
Over 700 AIFF Apple Loops
750 HALion Instruments
750 Kontakt Instruments
750 EXS24 Instruments
750 NN-XT Instruments
For more detailed info on the contents of Critical Mass, please take a look at the PDF of Contents for Production Notes / list of contents and descriptions.


MAIN SECTIONS OF THE LIBRARY:


PRODUCTION KITS:
The Production Kit organizational system used in this and numerous other Zero-G cinematic titles is somewhat unique in the world of sampling, and aids the user gain insight into the intended contexts of the provided sound materials.
This, of course, is not to forbid the user to straying; indeed, we'd highly encourage the user to experiment! However, by presenting the sounds within short, musical and sound design 'cues', we hope to inspire the user's imagination and aid him / her in quickly and effectively achieving his / her creative goals.
Stylistically speaking, the Production Kits are somewhat diverse, yet retain a degree of cohesion through the common approach to sound development and organization. Kits Abstract 1 to 4 draw considerable influence from the 'acousmatic' works of contemporary electro-acoustic musicians such as Ake Parmerud.
Somewhat different in style are the hard-hitting High Impact kits, which incorporate a range of powerful, trailer-style impacts and gestures. As always, mixing and matching the sounds in the various Production Kits tends to yields interesting fusions that the user may well enjoy exploring.
PRODUCTION ELEMENTS:
The Production Elements section of the library provides an extensive collection of single-hit sound files, covering a broad range of styles and applications.
Sets such as Barbed Wire and Horror Stingers blend elements of 20th century sonorism with contemporary film score. Such sets have clear applications in cinematic music.
The sub-section SFX is comprised of a variety of futuristic FX sounds that may be useful in sound design projects.
Other sets, such as Trailer Whooshes and Cinematic Risers, were created particularly with film and video game trailers in mind, although they may be equally appropriate for use in electronic dance music. However, while much of the content in this section was created with certain applications in mind, the user should feel free to mix, match, process and re-combine sounds to generate new and unique sonic creations.



LOOPED SOUNDS:
Axework
Since its conception, the electric guitar has rarely been considered an instrument to play by 'the rules'. From Jimi Hendrix to Robert Fripp, the electric guitar has prevailed in generating infinitely diverse and extraordinary timbres. In this section, the listener will experience a taste of the electric guitar as it dances with digital signal processing.
Byte Drones
Drawing on the tenets of post-digitalism, these gritty, lo-fi textures contrast starkly with the generally high fidelity content of this library, and may be suitable as either abstract sound design ambiences or within an electronic musical context.
Core Drones
The rich, expansive 'Core Drones' are amongst the densest sounds of this library. They may be utilized in a wide variety of contexts from film score to drum and bass.
Dark Atmospheres
The diverse selection of sounds in this section provides an ideal textural palette for dark ambient music, abstract sound design, and electronic dance music. Many of the sounds represent complete textural beds that possess sufficient complexity to standalone, yet retain the flexibility to easily mix with other material (particularly in the foreground).
Deep Space Horror
Summoning images of dark, foreboding space stations and remote, alien infested out-posts, these claustrophobic soundscapes provide the perfect accompaniment to any tense science-fiction horror scene.
Disturbed
These dissonant and unnerving textures require little explanation; deploy them with care!
Euphony
As the name may imply, the beautiful sonorities of 'Euphony' are as evocative as they are pleasing to the ear. While perfectly suited to ambient and cinematic musical styles, these sounds may also find applications as background textures in various forms of electronic dance music.
Filtration Textures
Relying on advanced spectral filtering techniques, these brilliant textures exist in a fluid state of perpetual motion, energized by mystic and unseen forces.
Glassy
The sounds in this section were derived from recordings of shattering glass, and retain this characteristic timbral quality despite their subtle elegance.
Heavenly Pads
Based on digitally manipulated recordings of a traditional choral ensemble, these textures provide depth and perspective to the foreground; yet blend exquisitely with mid- and background material. These highly versatile textures may be appropriate in a myriad of settings.
Lazer Drones
These are among the few sounds in this library that are derived solely from pure, digital synthesis. Nevertheless, their rich spectra and perpetual motion provide for a highly dynamic sonic experience!
Lo Fi
'Lo Fi' was created by manipulating and layering recordings of vinyl noise and crackle. The sounds in section may be used to introduce a healthy dose of dirty, low fidelity grime in either sound design or musical contexts.
Nocturnes
From Chopin to Bartok, night has proven a popular source of inspiration for musicians throughout the ages; use these beds to evoke similar nocturnal moods in ambient or cinematic musical contexts.
Organic Ambiences
The Organic Ambiences and Organic Drones comprise a collection of substantial, earthy textures, providing ideal background material for a broad range of musical styles.
Rain Dance
These bubbly, percolating textures were derived from recordings of a native American rain stick.
Teknodrones
Complimenting earlier sets such as 'Byte Drones' and 'Deep Space Horror', the agitated, high-tech Teknodrones evoke futuristic, dystopian imagery and find themselves perfectly at home in modern science fiction context.
Download Size (RAR files):
Parts 1 - 4: 953 MB each
Part 5: 825 MB
Info & Quotes
"Packed with bells, clangs, ambiences, whooshes and other FX/riser/impact type sounds, though, Critical Mass also succeeds as an expansive resource for electronic music producers." - Computer Music Magazine, UK (Rating 8/10)