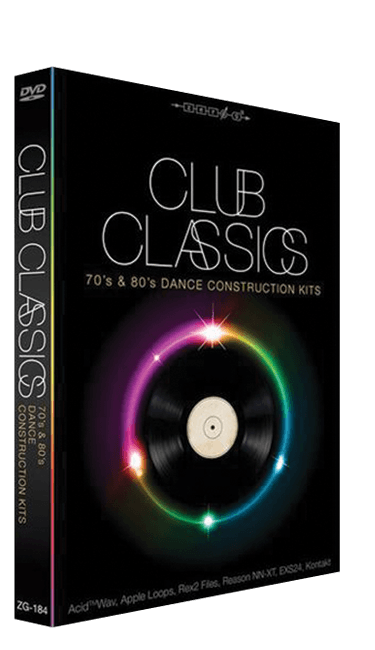 Club Classics
Over 3 GB of original material styled from 70s and 80s dancefloor classics
Zero-G Club Classics presents a massive collection of loops, samples and construction kits with the authentic classic soul, funk and disco sounds of the 70s and 80s.
WIth over 3.3 GB of all original material in pristine 24bit audio recreating the classic dance sounds of the 1970s and 1980s, Club Classics is one of the most comprehensive and authentic sample library of its kind ever produced and essential sampling for dance fanatics.
This library is for all those dance producers who have ever wanted to lift grooves direct from those classic dance 12 inch singles in their collection.
All of its 38 construction kits are a downright delight just to listen to, let alone dissect for creative use.
The main styles of the library focus on the genre-defining grooves of 70s and 80s dance classics and you really don't get any more authentic than this.
All of the construction kit instruments have been captured with the finest attention to detail to really replicate that retro sound but with all the benefits of today's high-fidelity recording gear.
As well as the 38 construction kits, there are extra synth, bass, piano and percussion loops and loads of single hits.
Easy to use and well thought out, this library could be just what you're looking for to get that old school club vibe. Seduce yourself with the grooves and arrangements of the golden era of dance and add a touch of class to your next production.
All 1650 samples are pre-cleared, 100 per cent original & royalty free for your musical use without any additional licensing fees.
Includes:
1650 Acidized WAV files
1650 AIFF Apple Loop files
1550 Stylus compatible REX2 files
58 EXS24 Instruments
58 Kontakt Instruments
58 NN-XT Instruments
FEATURED SOUNDS:
38 Full Construction Kits
Bass & Guitar Loops Matched Pairs
Single Hit Drums
Electric Piano Matched Loops
Synth Bass & Synth Matched Pairs

For more detailed info on the complete list and descriptions of the contents of Club Classics, please take a look at the PDF of Contents.
Download Size (RAR files):
Parts 1 - 6: 953 MB each
Part 7: 203 MB
Info & Quotes
"Thirty-eight 70s- and 80s- inspired construction kits (broken all the way down to separate kick, snare, hi-hat tracks, etc) and a ton of loops and hits to go with them. The emphasis is more 80s than 70s, with a range of dance, disco, funk, soul, R&B and pop styles represented. Everything's on point with regard to production quality, authenticity (the synth sounds are very well done) and musicianship. Rated: 9/10." - Computer Music Magazine, UK.
"Brimming with authentic sounds from the 70s and 80s.. This library is clean and well recorded & looped, with enormous usability.. This is a 'go' " - WUSIK magazine.