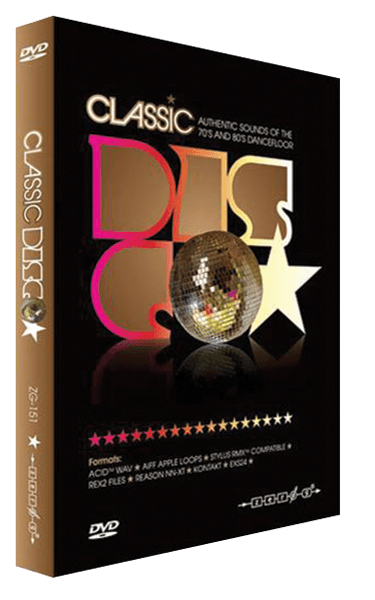 Classic Disco
Disco & Funk Sounds, Construction Kits and Loops with everything to hustle straight back to the 70s and 80s
Format
Acid,
Apple loops,
Aiff,
Exs24,
Kontakt files,
Rex,
Reason,
Rmx,
Wav,
Nnxt
PDF files
Welcome to the most creative decade of dance music 1977-1987, when disco went underground and became black dance music - the foundation for house and R'n'B.
For the first time ever you'll be able to get hold of the tracks as if someone gave you multi-track tapes from late 70's and early 80's disco underground dance tunes.
Classic Disco contains 35 construction kits in disco underground, funk'n'soul, proto house, hi-nrg and funky disco styles from 107 to 125 bpm, plus tons of additional piano, electric piano, guitar, bass, drum & percussion loops - and all in pristine 24bit audio.

The seductive and often-sampled sound of Salsoul Orchestra, SOS band, Evelyn Champagne King, D-Train, Chaka Khan, Quincy Jones, George Duke, Rocker's Revenge that have been shaped into giant construction kits (some of which are 16 bars long!) will keep you busy for months - each construction kit is divided into individual instrument loops, down to every drumloop part! We've even included some fantastic disco funky vocal "whispering shouts" so often used in Chic, Odyssey or Instant Funk chartbusters.

So get down and experience the ultimate in retro dance!
Featured sounds include:
35 Full Construction Kits
Bass & Guitar Loops Matched Pairs
Eighties Machine Drumloops
Piano Loops
Electric Piano Loops
Vocal Chants
Percussion Loops
For more detailed info on the complete list and descriptions of the contents of Classic Disco, please take a look at the PDF of Contents.
"I started to listen funk'n'soul records when I was 15 years old back in 1981. I was seduced by the rich harmonies and arrangements of Quincy Jones, Kashif (producer of Melba Moore and Evelyn King), Jay Graydon (Al Jarreau), Tommy LiPuma (George Benson), Earth, Wind and Fire and many others. My musical taste grew not only from mainstream funk'n'soul, but, more importantly for my house music foundations, from what is called the "Disco Underground". Those rare grooves founded on funk, soul and jazz left a big mark on my musical knowledge. Alphons Mouson, Shakatak, Light of the World, George Duke, early S.O.S. band, Eumir Deodato, to name but a few. My whole musical biography is in fact a constant search for that fantastically creative sound. This library sums up (in my opinion) the most creative period of black dance music: from the merging of disco with funk somewhere about 1977 up to the arrival of early house music around about 1987. I have attempted to create the sound of the records from that golden age by using as many authentic live instruments as possible together with early 80s drum machines (such as the LinnDrumm) and other synths from that time. All the instruments are played by myself apart those brilliant vocals by Andrea and Mirza from Zagreb."
- Producer and multi-instrumentalist Davor Devcic aka D3.
Download Size (RAR files):
Parts 1 - 3: 953 MB each
Part 4: 299 MB
Info & Quotes
"Goes right to the roots of the disco sound... The highlights of the collection lie among the construction kits, which boast the files necessary to create 35 different tracks. As well as the individual instrument tracks, both full-kit drum loops and individual parts are supplied, enabling you to construct and reconstruct the tracks with as much detail as you require... The files are provided clean, which makes tailoring them for your own productions much easier" - Music Tech Magazine, UK
"Harks back to the classic funky disco sound of the 70s and 80s... does a pretty good job of recreating it. .. slick and polished... a hit" - Computer Music Magazine, UK
"A fight broke out in the office over this one... If you're wanting to recreate the sound of the '70s then every warm woody bass and slurping open hat you need is here. But we're more interested in getting those bass and claps into a more contemporary Electro setting - and we're pleased to report they fit right in... well worth shaking down" - Future Music Magazine, UK