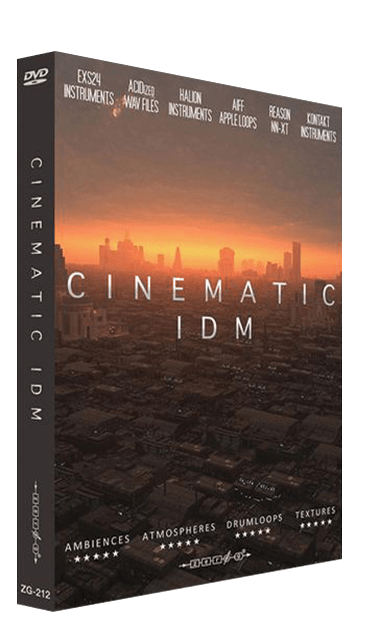 Cinematic IDM
Over 3 GB of complex intense rhythms and emotional textures
Cinematic IDM provides over 3 GB of complex intense rhythms and emotional textures.
This massive library explores the cinematic side of IDM music and the most modern and experimental aspects of cinematic music. The result is a library that combines all the thrill, drive and drama of the best of cutting-edge dance music with the sense of exploration, innovation and avant-garde of movie soundtrack creation.
 
Whilst Cinematic IDM is ideal for composers of film, TV and game soundtracks who want to create exciting soundscapes for action sequences and high-tension sequences as well as for scenes of suspense or horror, it is also equally useful to producers of dance music who want to give their creations an epic cinematic feel.
The library consists of a huge collection of electronic beats and drum loops recorded at 90, 120, 140 and 170bpm as well as a vast array of atmospheric sounds, full of intricate, rich and evolving textures, atmospheres, ambiences and one-shots of varying lengths
 
The intricate electronic rhythms can be used to create a sense of urgency and unease in any film score or game. The atmospheric textures and shimmering ambiences can build even higher tensions and create dark but beautiful thrills and chills in any composition.
 
The library contains 800 samples in Acidized Wav and AIFF Apple Loop and Rex2 file formats all recorded in stunning 24bit audio. Kontakt, EXS24, HALion and NN-XT instruments are also included. All the samples in this library are 100% original and royalty-free for your musical use without any additional licensing fees.
Includes:
Over 3 GB of sounds
800 AIFF Apple Loops
415 Kontakt Instruments
415 EXS24 Instruments
415 HALion Instruments
415 NN-XT Instruments
400 REX loops (Stylus RMX compatible)
For more detailed info on the complete list and descriptions of the contents of Cinematic IDM, please take a look at the PDF of Contents.
Download Size (RAR files):
Parts 1 - 5: 953 MB each
Part 6: 522 MB
Info & Quotes
"The blend of sound design elements, and modern electronic rhythms works very well and, at this price, some cutting-edge and ultra-cool electronic music cues are just an instant away for almost anyone… really excellent atmospheric ambiences… I can see contemporary film or media composers lapping this up… There are some great electronic drum beats with lots of interesting percussive elements and unusual electronic sounds. Many of these are almost a complete musical bed rather than just a conventional drum loop. However, blend one of the loops with an element from elsewhere in the library and suddenly you go from pure sound design to electronic music. Rating: 5/5" - John Walden, Sound on Sound Magazine, UK.
"It's a tightly focused library that succeeds in its genre-splicing mission admirably - Rating 9/10" - Computer Music Magazine, UK