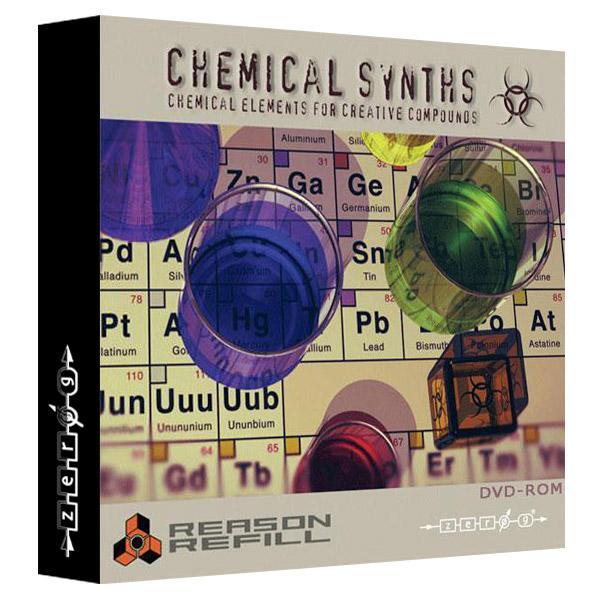 Chemical Synths
Dirty, raw and hard-edged synth sounds with plenty of attitude
A massive collection of hard-edged synth sounds, with moments of rawness and dirt to inject that creative spike to your musical ideas. This collection comprises Hard-ass basses, searing leads, riffs, loops & patches... all dripping with attitude. 

Chemical Synths was conceived, assembled and produced by accomplished game and independent movie composer, Jonathan Heslop. Having already produced Zero-G's Ambient Textures Refill which received high praise from the industry's media, Jonathan's hands-on appreciation of Propellerheads' Reason software capabilities in his own music projects results in refill libraries which are not only musically influential but which also fully utilize the dedicated synthesizers and samplers contained within the Reason software.

There are two refills included. The first contains all the Subtractor, Malstrom, NN-19 and NN-XT patches. The second contains all of the REX files.

There are a total of 400 REX2 files which are provided both inside and outside of the second refill so they're accessible for use in all software which can read REX files. Likewise, the whole library is also provided outside of the Refill in WAV format (this library is not just for Reason users!).


Please note: The Malstrom and NN-XT patches only work with REASON version 2.0 or later.


Features:
50 Subtractor patches,
200 Malstrom patches,
150 NN-19 sampler patches,
200 NN-XT sampler patches,
200 REX Arps,
200 REX Riffs.


Synthesizers used include:
Supernova 2 Pro X,
Access Virus,
Korg Z1,
Microwave XT,
Micro Q,
Technics WSA1,
Mutronics Mutator,
Sherman Filterbank.
For more detailed info on the contents of Chemical Synths REASON REFILL, please take a look at the PDF of Contents.
Info & Quotes
"It is clear that creator Jonathan Heslop has put his hours in getting to grips with Reason's various instruments... There is some really good stuff amongst this lot... the sounds within this collection have 'attitude' written all the way through them. If you are a Reason user and have a fondness for the more aggressive end of dance, then Chemical Synths is well worth adding to your Refill collection. FIVE STARS out of 5" - SOUND ON SOUND magazine, UK
"The quality and range of sounds throughout is excellent, with the expected array of hard bass and lead sounds nicely complimented by deeper, but no less useful patches and samples. Essentially, Chemical Synths provides you with everything you need to make a track bar the beats, providing ominous industrial pads and filthy dirty rave stabs as well as softer riffs and warm subs. Quite simply, Chemical Synths is a must if you use Reason to make hard-edged dance music" - IDJ magazine