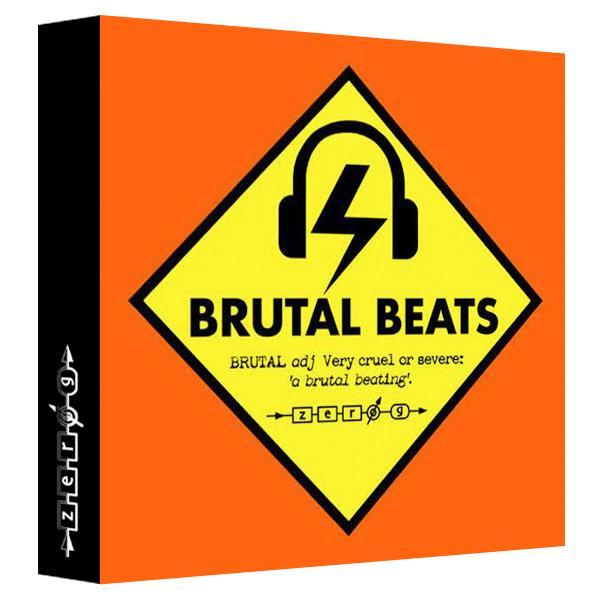 Brutal Beats
Collection of intense, aggressive drum grooves and loud, rocking, edgy loops performed by a super pro.
Brutal Beats is loaded with the most intense and aggressive drum grooves ever.
From the producers of the KEY BUY and FIVE STAR Award Winning CHEMICAL BEATS, and featuring the performances of renowned drummer GEOFF DUGMORE who has performed on no less than 51 number one albums and has had two Grammy Award nominations!

Recorded and mixed with state of the art recording technology (SSL 9000J) in one of the world's top drum rooms (Townhouse Studio 2's Stone Room in London), Brutal Beats is a tour de force of loud, rocking, edgy loops. With extreme re-mix variations utilising propriety software and hardware, and some of the latest processing devices, Brutal Beats has an edge that no other loop based CD can beat. Now also includes Apple Loops format.
For more detailed info on the contents of BRUTAL BEATS, please take a look at the PDF of Contents. 
More info:
With precise timing for each and every beat, grooves can be looped at any point with exact sample accuracy! We've also included multi-velocity hits for each drum, so if you're into programming your own loops, you can give them the Brutal Beats edge! In describing this production team's previous offering, CHEMICAL BEATS, Sound On Sound magazine said: "This disc will inspire you and prove useful time and time again. Those who understand how crucial rhythm is in today's music will find levels of subtlety, creativity and musicality that will surprise and delight." Now the same producers have created BRUTAL BEATS, an equally inspiring powerhouse of creativity, featuring 47 live drum kit performances based on classic 70's rock tracks performed by Geoff Dugmore, one of Britain's most in-demand session players.

The beats include intros, fills, verse & chorus grooves etc. A massive variety of grooves are provided, including straight and shuffle feels, slow blues, odd-time patterns and many more. You will find a huge range of tempos from under 60bpm to over 200! All performances were recorded in the legendary stone room, Studio 2, at Townhouse Studios in London, with full 24 track digital recording mixed down to stereo, featuring the finest microphones, valve EQ and Urei compressors. Every bar has been painstakingly edited to loop perfectly, while retaining all the feel of a great drummer. 'Straight' (mildly compressed) and 'Compressed' (pumping) mixes of all performances are provided, with up to TEN stages of digital and valve compression and limiting. Over 100 radically mutated dance remixes are included. The individual hit library is also provided to allow maximum flexibility and creativity.

"Geoff grooves like very few can" - John Paul Jones (Led Zeppelin)

"This guy plays his drums like his life depends on it, inspiring to watch and listen to" - Bob Clearmountain (Producer/ Mixer)

"Geoff is our first phone call when the shout goes out for a drummer. He's empathetic to whatever we are working on and always nails the sound, style and feel, as exemplified by his work for us on Gabrielle's 'Give me a little more time' amongst others" - Boilerhouse Boys (Producers)

"Geoff is one of the most gifted drummers I have ever worked with in my 29 years as an engineer/ producer/ mixer. His timing, energy, agility and attitude rank him amongst the world 's best. Like Ringo, the song tells him what to play, and most importantly - he listens!" - Ron St Germain

"Geoff is the most 'powerhouse of artillery' rhythm section I have ever had the pleasure of working with. He reduces my stress factor by 100% on any given production because he's the best" - Youth.

"The fact that you can hear Geoff's performances on radio every day, somewhere in the world, speaks volumes for his consistency and ability to come up with the goods on hit records time after time" - Dave Bascombe (Producer).

"Geoff is the powerhouse of every session I have had the pleasure of working with him on. Now here he is, condensed and refined on these CDs. I can't wait to start using it!" - Jon Kelly (Producer).

Geoff's studio & live drumming credits are far too extensive to list here, but here are just some of them:
Deborah Harry, Stevie Nicks, Killing Joke, Tina Turner, John Paul Jones, Jeff Beck, Rod Stewart, Bryan May, Bob Geldof, Gabrielle, Art Of Noise, Dido, Tim Finn (Crowded House), Steve Booker, Marc Almond, Dusty Springfield, Diana Tribute Album, Mark King (Level 42), Swing Out Sister, Thompson Twins, Paul Rogers, Mike Scott, Fine Young Cannibals, Gypsy Kings, Trevor Horn, Bob Clearmountain, Steve Hillage and many, many more.
"Pure, transcendent rock energy, as potent now as it was back in the '70s.. musically irresponsible, but hugely enjoyable.. classic rock beats with many variations, intros and fills.. Imaginative sound processing adds a contemporary edge to the retro-rock feel.. Geoff Dugmore's playing has graced dozens of hit records.. this CD has definitely captured his positive musical energy"
- SOUND ON SOUND magazine, UK
--

"Whether you're after a classic '70s drum sound and don't have the tracking room, microphones, and drummer to pull it off, or you're into big beat and want some monster beats to slice and dice, put this sample collection high on your shopping list"
- KEYBOARD magazine, USA
--

"The breaks are loose where you need them to be but tight to tempo. They loop perfectly and are presented with fills and breaks on the same track.. Use them in a track and they offer perfect tempo integration"
- COMPUTER MUSIC magazine, UK
--

"There are certainly some gems here and it's well worth a listen"
- THE KNOWLEDGE magazine, UK
Info & Quotes
"Pure, transcendent rock energy, as potent now as it was back in the '70s.. musically irresponsible, but hugely enjoyable.. classic rock beats with many variations, intros and fills.. Imaginative sound processing adds a contemporary edge to the retro-rock feel.. Geoff Dugmore's playing has graced dozens of hit records.. this CD has definitely captured his positive musical energy" - SOUND ON SOUND magazine, UK
"Whether you're after a classic '70s drum sound and don't have the tracking room, microphones, and drummer to pull it off, or you're into big beat and want some monster beats to slice and dice, put this sample collection high on your shopping list" - KEYBOARD magazine, USA
"The breaks are loose where you need them to be but tight to tempo. They loop perfectly and are presented with fills and breaks on the same track.. Use them in a track and they offer perfect tempo integration" - COMPUTER MUSIC magazine, UK